In recognition of Toronto's 175th anniversary in 2009, Spacing presents a new series of buttons that highlight the coat of arms and official seals of the numerous small towns and villages that now make up Toronto. Places like Borckton, Weston, and Mimico used to exist as small, independent townships and villages. Spacing is happy to provide residents with a reminder of the places that have been since become apart of our large metropolitan city.
FULL SET:
16 buttons for $20, includes shipping
The town buttons include:
Brockton, Mimico, Parkdale, Weston, Long Branch, Scarborough, North York, York, Swansea, Leaside, Forest Hill, New Toronto, North Toronto, The Junction, Etobicoke, and East York.
GO BUY BUTTONS IN SPACING'S STORE
- - - - - - - - - - - - - - - - - - - - - - - - - - - - - - - -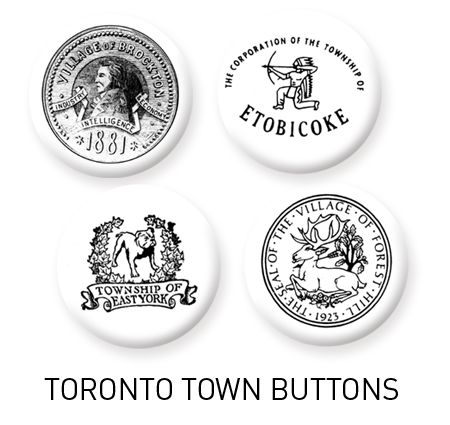 STORES SELLING INDIVIDUAL BUTTONS

Swipe Books, 401 Richmond St. W.
(416) 363-5477
* always call store to ensure availability
if you would like to sell these buttons in your store please contact us at: buttons@spacing.ca
- - - - - - - - - - - - - - - - - - - - - - - - - - - - - - - -
MEDIA COVERAGE OF SPACING's SUBWAY BUTTONS:
"The civic pride fashion statement of the year."
-- National Post, Jan. 15, 2005
"Spacing, the innovative magazine that makes you believe in a better Toronto, has designed a simple yet intriguing idea...subway buttons."
-- Toronto Star, Jan. 8 2005