Like every other Edmontonian, I love the river valley. Without doubt, it's the main physical feature that defines our city. This gem is worth celebrating and preserving: as the largest urban park in North America, an ecological corridor, a floodplain, a development buffer, and so forth. However, with the numerous projects that the City of Edmonton has along the banks of the North Saskatchewan, have we forgotten about placemaking on the more accessible tablelands that lie above? After all, that is where most Edmontonians live. How can we also bring that similar pride in the river valley closer to us rather than constantly needing to travel distances there?
Here, I list ten great (though not necessarily perfect) public places in Edmonton outside of the river valley. What elements make these spaces more desirable in comparison to others? What makes them "places"? I have to thank Jason Markusoff for some of these entries as they were also listed in Spacing's issue of Canada's 100 best public spaces. In a later Part II post, I will examine potential opportunities for further placemaking in Edmonton.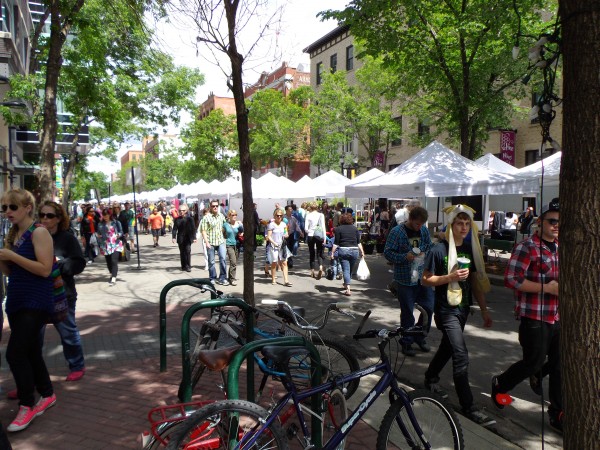 Perhaps Edmonton's best success story in urbanism, 104 street has seen much reinvestment the past decade in its brick warehouses, new streetscaping with wider sidewalks, Saturday farmers market, and many new businesses and residences. There is still much more to look forward to with some vacant lots undergoing redevelopment and an outdoor neon sign museum in the works.
Yes, I'm cheating a little since this trail is on the edge of the river valley, but this space is more accessible than Victoria Park below. With its magnificent views of the valley, it's a shame that there are no restaurants or cafes at the base of the apartments and condos facing the river.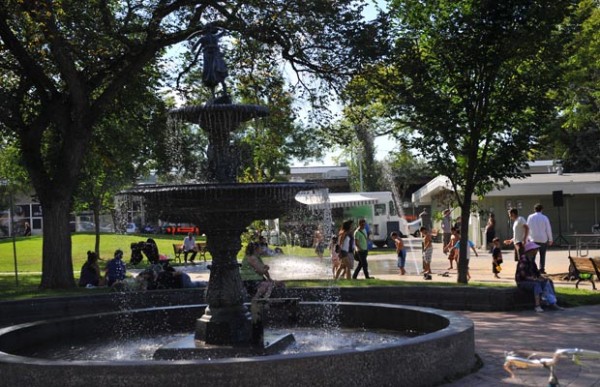 In my opinion, Giovanni Caboto Park is by far the best neighbourhood park in the city. The combination of Little Italy's main street and adjacent park space allow shoppers to sit and enjoy coffee or gelato on the sidewalk while watching people play in the spray park or relax on the grass.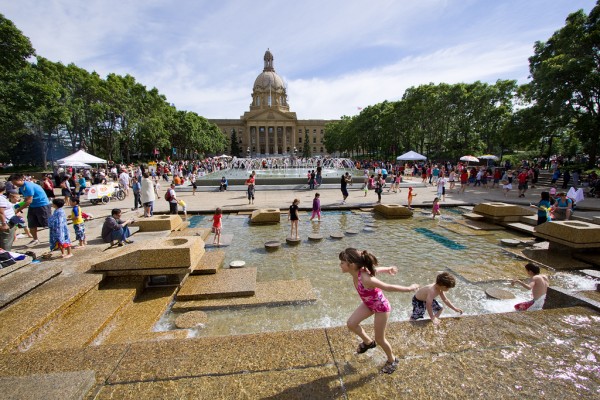 The north grounds, currently undergoing redevelopment, are a popular family spot for summer sun and winter displays. Towards the south, you can relax on the grass, enjoy a picnic, or sleep to the beats of drummers during the weekend.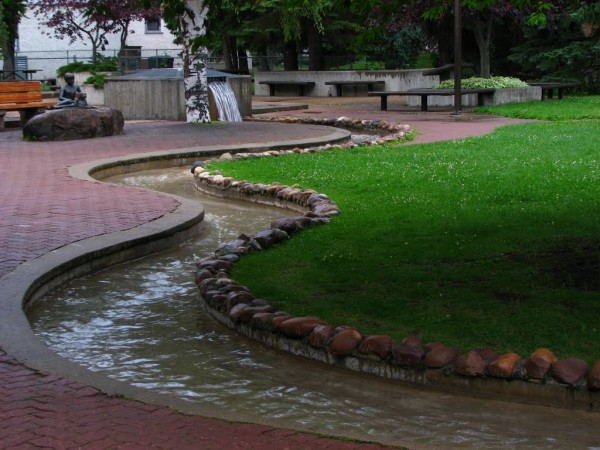 This hidden gem in Oliver is a retreat from the stressful and busy seven-lane roads to the north and south. The soothing water feature really makes a difference, does it not?
Arts/Business Quad, University of Alberta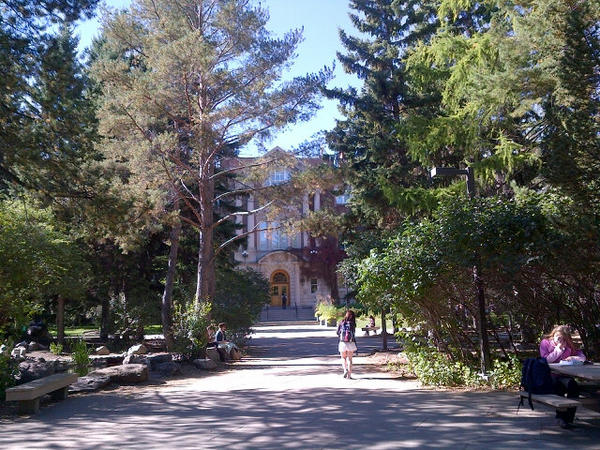 The University of Alberta provides several open spaces for students and the public to enjoy. Among them, their best one features tall trees, excellent architecture, heritage (including the Old Arts building and HUB mall), and a water garden – an excellent spot for outdoor reading.
The iconic north and south connector heading between Grandin and Garneau is a popular leisure route for bicyclists, joggers, and walkers. There is also that darling streetcar running atop that many wish would run more frequently. Read more about the bridge here.
Old Strathcona Historic Area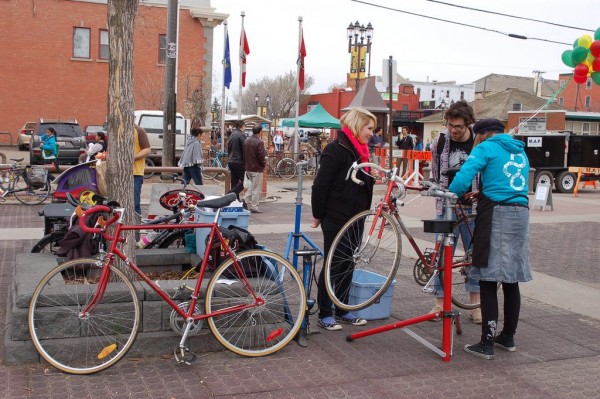 The streets and heritage buildings at the heart of Old Strathcona look their best in the summer during Edmonton's trademark Fringe Festival. The theatre district, eclectic shops, restaurants, late night crowds, and farmers market definitely keep this area busy.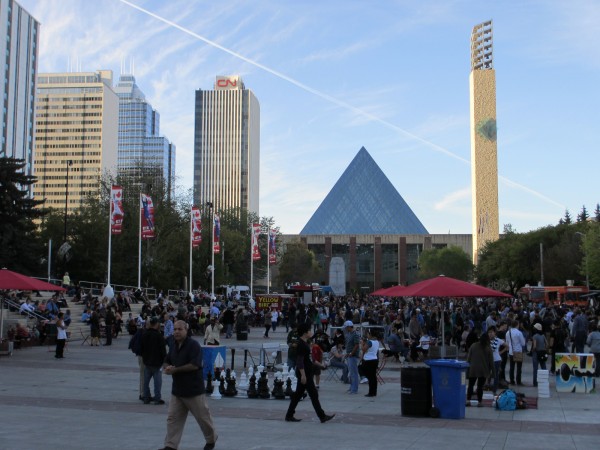 Churchill Square has come a long ways since its redevelopment because it is quite difficult to program a space that is surrounded by just institutional and limited commercial uses. Still, the square has become a summer hit thanks to the addition of chairs, tables, festivals and games. The square also offers fantastic views of a modernist meets post-modernist skyline from within.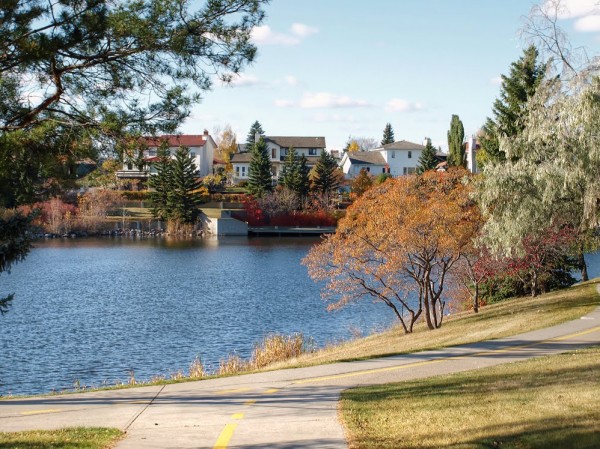 Although there were many candidates, this is the only suburban public space to make my list of ten. Unlike other contenders like Summerside Beach, the scenic trail and shore around this north side lake is everybody's to share and offers great opportunities for birdwatching and relaxation.