Corktown Footbridge, Ottawa
This footbridge over the Rideau Canal — first proposed in 1984 but only opened in 2006 —  was previously only crossable during winter months when the canal froze.

Old Mill / Humber River, Toronto
The Old Mill bridge, built in 1916 and supposedly haunted, crosses the Humber River near the decommissioned mill that shares its name. An anonymous artist painted the high water mark of 1954's Hurricane Hazel on a support column of the twin subway bridge.

Capilano Suspension Bridge, Vancouver
Originally built in 1889, this suspension bridge has undergone many transformations over the years. Now made of wire cable, it spans the Capilano River with a length of 136 metres and rises 70 metres above ground. It attracts over 800,000 visitors a year.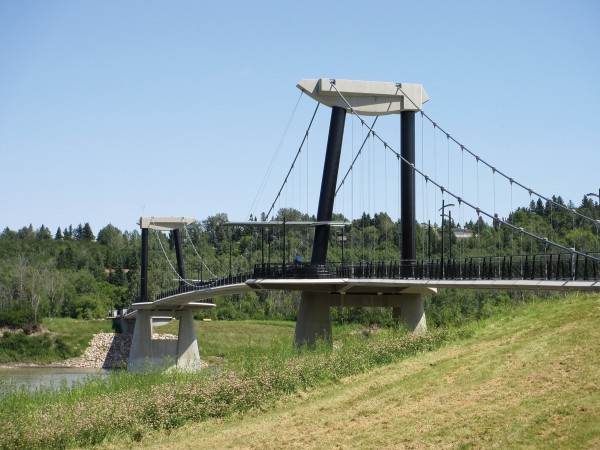 Fort Edmonton Footbridge, Edmonton
This footbridge is the city's only suspension bridge. Connecting the Trans Canada Trail with park land on the west side of the North Saskatchewan River, it was opened in June 2011 to encourage walking and other forms of transportation in the suburbs of the city.

Peace Bridge, Calgary
This tubular Santiago Calatrava-designed bridge — painted red and white with geometric patterns and a glass roof — opened in March of 2012. It is wide enough (6.3 metres) to accommodate separate pedestrian and bicycle lanes. It was even built to withstand Calgary's one-in-100 year flood cycle.
Which bridges would you add to this list? Leave us a comment below.