This post by Katie Wittmann is part of Spacing's partnership with the Toronto Cycling Think and Do Tank at the University of Toronto. Find out more about the think tank, and the series, here.
It's a rare occasion to see me travelling somewhere without my bicycle. I ride to and from my place in Toronto on a very frequent basis, but where I live in Toronto at the moment is not my home. I moved here last September to start school at U of T, while my family remains in Cambridge, Ontario.  Most of the trips I make in Toronto on a regular basis are under 10km, and I think it's safe to say that all are under 20km; however, I can't reach Cambridge in 20km. No, that trip is at least 90km (in a car), or 115 if you plan out a route by bike. Wait, by bike? Why would I plan a route to Cambridge by bike? It's hard to explain exactly what put the idea in my head, but once it was there, I was determined to ride all the way home.
I didn't want to make the trip alone though. That didn't seem like a very bright idea, so I posted a status on Facebook that read: "Would anyone like to bike with me from Toronto to Cambridge this coming Sunday? It's about 115 km. You get a free meal at my parents' house and a lift back after dinner that night. It'll be fun! Let me know friends."
Sure enough, two people said yes! In fact, more than five people expressed interest in coming, but only two were available for the day I wanted, so I went ahead with planning my route on Google maps, and figuring out exactly how the day would unfold.
Sunday morning came, and I met my friends Aly and Leanne at 8:30am to kick off our ride. We met near the bottom of Spadina, and took a shortcut behind some condo buildings that brought us down to the Waterfront Trail. We passed a lot of other cyclists along the way, and many morning runners. From the trail we switched onto Lakeshore, a fairly seamless transition, and although there isn't a designated bike lane on Lakeshore, it makes for a decent ride (well, at least on a Sunday morning. I've tested it out during rush hour too, and it's a much different experience then). We rode to downtown Oakville, and stopped for a coffee break at The Green Bean – a popular choice by cyclists, we discovered, as we were surrounded by fellow spandex wearers.
When we'd finished our snacks and drinks, we hopped back on our bikes to continue the journey. This next stretch was not exactly pleasant. Getting out of Oakville and through part of Burlington was not a trip I'd recommend to new cyclists, but I don't think there were any better routes than the one we took. For the most part there were bike lanes (which Google was smart enough to highlight for us), but on a couple roads our lanes would simply end, and we were left to fend for ourselves. Even on the busy roads that were accompanied by bike lanes, I did not feel like bicycles were welcome vehicles.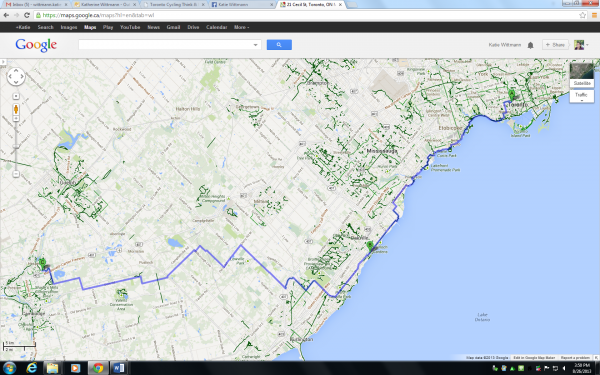 When we reached Walker's Line, everything got much better. We'd left the speeding cars, trucks, and four lane roads behind, and got to coast along a quiet, rural route. We passed farms, fields, and lots of other cyclists. We followed the rolling hills north for many kilometres, and then started weaving west along various routes. We were very impressed by Google's ability to pick the nicest roads for riding. Before leaving on Sunday, when I was planning the route on Saturday night, I used street view to compare the other options that Google had not selected to the route it planned. In nearly every case, I stuck with Google's suggestion because it appeared the safest for cyclists.
We rode on for hours, enjoying the peaceful route, the shining sun, and each other's company. We were running out of water about two/thirds of the way through, but happened to pass a house with a woman watering her garden out front, and she happily topped us up. We weren't thrilled with the crossing of Highway 6 (I don't think anyone enjoys crossing four lanes of fairly speedy traffic), but once across, we were back to the beautiful country roads, which were nicely paved for the most part, with the odd dirt or gravel section scattered here and there.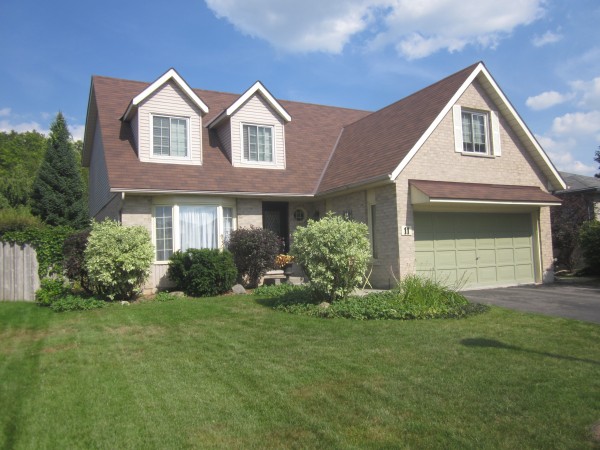 We were getting pretty tired by the 90km mark, but knew we were almost there by then! We originally thought we'd make it to my house around 1pm, but in the end it was close to 2:30. When we hit Townline Rd, we were back in my old stomping grounds. I didn't need the map to find my way through my neighbourhood! We rolled up to my house, dropped our bikes in the backyard, and (not so) gracefully flopped to the ground.
I stayed there for a good ten minutes, eyes closed and body sprawled across the grass. I did it. I rode all the way home.