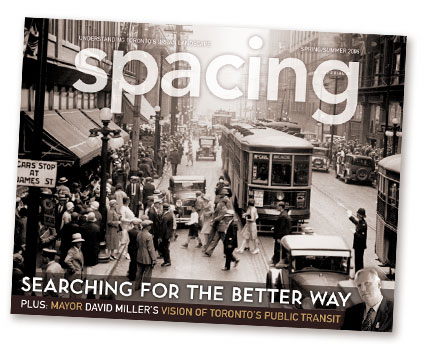 Spacing Release Party
When: Tuesday, May 2nd, doors 8pm
Where: Gladstone Hotel • 1214 Queen Street West
Who: DJ Chris Thinn
How much: $10 includes new issue + zine
The release of Spacing's sixth issue is upon us. Come join us on Tuesday, May 2nd at the Gladstone Hotel, as Spacing launches its newest issue which examines life on Toronto's confounding public transit system. The night includes music by DJ Chris Thinn, short TTC promo videos from the 1950s, and a few contests that test your local transit knowledge. The $10 cover gets you a copy of the new issue plus the mini-booklet"Unorthodox Tips for Riding the TTC" by Sean Lerner of the TTC Rider Efficiency Guide.
To read more about what's in the issue click here.