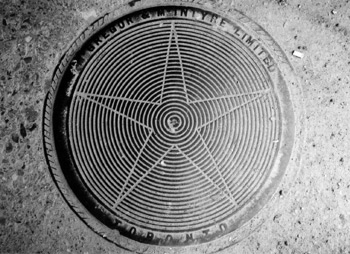 Spacing has written before about utility cover design, and it seems the City agrees that the "discrete portals between the city we live and work in and the working city" deserve some sprucing up. Yesterday the City launched Grounds for Art, a competition to design the new utility covers in Regent Park:
Amateur, aspiring or professional artists and designers are invited to submit designs to distinguish the sanitary, storm sewer and the water valve covers. Applicants can submit proposals for one, two or three of the utility hole cover types. An independent selection panel will select a short list of 30 designs. From this short list, three winning designs (one for each utility cover type) will be selected and fabricated as a master template, which will be used to cast the covers for utility holes throughout the Regent Park redevelopment, beginning in spring 2007. Each of the winning designers will receive a cash prize of $1,800.
It's great to see the City hosting a competition like this. These usually underappreciated elements of the urban environment can make a big difference if designed well, and it's a small but encouraging sign for the future of Regent Park.
For contest details and to download an application form, go to the official site for the competition. The deadline is 4pm on Monday, November 27th.