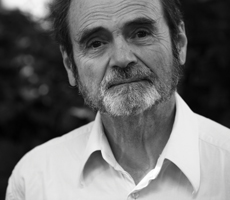 "I believe in the necessity of cities as sentinels of global-regional change, and the need to characterize them as urban landscapes. Ecology is urbanization and urbanization is ecology." — Michael Hough, 2009
Landscape architect, environmental advocate, and ecological urbanist, Micheal Hough passed away on January 25th at the age of 84. It is a sad loss for Toronto: Hough's work and advocacy helped shape some of our city's most prized public spaces, as well as restore our natural infrastructure, and improve our approach to urban planning.
The first issue of Spacing featured a Hidden Gem article by former Greenspace columnist Todd Irvine on the mini Boreal forest designed by Hough, which can be found in the courtyard of the University of Toronto's earth sciences building. (It's still there; it's still a gem, and we still recommend you give it a visit if you haven't already). The secluded courtyard remains a testament to Hough's approach to urban design.
"He loves cities, he loves nature, he insists on a link between the two, and he'll tell you, every day if you ask him, that the regeneration of one is the salvation of the other," said Mayor David Crombie when Hough was awarded the City of Toronto Arts Award for Architecture and Design in 1991 (as reported in a 1997 article Toronto Life).
After Hurricane Hazel struck Toronto in 1954, destroying homes along the Humber River and killing 81 people, Hough helped advocate for the Toronto Region Conservation Authority. "Regional pre-planning, and the structural agency of regional watersheds was imperative," he later told Pierre Bélanger in 2009. Hough also worked closely with the Task Force to Bring Back the Don, a citizen's group working to clean up the polluted Don River. He co-wrote the 1991 report, Bringing Back the Don, which won a Canadian Institute of Planners Award for Planning Excellence.
Hough designed the landscape for Ontario place and Scarborough College, and the Master Plan for the Brickworks Regeneration Project, among other award winning projects. He founded the University of Toronto's Landscape Architecture program in 1965 and later became a professor in the Environmental Studies Faculty at York University. Hough's extensive written work, which includes the book Cities and Natural Processes, is required reading for landscape architecture, planning, and urban forestry students alike.
"Michael Hough was one of a number of leaders who transformed the profession of Landscape Architecture in Canada and brought international attention to Canadian Design and the profession," said the current Director of U of T's Landscape Architecture program, Robert Wright. "He pioneered environmental- and ecological-based design through his work, through all the scales of design, from region, to city and to site… We owe Michael a debt that can never fully be repaid except through our own continued commitment to the issues he so dearly believed in and demonstrated through his work."