To coincide with the cover section of Spacing's summer 2013 issue, we bring you a series of posts by local architect Robert Moffatt that examine Modernist buildings in Toronto.

Tucked into the northeast corner of the Central Technical School property at 725 Bathurst Street, the Central Technical School Art Centre has been a hothouse of visual arts education in Toronto since its completion in 1962. Design architect Macy DuBois of Robert Fairfield Associates transformed raw exposed concrete into a tough, muscular expression of Le Corbusier's Brutalist style, the organic plasticity perfectly suited to an art school. The building was awarded a Massey Medal in 1964.
Northern light is prized by artists for its neutral colour balance and even quality. In response, DuBois arranged the studios along the Art Centre's north side, pulling back the top storey from the level below to allow equal light penetration through the two rows of massive sloping windows. Natural light is then moderated by adjustable Venetian blinds and supplemented by flexible lighting systems built into the open ceiling grid. The structure is emphatically terminated at each end by dramatically sculpted, cantilevered panels; the rounded stair towers provide vertical counterpoints. A wide moat-like recess wraps around the building on three sides, admitting light into the lower level and establishing physical and psychological distance from the surrounding urban neighbourhood.
The exposed concrete walls continue into the interior, complemented by aggregate concrete blocks set in a horizontally ribbed coursing. Floors of reddish-brown Welsh paving tile warmly contrast the predominantly grey-toned environment. Even support spaces show careful thought; lockers were grouped in separate rooms and circulation routes widened to create informal gathering areas as well as unobstructed walls and daylit niches for art exhibitions.
When completed, the Art Centre demonstrated a form-follows-function purposefulness: what else could it be but an art school? Since then, the Centre's durability and flexibility through nearly fifty years of continual use have only confirmed the appropriateness of its design.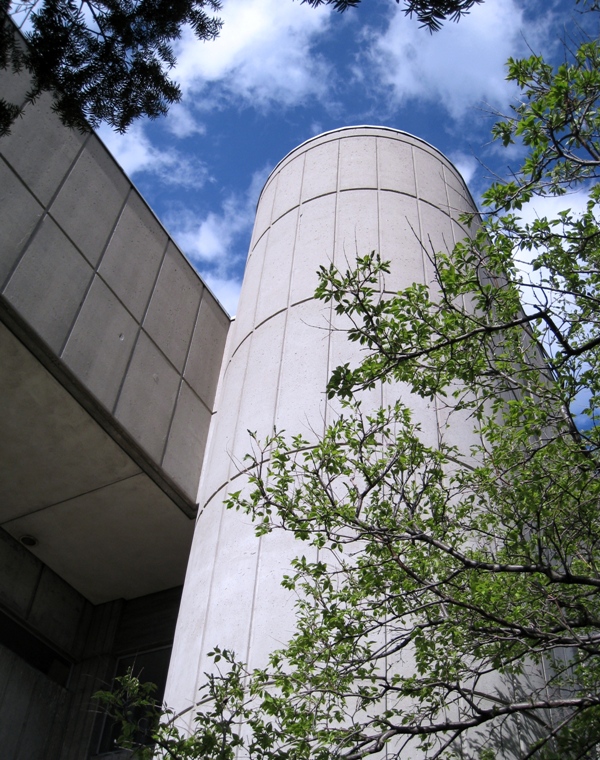 Macy DuBois (1929-2007) was born in Baltimore, Maryland and educated at Tufts University and Harvard's Graduate School of Design. He was introduced to Toronto in 1958 when an entry by him and three Harvard classmates was selected as a finalist in the Toronto City Hall competition. DuBois subsequently moved to the city and, after a stint with John B. Parkin Associates, formed Fairfield and DuBois with architect Robert Fairfield. Through the 1960s he explored the possibilities of concrete construction in a series of inventive Toronto-area buildings: Oxford University Press (70 Wynford Drive, 1963, demolished); New College, University of Toronto (300 Huron Street, 1964 and 1969); offices for Dow Corning Silicones (1 Tippett Road, 1965); the Standard Life-Taylor Woodrow Building (45 Charles Street East, 1966, demolished 2012); offices for Ceterg (2 Duncan Mill Road, 1967); the Albert Campbell District Library (496 Birchmount Road, 1971); and the Casa Loma campus of George Brown College (160 Kendal Avenue, 1974). Other projects included the Ontario Pavilion at Expo 67, Montreal (demolished); Lakehead University in Thunder Bay (1969 and 1973); and Otonabee College at Trent University, Peterborough (1972).
After founding the DuBois Plumb Partnership with Helga Plumb in the mid-1970s, DuBois completed the Joseph Shepard Federal Office Building (4900 Yonge Street, 1977); The Oaklands condominiums and townhouses (315 Avenue Road, 1980); and the famed Scaramouche restaurant (One Benvenuto Place, 1981), all in Toronto. His last two major projects were the Windsor Justice Facility and the Canadian Embassy complex in Beijing, China.
You can read more posts on Modernism by Robert on his blog Modern Toronto