It's sometimes said that surgeons and commercial pilots out-distance all other professions for sang froid and audacity. But if I had to make another nomination, I'd choose civil and structural engineers. They have nerves of steel.
Take the example of the new GO concourse and retail plaza now being built under the western end of the railway tracks behind Union Station's head house. For more than eight decades, the tracks were supported by row upon row of one metre-thick concrete and steel columns — 447 in all — which extended down below the tracks, through metres of the infill muck, and down to the shale bedrock upon which the city rests.
A big piece of the Union Station revitalization involves the construction of a dual layer of space — a more open and accessible concourse beneath the platforms, and then a second level below that, for a vast retail area. Think two and a half football fields, all underground. City officials refer to the project as the "Dig Down" — never to be confused with "Big Dig," Boston's $23 billion expressway burial fiasco.
The task involved excavating hundreds of thousands of tonnes of muck from beneath the tracks in order to create space for that lower level. Here's where the engineering chutzpah comes in: to make the retail level presentable, the engineers had to slice out a several-metre-high piece of each of those columns — the rough-hewn lower part that had been encased in lake fill for decades — and replace it with a slimmer, stronger and better supported one.
Each column is part of a row that holds up a railway track capable of supporting a passenger train weighing thousands of tonnes. So you can see that kicking the legs out from beneath such a structure is, well, the very essence of audaciousness. A big fat hairy deal.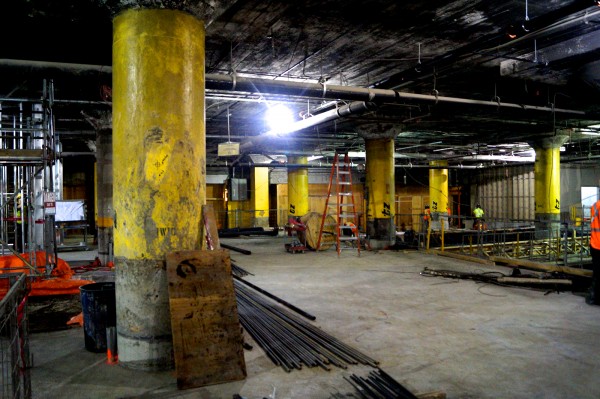 Last week, superintendant Doug Gair, who works for Carillion, the contractor in charge of the concourse project, took Spacing to see the final three columns that were being replaced, as well as many other features of the western concourse. (View more photos of the tour, and check out the City's fact sheet.)
Engineers with Carillion and NORR, the other partner in this venture, had calculated early on that they couldn't risk working on more than three columns at any given time. What's more, each had to be supporting different tracks.
To cut one of these things, the contractors first erect four vertical braces around the column, each anchored to bedrock below and wedged up to the bottom of the track slab above. When that structure is complete, Gair explained, the crews install hydraulic jacks at the top of these vertical braces and slowly raise the track, overhead, by 3 mm. "That means we've de-stressed the column," he said.
With the load transferred to the vertical braces, the crews can slice out the lower portion of the column, repair the rebar, and then build up the new pedestal and column with horizontal "tension wraps" — bands of steel cable. The leaner, cleaner column is just 38 inches in diameter.
To date, Carillion has completed 182 of these column replacement jobs, and Gair said that they've reduced the time to finish each one from 28 days to 18 as the crews become more familiar with the behaviour of the material. He noted that contractors have performed similar operations under buildings when expanding an underground parking garage. "This," he added, "is unique in that you've got live train loads overhead."

(See the above photo in a 3,000 pixel-wide panorama on Spacing's Flickr page)
As Gair led us around this sprawling, semi-lit world of heavy equipment and gravel heaps and canyons of scaffolding, he explained some of the other features of the project. On a slurry wall near York Street, Gair pointed out a heavy wooden beam, about a foot square, that was a remnant of one of the old timber piers that the excavation crews kept digging up during the excavation phase. That massive piece of wood — it probably came from a towering pine — couldn't be moved because it's still supporting something, and so it has been incorporated into the renewed Union Station, a relic from the past that may, some day many years hence, be rediscovered.
Elsewhere, he showed us a network of heated floor pipes that will extend from the food court to a concrete cistern near the loading bay. Their purpose: to shunt cooking oil from the restaurants to a "central grease interceptor," essentially a large pit where fat can be pumped out and hauled off site.
At the western end, in an area that the contractors refer to as "back-of-house," the crews installed a thick waterproof membrane over the exposed ground as a way of containing the "hydrostatic pressure" that has built up in the groundwater beneath the downtown as more and more very large buildings go up south of Front Street.
When you're down in that noisy, controlled-access construction site, those sleek condo towers and office buildings south of Front seem like a world away. But as our tour of this subterranean space wrapped up, it occurred to me that Union Station's huge new retail precinct — which will mirror the PATH system north of Front — seems destined to become the commercial and social hub of that forest of impersonal towers that has risen between Union Station and Queen's Quay.
I'm guessing this new piece of underground Toronto won't function at all like the financial district PATH network, which is a high-polish, office-duds-only zone. Rather, these new nether regions of Union Station will become 24/7 spaces, South Town's very own high street, but built down on the plane of the ancient lake bed, with bits of old pier secreted away in the walls overlooking the food court.
photos by Jacob Lorinc