WHAT: Spacing's Transit Poster Contest
WHEN: Deadline is extended to Friday, January 31st, 2014
COST: Free!
FACEBOOK: RSVP to our event to get deadline reminders
OVERVIEW:
Spacing's staff have often listened to readers complain about the current quality of the TTC's promotional material. But during the 1950s, '60s, and '70s, the TTC produced attractive and unique promotional posters (we sell four of them in our e-store) and etiquette reminders. Cities such as London have a long history of producing visually compelling posters (there are numerous books available showcasing these vintage posters).
THE CHALLENGE:
We challenge illustrators and graphic designers to create their own original poster (or a series of posters) that promotes the TTC. The topic of the poster can be anything you desire. Here is a list of topic ideas:
promoting a station;
promoting a specific subway line, streetcar route, or bus route;
promoting retail available at a certain station or along a route;
promoting a cultural landmark or location;
encouraging certain etiquette or behavior;
promoting new transit technology;
promoting mix-modal usage;
it can even be advocacy for a new line to be built, such as the Downtown Relief Line
You get the picture…
The goal for Spacing is show off stylish and sophisticated posters. It can be in any style you wish. Take inspiration from the TTC's subway map, the shape of the streetcars, the design of subway platforms, the form of the TTC logo/shield…. Just be creative! At the bottom of this page we have provided you with some vintage TTC and London Underground examples to inspire you.
HOW TO ENTER: You must register to enter. Send us an email and we will provide you with uploading details (submissions can begin in January 2014). EMAIL: transitposter@spacing.ca
JUDGING:
Entries will be judged on quality and appropriateness. Posters submitted after the deadline will not be considered.
WINNING ENTRIES:
Posters selected as winning entries will appear in the spring 2014 issue of Spacing. Winners will also receive a gift bag of prizes.  More details on specific prizes will be shared in 2014.
FREQUENTLY ASKED QUESTIONS
Who can enter?
Anyone who lives in Canada.
How many posters can I submit?
As many as you like.
When will the winners know that their poster is being published?
Spacing will email all winners in FEBRUARY to make sure we have the optimal file for printing, as well as make sure your name is spelled correctly. Nothing will be published in Spacing without your permission.
Are there prizes?
Yes (but no cash). Besides all the fame you will receive for being published in Spacing (!?!), there will be a variety of prizes from sponsors and Spacing advertisers. We will announce the prizes available as we get closer to the deadline.
What if my poster is not selected — what happens to it once the contest is over?
Spacing plans to publish the winners' maps as well as a number of honourable mention entries on our web site (we will keep the online versions low-resolution).
On your entry form, you can indicate whether you wish to allow Spacing to hold onto your map(s) so that we can consider using it in future issues.
TECHNICAL STUFF
Is there a preferred size to the posters?
Ideally, your poster should be in portrait format and submitted at 24″ (width) x 36″ (height) so that it can be rendered on a large print out. If you want to submit a smaller size please keep them in the same ratio such as 11″ x 17″ or 8.5″ x 11″.
What type of file can I submit?
Photoshop: If you submit a Photoshop file, please make sure it's saved as a TIFF or as an uncompressed JPG, in CMYK, and has a minimum resolution of 300 dpi. Make sure the file is "flattened" so that any fonts or effects are not lost when opened on Spacing's computers. Please submit a low-res JPG so that we can compare/contrast with your high-res entry.
Illustrator: If you submit an Illustrator file, please make sure it's saved as a PDF and in CMYK. We will only accept PDFs in order to maintain the design integrity of your submission.
All fonts need to be converted to outlines (mandatory!). With Illustrator files it is always smart to submit a low-res JPG so that Spacing can make sure it has received the file as it is intended to be seen. Please note that any photo files that are embedded in your Illustrator file must be in CMYK and have a resolution of 300dpi.
InDesign: Spacing prefers not to receive any InDesign files. If you must submit your entry in this format please save it as a PDF and also submit a low-res JPG.
Where do I upload my files?
Once you've sent an email to Spacing [ creativemapping@spacing.ca ] to notify us of your interest to enter the contest, Spacing will provide you with an entry form and how to share your poster with us.
How should I name my files?
Please title your files with your name (ie. "robert-douglas-ford-map.pdf"). It will make us very happy and easy for us to sort.
RULES & DISCLAIMER:
• The poster must be original and designed by you or in tandem with another person
• If you use photography it must be your photo,  a photo from the Toronto Archives, or an image that is used with permission
• Spacing reserves the right to use your entry as part of the promotion of the issue in which the content appear
EXAMPLES: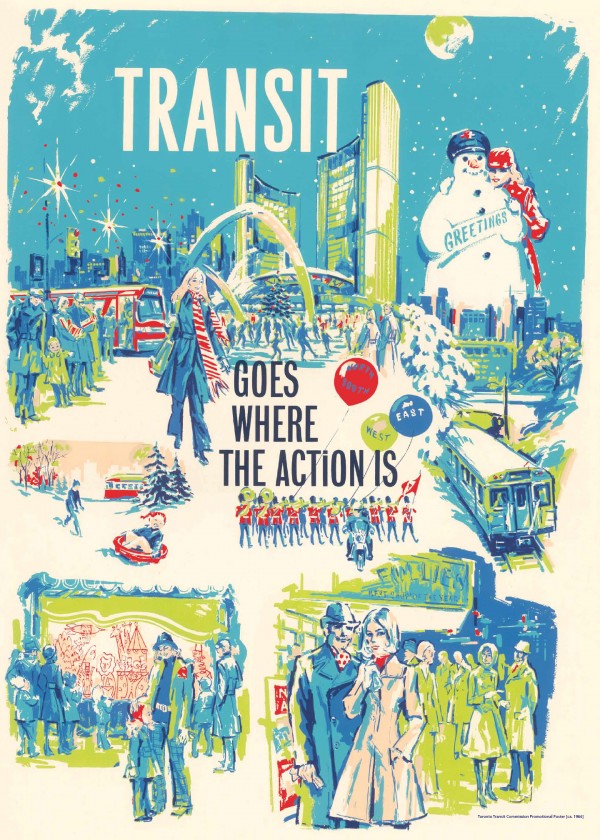 above: TTC poster from 1966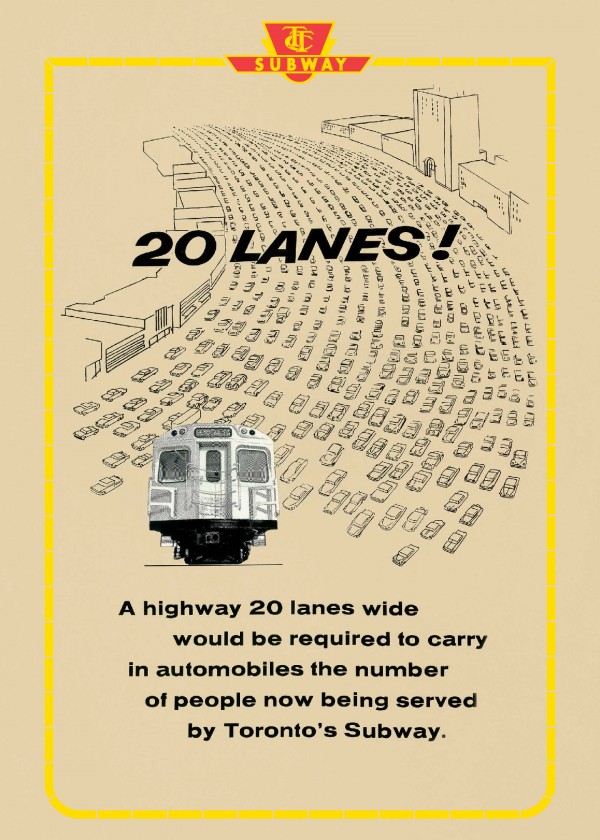 above: TTC poster from 1974