The NXT CITY PRIZE is all about vision to reimagine Toronto's public spaces and inject a sense of energy, dynamism and reflexivity. With a focus on ideas coming from the next generation of city builders, The NXT CITY PRIZE is an open invitation for all young people connected to Toronto to improve on the design of our city's open spaces. The NXT CITY PRIZE will be announced in mid-August, and the deadline for submissions is July 31st. Spacing has teamed up with the NXT CITY PRIZE to provide our readers with a series of Q&As with local and national city builders in the lead up to the announcement of the winning design.

TODAY: DAVE HARVEY, founder of Toronto Park People
What public space improvements have you made?
I love getting my hands dirty doing direct improvements in public spaces like planting and caring for trees and native gardens but my work with Toronto Park People is to enable, educate and inspire residents, business and community groups to partner with the City to make improvements in their public spaces. Our motto is When Residents Get Involved, Parks Get Better and we've helped build up the number of local park friends groups in Toronto from 40 three years ago to over 100 today in almost every ward in the city. Its these hundreds of community volunteers who are working with city staff and improving parks across Toronto.
What public space improvements would you like to see in Toronto?
We're involved in helping communities initiate great public space projects across the city – from a new partnership to revitalize Allan Gardens, to butterfly meadows in hydro corridors in Scarborough and new exciting animated spaces in community housing lands in Etobicoke. Overall, we see the most important improvement to be a continued evolution at City Hall to be more open to innovative community initiated projects in our public spaces and the NXT City Prize is a great example of the city showing more openness to supporting new ideas. In terms of specific projects, one of the ones I'm most excited about these days is the potential of the Green Line – a vision for a 5 km new linear park along the hydro corridor north of Dupont in-between Spadina and Lansdowne.
What other cities have strong examples of good public space?
We have a good parks system in Toronto but we can learn about how to do great parks by learning from creative community partnerships that resulted in amazing parks in New York, Chicago, Pittsburgh, Minneapolis and San Francisco. And its amazing what the Assiniboine Park Conservancy is achieving making dramatic improvements to that key park in Winnipeg.
Your advice to young people as it relates to public space?
It is such an exciting time to be involved in public spaces in Toronto. We're on the cusp of a great parks renaissance and one of the key sparks is that young people are driving new ways to use our parks and reimagine the role that parks can play in our communities. Parks are no longer just an empty place of grass, a bench and a few trees. They're dynamic, exciting community hubs. My advice is just keep pushing those limits!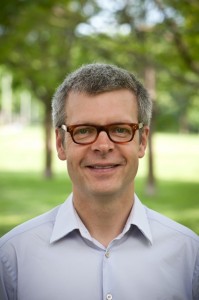 Dave Harvey founded Toronto Park People in 2011 and is their Executive Director. Dave has many decades of experience managing environmental and municipal issues in government and in politics. He was awarded a Metcalf Foundation Innovation Fellowship in 2010 and released a report for the Foundation: Fertile Ground for New Thinking – Improving Toronto's Parks. Prior to his Fellowship, Dave served as Senior Advisor to the Premier of Ontario, working to develop, implement and communicate the Ontario Government's agenda in the areas of environment, natural resources, and municipal affairs. He played a key leadership role in many aspects of the Ontario Government's progressive agenda, including the 1.8 million acre Greenbelt, the GTA Growth Plan, the City of Toronto Act and the Go Green Climate Action Plan. He has served on the boards of LEAF and the Task Force to Bring Back the Don. In recognition of his contributions to the community, he was awarded a Toronto Community Foundation Vital People grant in 2011.
Map courtesy of Green Line Toronto