Interview by: Melanie Fasche
Hadley+Maxwell are a Canadian artist duo formed in Vancouver in 1997 and now based in Berlin. Their body of work includes installations, performances and writings that employ a diverse array of media to rework iconic images and traditional forms as they are expressed in pop-cultural, artistic, and political movements. Their work cuts into reified narratives via direct touch, transposition and re-figuration, putting into play the absences cast in relief.
Hadley+Maxwell have exhibited at galleries, museums and biennales worldwide, including the Künstlerhaus Bethanien (Berlin), National Art Gallery of Canada (Ottawa), Power Plant (Toronto), Project Art Centre (Dublin), Taipei Fine Art Museum, Vancouver Art Gallery, Witte de With (Rotterdam), the 4th Marrakech Biennale, and the 19th Biennale of Sydney.
Hadley+Maxwell are currently in Toronto completing a major public art installation, the Garden of Future Follies, which is being installed in the West Don Lands, at the corner of Front Street and Bayview Street. Please visit On The Waterfront for up to date information on its completion, and follow Waterfront Toronto on Twitter for related news.
We met with Hadley+Maxwell at a downtown café to talk about their art practice, the Garden of Future Follies, and the role of public art for the city.
Melanie Fasche: What motivated you to expand your art practice to include public art?
Hadley Howes: Our introduction to public art was through the invitation process. We didn't actively seek it out. From the very first years of our practice, we always worked site responsively. We always felt a little bit isolated if we were working just the two of us in our studio, so from the beginning we actively engaged with third parties and sites to create our work.
Maxwell Stephens: Ten, twelve years into our practice making contemporary work we started working with public sculptures, but not with the intent to create a public art piece. These early works involved using heavy black aluminum foil that we pressed onto public sculptures to capture impressions and then make new compositions out of those forms, a bit like a three-dimensional collage. We would pin these pieces to steel armatures and hijack the historical narrative that the original sculptures presented, trying to pull out different correlations and potential meanings. We were taking away from the public realm to show work in the ephemeral exhibition context of galleries and museums.
HH: We had been doing a lot of research into what existed in public art, monument and memorialization, and after doing this work with public sculpture for a while we started to receive invitations to propose new public artworks. We found that there is a wealth of bronze and stone in the cities we have visited that seems to go relatively unnoticed – this is what Robert Musil calls the "conspicuously inconspicuous" character of monuments – and approached this with suspicion. What became apparent once we stopped ignoring monuments was what does not get represented by this form of public honor. We have handled hundreds of figurative sculptures in public spaces in the last few years, and found, unsurprisingly, that they represent a very tiny set of ideals and identities. I think this impoverished representation reflects the mundane forces that are constantly at work in our environment to insinuate unimaginative (and often harmful) values. What happens when we reiterate, fragment and collect the repetitive forms and gestures that normally contribute to the low-grade hum of dominant ideologies and reconfigure them transformed, monstrous, with no set identity? Can we free these existing objects up to be re-imagined by the public in ways that challenge the values we unconsciously accept? These are a couple of the questions that have motivated this practice.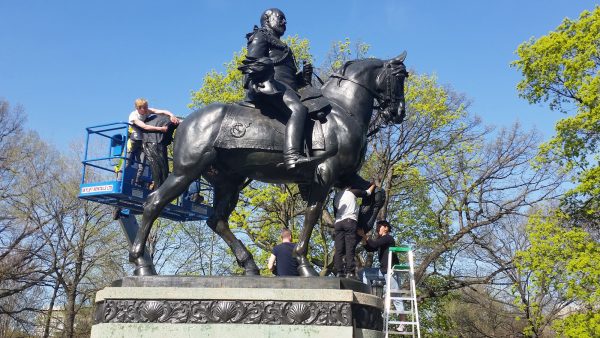 MF: In 2014 Waterfront Toronto awarded you with a commission to create a new sculptural installation for the corner of Front Street East and Bayview Avenue in the West Don Lands community. How did you develop the idea for the "Garden of Future Follies" and how are you creating the individual sculptures?
We have chosen over 80 different monuments and architectural features from around the City of Toronto to build this sculpture garden. It is a folly composed of seven sculptures. All the sculptures are collaged fragments. They wear the desire to become a sensible whole but they never arrive there. We are hoping that this triggers instability conceptually and even visually.
HH: There are about 190 fragments that we have cast in bronze. Now we are in the process of collating them. The way that they are coming together is still evolving, and will continue to evolve up until the work is installed. Sir John A. Macdonald's nose is assembled along with the eyes of artists Frances Loring and Florence Wyle, the chin of Dr. Sun Yat-Sen, and Northrop Frye's hair; Jack Layton's smile is one of seven that grace a figure lounging atop a reconstituted mantel from the library at Osgoode Hall; a bell from St. James Cathedral's famous collection is perched on a cannon from Fort York; while nearby a suitcase from the Memorial to Italian Immigrants acts as a plinth for a collection of hats from various bronze heads.
MS: We are now at the mercy of the material. As bronze, the fragments are inflexible. It is exciting to work with this rigidity. There are problems we have to solve right up to the very finish that involve aesthetic, conceptual and structural concerns in equal measure.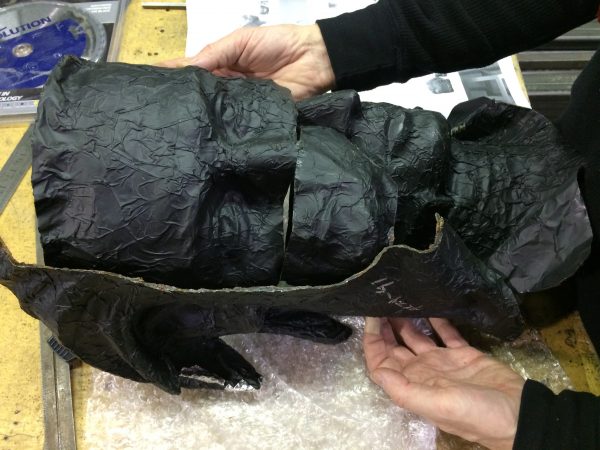 MF: Please tell us more about your vision for the "Garden of Future Follies".
HH: It is a fantasy of impermanence, undoing images that may seem carved in stone. Part of the fantasy is to go through all these sculptures in Toronto that we imagine to be fairly invisible to the general public. We mostly work with figurative sculptures, which are predominantly monuments to Caucasian men – politicians and business moguls – who were part of the colonial power structure purported to have built the city. Very few people really know who they are anymore, but the sculptures stand there larger than life. When we see them we get the message that they are meant to be venerated; these are the people we are supposed to be grateful to for this great city. Next to these at a much more modest scale and number are monuments, often funded by small communities in the city, to people who (like the sculptures themselves) are marginalized and much less visible: revolutionary leaders, immigrants, community activists, civil servants, poets, and artists. Then, next to these, is the glaring absence of sculptures that do not exist which could honor individuals who remain invisible, unnamed, and unrecognized in society at large.
The Garden of Future Follies is a fantasy of disturbing the hierarchy that the scale and presence of these sculptures implies, a fantasy of a future where these figures won't matter to us for the same reasons for which they were made – perhaps because there is a way of living that no longer recognizes this method of illustrating histories, no longer values the histories they propagate, or has completely new interpretations of what these things communicate. There is an element of this fantasy that is about the ruin of a certain kind of history, that questions the value of this method of representation itself, and at the same time has a sense of humor about the ubiquity of these forms in Western cities.
I grew up in Toronto and as a kid I fantasized about being able to get on top of the big horse in Queen's park. To me, this statue paid homage to an enormous horse; I paid no attention to King Edward VII who rides it. Part of this project is that we are taking things like this that are out of reach and bringing them down to the ground, where a child really can get on top of the horse, but also where the King disappears. We are exercising their accessibility as objects, as bronze things, that can be touched and played with.
MS: It is an activation of that childlike imagination that is innocent to hierarchies of value.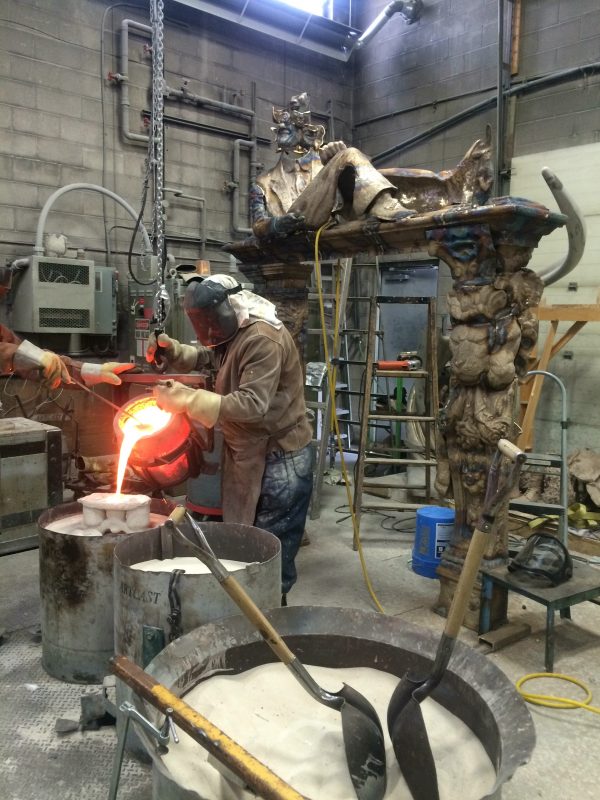 MF: How does your public art practice differ from your studio practice?
MS: The research and how we gathered the pieces, all this is very much the same process we employed for the Biennale in Sydney. The change is that we are making a work that will be permanent and in public. These two elements are very different for us. It is a small shift in scale materially, but a huge shift conceptually.
HH: It is making the shift from gallery work that is impermanent to public work, which is "so-called" permanent. But nothing actually is permanent, the public work just has more durability than the work that we do for institutions. And it still is for an institution, for the institution of the city, the polis. The public work will disintegrate over time, it will acquire a patina from the environment but also from the way that people use it, that we can't possibly foresee. And we hope that it becomes more and more part of the environment and is owned by the people who encounter it.
MS: I think another aspect of longevity is that over time the interpretation of what the monument means will change. Culture itself moves forward and causes us to read the sculptures differently.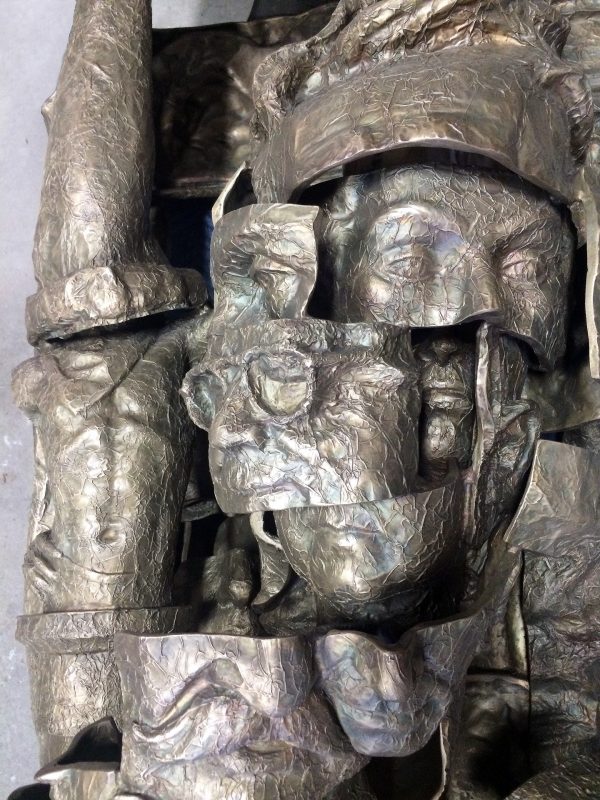 MF: What is the role of public art for the city?
HH: I think at its best public art is an interruption in the smooth flow of a commonly accepted narrative. The most effective public art to me is the stuff people actively engage the most and have the most argument about, because it is not yet identifiable, not yet categorized, not yet named. It represents something, or it is an experience of something, that opens our sensibility to all kinds of worlds. It has to do with extending our imagination. There is always room for our imagination to be able to stretch. It is about the autonomy of the perceiver and opening an imaginative capacity.
MS: I agree completely. This is a major aspect of our work as a whole, and is central to our collaboration.
MF: How does the process of commissioning public art vary?
MS: Waterfront Toronto uses a different model because it is a curated selection of work for the entire neighbourhood and area of development.
HH: It is definitely the most generous positioning of our work that we have been invited to apply for. Sometimes, when you are asked to propose for these things it feels like somebody is offering you the smallest parcel of land in a remote corner, often it feels public art is placed to the side, an add-on. This one was the opposite experience.
MS: We weren't able to provide renderings for the sculptures, but we made little maquettes, using photography and the black cinefoil, to be able to show the jury what we would be creating. And we had to insist that we would have autonomy to respond to the material we had at hand, right to the end. We could not predict exactly how the sculptures would look from the outset. And from what I understand about public art this is really uncommon nowadays.
MF: Which communalities do you see in today's public art?
MS: There is a lot more use of technologies that are correlating information in real time and then coming up with some means of translating this information and presenting it. And there has been a lot more use of light. But pieces that stand out for me? We are often looking for the old, rather than the avant-garde positions.
HH: Exactly, when I go to other cities, I am interested in the trends of the 19th century. Many of these sculptures are invisible to people who live with them everyday, but they are still there, ominously, sometimes being taken care of by the city, sometimes ignored. I think this invisibility can be dangerous because we are not recognizing that these are still things with certain value. How can we put this into question, bring them back to visibility and simultaneously free them from the history that they are meant to propagate?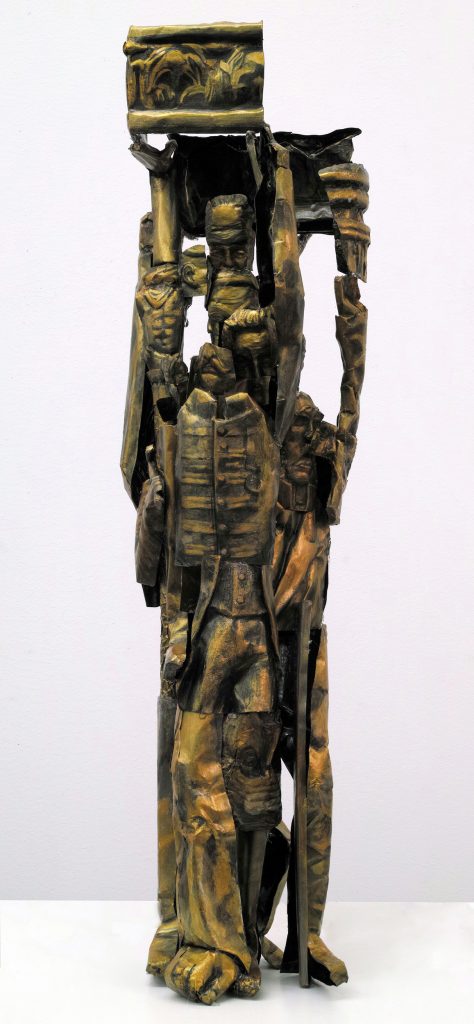 MF: This brings us back to your art practice and a look into the future. Is there a specific site you would love to develop a public artwork for?
MS: I love the idea of Grand Central Station in New York. The train station is such an organism, there is so much movement through it and time is a big element: the cyclical time of the trains coming and going, and the linear time of people's lives from birth to death.
HH: The added dimension of time to public space is an exciting challenge. What does the idea of public time mean? It would be wonderful to have the opportunity to add this dimension to our work. On the other hand, I'm really curious about the Steilneset Memorial, by Louise Bourgeois and Peter Zumthor: it is a monument in Vardø, Norway, commemorating the trial and execution of 91 people for witchcraft over 300 years ago. It recognizes an event that happened so long ago, and it is very difficult to experience in the flesh due to its remote location. How do you make public art for a place that is not inhabited by a human public?
MS: I love just knowing that it's there! It is neither public nor private. It is a whole new category.
HH: This would be an amazing challenge.
The interview has been edited and condensed.
Melanie Fasche is a Postdoctoral Fellow at the Martin Prosperity Institute at the University of Toronto.
The Artful City is a bi-weekly blog series exploring the evolution of public art and its role in the transformation of Toronto, both the city fabric and the community it houses. For more information about The Artful City visit: www.theartfulcity.org