Harper Lee's "To Kill A Mockingbird" is most remembered for the 1962 film adaptation starring Gregory Peck as Atticus Finch, a white lawyer in the Depression-era south with two children – Scout and Jem – and a black woman housekeeper, Calpurnia, who helps to raise the children after their mother's death. Audrey Dwyer's "Calpurnia," a Nightwood Theatre and Sulong Theatre co-production, on stage at Buddies in Bad Times, is a set-in-Toronto remix of Lee's narrative.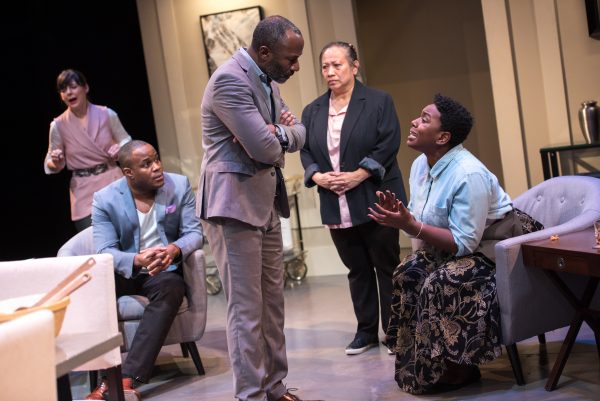 Instead of rural 1930s Alabama, the setting is present-day Forest Hill, an affluent Toronto neighbourhood. Rather than focus on themes of race, criminality and racial prejudice, Dwyer turns our attention to the Gordons, a well-to-do black family whose mother is deceased; their housekeeper Precy (Carolyn Fe), a Filipina who helped to raise the Gordon children, just like Calpurnia; and the intersections of racial prejudice, interracial relationships, and class privilege.
Julie (Meghan Swaby), a 20-something aspiring screenwriter, lives with her father Lawrence (Andrew Moodie), a judge who was born in Jamaica but raised in Canada. Her brother Mark (Matthew Brown) is an up-and-coming lawyer with a white girlfriend named Christine (Natasha Greenblatt). He is convinced that Julie, as a 'rich kid,' does not have black 'street cred' necessary to rewrite Calpurnia. She has no black friends and, as Mark repeatedly points out, she does not know anything about southern domestic workers. Even though Precy informs Julie throughout that she also taught them to read and was, for all intents and purposes, their primary caregiver, Julie seems to know little about her own domestic worker.
While Calpurnia is just a play, it reminded me that we still have a difficult time talking about race in this country. For example, last week, CTV's Question Period held a panel discussion on the topic of Donald Trump's alleged use of the word 'shithole' to describe African nations. The panel consisted of three white men and a white woman. There were no visible minorities (i.e. someone from an African country perhaps) invited to speak. At the same time, labour discussions in recent weeks have also neglected to consider how the federal government's live-in caregiver program (LCP), which was closed to new applicants in May 2017, has also created a racialized workforce.
Created in 1992, the LCP pitch was a simple one. Women, from countries like the Philippines, were encouraged to join the program for two years, after which, they were told they could reunite with family and gain permanent residency but the process usually takes years and often these women remain in a non-citizen status.
At one point in the play, when Lawrence announces to Precy that he would love to visit the Philippines, she responds by telling him that she has not seen her children in years because they still reside there. Despite Lawrence's Jamaican background, he is clueless about Precy's predicament, and also a time in Canada's history when Caribbean women were 'the' live-in caregivers of choice.
From 1955 to 1965, the Canadian government initiated the Caribbean Domestic Scheme. While thousands of European domestics came to Canada around 1900 under a similar government initiative, they were immediately and automatically given permanent residency. Caribbean domestics, on the other hand, were given the opportunity to apply for permanent residency after one year. But during their tenure, many women were subjected to harsh work conditions, and were paid less than their European counterparts.
Since January 1, there has been a public debate about Ontario's minimum wage increase, from $11.60 per hour to $14. According to a Toronto Star report, the average food services employee in Toronto works 30 hours a week. What most people don't realize, however, is that live-in caregivers rarely get paid minimum wage and often work up to 80 hours a week. In 2015, one Filipina caregiver told Toronto Life that despite a minimum wage of $10.25 at the time, the families who hired her expected her to work 12 hours a day (not the stated six), which meant she earned about $4 per hour.
While this is just one example, temporary foreign workers, in general, have mostly been ignored in debates over minimum wage hikes. Since Jan. 1, the public outcry over Tim Hortons' franchisees and their parent company, Restaurant Brands International, which clawed-back workers' benefits, tips and other entitlements following the $2.40 minimum wage hike on Jan 1, has ignored the plight of Tim Horton's temporary workers.
Tim Horton's has said it employs around 4,500 people as part of the temporary foreign worker program (TFWP), equalivalent to about five per cent of its 100,000-strong workforce. While that may not seem like a lot, Maclean's once observed that if a temporary labour force is like a release valve, when local labour markets overheat with the addition of new stores, if you multiply it by all the other chains pursuing a similar strategy, the number of temporary workers adds up.
Additionally, according to a 2016 Calgary Herald report, the TFWP requires employers to pay for recruitment costs and workers' airfares, but regulation of recruitment fees and recruiters fall into the jurisdiction of provincial governments. Ontario made it illegal to charge recruitment fees to all migrant workers in 2015, but a survey of 132 caregivers by the Caregivers' Action Centre and Parkdale Community Legal Services in Toronto found that two-thirds had paid fees averaging $3,275 after Ontario prohibited them in 2010.
On the surface, a play like "Calpurnia," as some reviewers have noted, is about the visibility of blackness, white racism and class privilege. But on a deeper level, it reminded me of an observation by the University of Oregon's Priscilla Peña Ovalle, a cinema studies scholar who noted how Latinas bridge the boundaries of whiteness and blackness in America, their bodies framed as desirable on the one hand, and disposable on the other.
In a city like Toronto, Filipina live-in caregivers similarly live in an in-between state of being.
While we openly debate (and protest) over minimum wage hikes, the plight of caregivers whose labour takes place behind closed doors, in the homes of some of the wealthiest white and increasingly, black families in our city, deserves our attention. "Calpurnia" shines a necessary spotlight on this taboo topic.
photos by Dahlia Katz
---
Cheryl Thompson is a 2016-2018 Banting Postdoctoral fellow at the University of Toronto and the University of Toronto Mississauga. Follow her on Twitter @DrCherylT