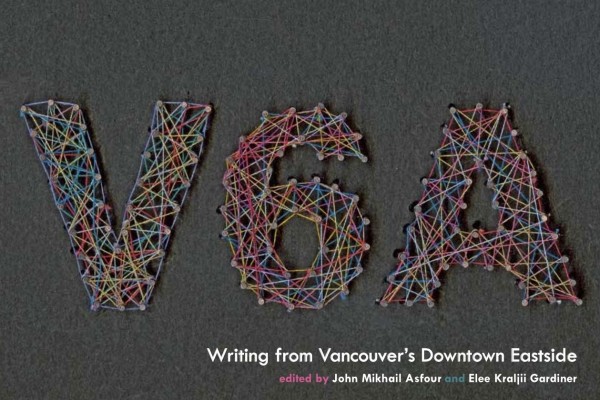 When journalists toss around mentions of Vancouver's Downtown Eastside, they rarely go without immediately noting that it is "Canada's poorest postal code." The Downtown Eastside, Canada's poorest postal code. We've all heard that before.
If this is all you know of the neighbourhood, then it's time you picked up a copy of V6A, a compilation of poetry and short stories from former and current residents of the Downtown Eastside – compiled and edited by John Mikhail Asfour and Elee Kraljii Gardiner.
"The Downtown Eastside may be one of the most written about neighbourhoods in Canada, but how much of that writing is self-generated?" asks Kraljii Gardiner.
The idea for the book came from the Thursday Writing Collective, a series of free, drop-in creative writing classes at Carnegie Community Centre for members of Vancouver's Downtown Eastside. The Collective is run by Kraljii Gardiner, who was inspired to create V6A after inviting Asfour to one of their weekly meetings.
"John had this sparkling enthusiasm. He bonded with everyone at the meeting and told me afterwards that we must do a book," said Kraljii Gardiner. "It wasn't long before we were putting the call out to writers who ever had been part of the Downtown Eastside at some point in their lives. That was our only submission criteria."
Over many Skype calls from Montreal to Vancouver, Kraljii Gardiner and Asfour were able to narrow down their selections for the book. According to Kraljii Gardiner the writers are a mix of people who've published and some who haven't. "Every piece has a different energy, but overall we wanted to find pieces with a profound sense of humanity," said Kraljii Gardiner. "We wanted to use writing to create a map of the Downtown Eastside at this point in time."
V6A refers to the postal code assigned by Canada Post in 1972 as a prefix for the Downtown Eastside. The code not only allowed for sorting mail, it allowed for collecting data on the area's inhabitants through censuses and studies, ultimately leading to its label as "Canada's poorest postal code."
"It's like a schoolyard nickname that won't wear off," says Kraljii Gardiner. "All those statistics and labels suck the air out of the room. They ignore the intangibles, those unquantifiable aspects of community that cannot be charted or graphed. We wanted to recast the neighbourhood as a centre of creativity and flare."
This is not your standard heavy fare. The Downtown Eastside is full of tragic stories, but somehow V6A strikes the perfect balance of sadness, nostalgia, sincerity, optimism and even humour.
"V6A passes the pen to those who form the community so that they may guide our gaze to witness the human condition as we know it," says Kraljii Gardiner.
The book opens with a beautiful poem by Phoenix Winter contemplating her own death while contemplating the cherry blossoms in Oppenheimer Park.
One writer under the pseudonym My Name is Scot, captures the push and pull exerted on the neighbourhood through its use as raw material for the film industry. His piece is a literal compilation of notices informing residents about the temporary use of streets and lots by film crews.
One would think a short story that touches on the difficulties and anxieties of being on the streets would be depressing, but John Barry's retelling of the experience in Postcards in Distant Traffic is heartwarming and funny.
"The book is a space for self determination. My main hope is that it helps create a place for the authors to communicate their ideas," said Kraljii Gardiner. "But I also hope that it reaches people beyond the V6A borders and helps start a conversation on the creative energy, humanity and optimism that exists in the Downtown Eastside and how we can support that."
In the spirit of supporting creativity in the community, partial proceeds from V6A will fund Thursdays Writing Collective.
***
Jillian Glover is a communications advisor who specializes in urban issues and transportation. She is a former Vancouver City Planning Commissioner and holds a Master of Urban Studies degree from Simon Fraser University. She was born and raised in Vancouver and is very interested in how people in urban environments engage in their cities. In her spare time, she writes about urban issues at her blog, This City Life – which you can visit at www.thiscitylife.tumblr.com.