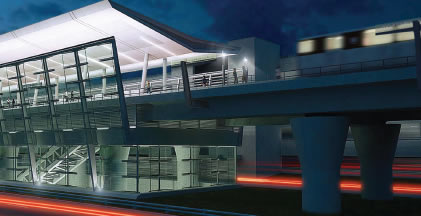 Call to Artists, Art in Transit Program – Washington Metropolitan Area Transit Authority
Fairfax County & Loudoun County, VA, USA
SITE-SPECIFIC ARTWORK FOR SIX FUTURE SILVER LINE METRORAIL STATIONS
LIGHT-INTEGRATED ARTWORK FOR FUTURE METRO TRANSIT POLICE SUBSTATION & TRAINING FACILITY
Budget: $250,000 & $100,000
Submission Deadline: February 15, 2013
The Metro Art in Transit Program works with communities surrounding Metro transit facilities to integrate artwork that promotes transit use, enhances travel by Metro, and highlights the cultural vitality of the National Capital region.
Art in Transit is seeking artists, with public art experience, to create site-specific artwork for six future Silver Line Metrorail stations and to create a light-integrated work of art for the future Metro Transit Police District II Substation and Training Facility. This Call to Artists is open to all artists with site-specific public art experience.
The maximum budget for each Silver Line Station is $250,000 (USD).
The maximum budget for the Substation and Training Facility is $100,000 (USD).
A panel of art and design professionals and community representatives will review portfolio submissions, and select three finalists to develop a site-specific proposal for each location. Finalists will be given a detailed overview of their assigned station and receive a $1,500 design fee to create a site-specific artwork proposal. The panel will review finalist proposals and select one proposal for each of the seven sites.
Mailed submissions must be postmarked by February 15, 2013.
For full details on the project and submission requirements go to:
http://www.wmata.com/community_outreach/metroarts/call_to_artists.cfm
For more information about the Metro Art in Transit Program, visit www.wmata.com.
***