Next Session: Sunday, March 10 2:00PM – 4:00PM @ MOV (1100 Chestnut St)
And we are off to the races… Leading into a series of workshops taking place throughout March, last Sunday's kickoff event provided participants with tools to become public participation experts. The Vancouver Design Nerds led a room of engaged Vancouverites through an instructive jam session (a term the Nerds seems to prefer to the classic Charrette). Although the Nerds warned of the threats to civic engagement, including technology and physical isolation, during breakout sessions the room was buzzing with ideas.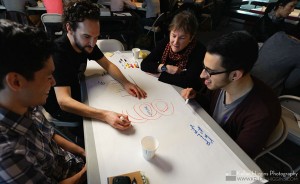 Groups were tasked with redesigning select spaces in Vancouver that the Nerds considered urban deserts. The only rule being that there are no bad ideas. The final concepts offered imaginative solutions to real urban issues. A zip line was proposed from the Burrard Street Bridge down to the Burrard Civic Marina, addressing the lack of connectivity on the westside of the Bridge. A giant glass umbrella sheltering a countdown to the next sunny day was proposed south of the False Creek Energy Centre. A communal table along Granville Street was proposed, providing the neighbourhood with a space to share a meal. Although some of the ideas would have a hard time receiving Council approval, they touched on topics key to urban discourse: art/graffiti, bikes, rain/ocean, community, music and coffee.
In the words of Scot Hein, Senior Urban Designer with the City of Vancouver, who stopped in for a visit, it is events like these that serve to "…generate momentum around ideas".
Next Sunday, the Upcycle Urbanism series continues with a workshop on Hallucinating in Public: Creating Environments that are Beautiful and Disruptive. All are welcome to this, and future sessions. For a free ticket, please comment with your favorite public space in Vancouver. First four comments will be contacted.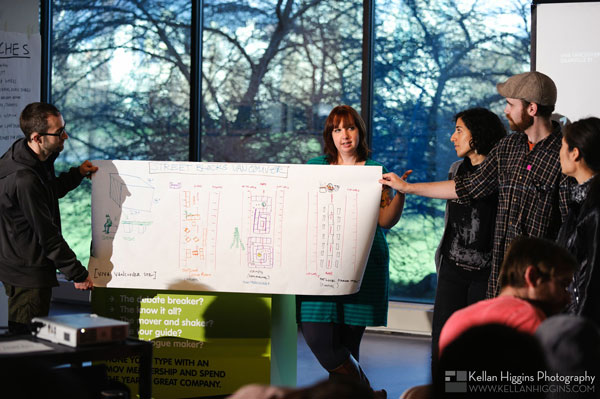 ***
Anya Paskovic is an urban planner, Vancouver flâneur and world traveller interested in public spaces, urban design and community planning. By continuously questioning the relationship between people and place – places we love, we tolerate and we ignore – Anya seeks to create functional and engaging environments that reflect community values and respect the natural environment.