Last Sunday's Upcycled Urbanism workshop at the Museum of Vancouver saw participants engage in a group hallucination. Led by UBC School of Architecture's Bill Pechet (and yours truly), the theme of the workshop was based on the notion of the design process—specifically, the imagining of spaces that are not yet built—as a delusional state of mind common to the designer, architect, landscape architect, and planner. The aim of the session was to assemble the individual design delusions of the group into a series of mass hallucinations on public space in Vancouver.
The charette segment of the workshop took its cue from the Surrealist's exquisite corpse (or exquisite cadaver) technique that is meant to create a composition of individual thoughts that begins to reflect a collective conscious. With the leading thought of "If I were to hallucinate in public…", groups of three were first asked to generate an exquisite corpse of written phrases. The resulting passages, mainly sensual in nature, were used to inspire ideas of a public space. Subsequent exercises would involve the layering of individual and group drawings into a series of "corpses" that represented the diverse and seemingly incoherent imaginings of the workshop's participants.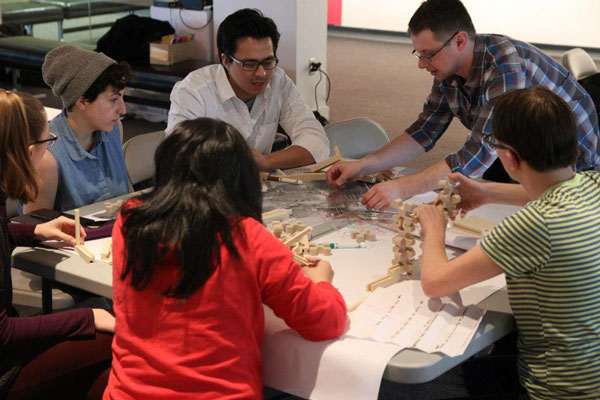 This summer, the ideas generated from the Upcycled Urbanism series will be built using modular polystyrene blocks designed by UBC Architecture students. The next event is Block Talk: creating spaces that connect people and it's this Sunday, March 17th at the Museum of Vancouver. People of all backgrounds are encouraged to attend this event and the following workshop being held Sunday, March 24th. Book your spot soon as space is limited.
***
Ian Lowrie is a member of studioCAMP. He holds a Bachelor of Environmental Design degree from the University of British Columbia.