There is a new public space installation in front of Prado Café on the corner of Commercial Drive and 4th Avenue available for your enjoyment! The Commercial Drive Parklet is part of VIVA Vancouver's Parklet Pilot Program, an initiative that supports the transformation of on-street parking into public spaces. The structure made out of wood and steel is an elegant yet comfortable space to enjoy a cup of coffee or watch people pass by.
The design takes aesthetic clues both form the interiors of Prado Café and from the streetscape of Commercial Drive. The colour and materials create a discrete connection to the coffee shop while the form of the wooden boards projecting over the planters emulates the shapes of the buildings on the street. The parklet is experienced as an extension of the sidewalk while creating a clear separation from the car traffic. The interior space contains tables and benches that offer diverse seating arrangements to be used either collectively or individually.
The Commercial Drive Parklet was made possible by a team effort between social artist Julien F. Thomas, designer Stewart Burgess, landscape architect Emily Dixon and the folks at Prado Café. The collaborative aspect of the Commercial Drive Parklet is also reflected in the way it was funded. The project is supported by combination of public and private funding as well as through a Kickstarter campaign launched in December 2013.
Most importantly, this new parklet gives the street back to people and offers a new public experience, available to all.  Go check it out while the sun is out!

Panoramic view with Commercial Drive Parklet on left.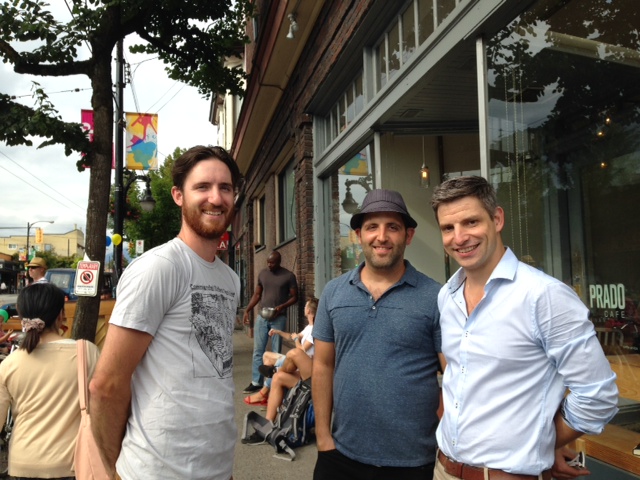 Three Parklet team members – Julien Thomas, Prado owner Sammy Piccolo and Stewart Burgess (Emily Nixon absent).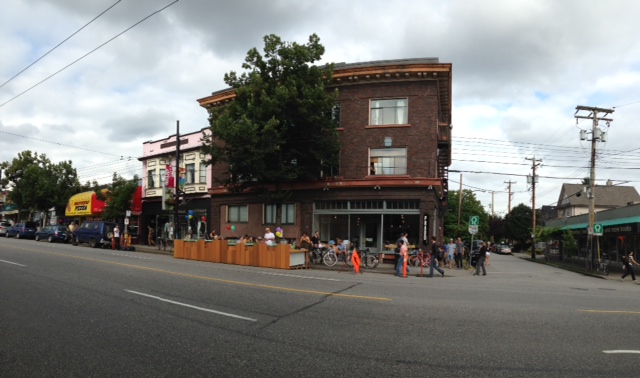 Parklet and Prado Café view from across the street.
***
Alicia Medina Laddaga is an architecture and urban designer/researcher based in Vancouver. Originally from Mexico where she studied and practiced architecture, she moved to Vancouver in 2011 to pursue a Masters of Advanced Studies in Architecture at UBC. While trying to bridge the gap between two cultures (Mexico and Canada), Alicia keeps on developing her ideas about the ways in which dynamic and spontaneous processes transform cities into vibrant urban environments.