Author: Steve McDonald (Chronicle Books, 2015)
Fantastic Cities is a colouring book.  Not a colouring book intended for children, but for adults. Created by Steve McDonald, his first book is a collection of illustrations of cities that exist, as well as a few that he made up himself.  The book is one of many in a new wave of interactive art books aimed at adults. It is an interesting concept that has roots in providing people with a creative outlet and giving people an activity that they can use to de-stress. Although some therapists are critical of the actual merits of using colouring books to better one's mental well-being, they are becoming quite popular. On a recent visit to an Indigo book store, I saw a whole section of colouring and doodling books specifically for adult consumption.
The very idea of a colouring book seems strange on the outset. Why would someone do this?  Is it a grasp at a long lost childhood?  Is it a refusal to grow up?  It could be argued that it is. However, there are two sides to the recent boost in popularity of adult colouring books. The first is that colouring or drawing occupies the same place as doing a puzzle. It's a relaxing activity that's just meant to be fun. As it turns out, lots of people find it fun.  You can even join a colouring club and meet up with other people who just want to get together and do some good old fashioned colouring.
The other side of the colouring book craze is rooted in – what some may find questionable – therapeutic calming and mindfulness practice. The idea is that a creative outlet provides a place and ritual that can be used to calm the mind and promote mental wellness and mindfulness. This rightfully has split the field.  Some people swear that it has helped them, and there is a whole industry surrounding something called Zen Tangle® that has been used as a way of helping people with addictions. Others say that they would not consider using it in actual practice, but if you want to colour for the sake of colouring, go for it. There seems to be no definitive answer as to whether it actually helps people, save for personal testimonials.  So if someone says that it has helped them calm their mind or deal with other problems, then it probably has.
Whatever your reason for wanting to get colouring, the book itself contains 58 pages that are ready for you and your colouring weapons of choice. McDonald has included vistas from far away like Tokyo,Japan, or Wasserburg, Germany, as well as more local scenes like one from Creemore, Ontario.  Each illustration is incredibly detailed. Were you to colour every page in the book, it would probably take you more than a month on a fairly regimented colouring schedule.  The detail of the drawings makes it so you have to slow down and really look at each building.
As you fill in the page, you also have to pay attention to how the buildings, streets and trees interact with one another. It really becomes an interesting way to explore a picture of a city. You are able to impose your own idea of what existing places should look like by colouring them in as you choose.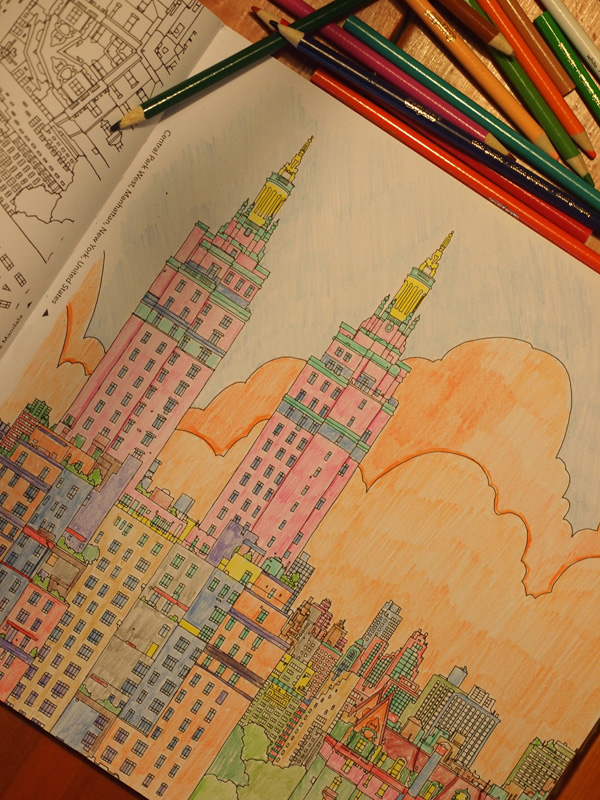 It would be disingenuous of me to do a review of a colouring book without doing some colouring myself. The picture above shows a page that I coloured in of Central Park West in New York.  I have to admit that I did find it relaxing up to a point. Colouring in these detailed pictures can take a very, very long time. But over the course of a few sessions I eventually coloured in the whole page (minus some windows). As you can tell, my version of Central Park West is much brighter and garish than actual Central Park West, but I did enjoy filling it in over time. If you like cities and think you might enjoy some leisurely colouring then be sure to pick up Fantastic Cities.
***
If you want more information on Fantastic Cities, visit the Chronicle website.
**
Andrew Cuthbert works as a planner and has a love for everything to do with spatial data. When not working Andrew can most likely be found on his bike taking in the sights and fresh air.