Transcribimus is Latin for "We transcribe." It was started in June 2012 by former Vancouver Mayor Sam Sullivan. He wanted to learn more about David Oppenheimer, Vancouver's second Mayor, who had been instrumental in establishing the trajectory of the modern city. Sullivan spent time in the Vancouver Archives with the Vancouver City Council minutes but found the microfiche copy was barely readable and the originals were physically deteriorating. He made a commitment to honour the legacy of David Oppenheimer by having the minutes from 1886 to 1891 transcribed and put online in a searchable form for free access by researchers and the general public.
About Transcribimus
Transcribimus supports a network of volunteers who are passionate about history and community service. They work to make historical documents available free of charge for online access by researchers and the general public. Transcribimus is based in Vancouver British Columbia and is a project of the Global Civic Policy Society, a federally registered charitable non-profit society.
The first minutes were transcribed by contractors but over time Transcribimus moved to a volunteer model. As the volunteers grew close to completing the first five years of Vancouver City Council Minutes they looked at taking on more challenges.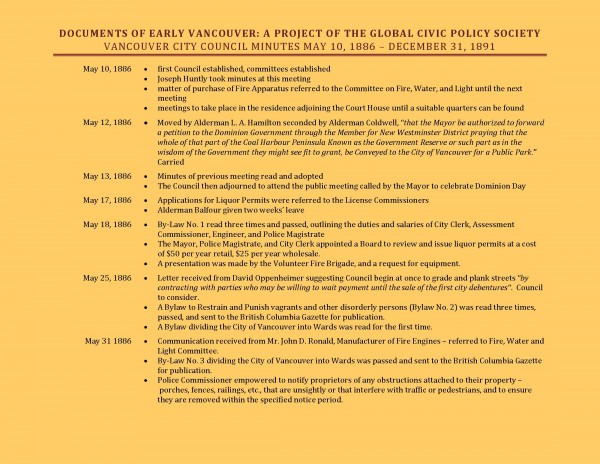 The originals and transcriptions of the early documents are currently hosted on the Global Civic Policy Society website. When the project is further developed they will be hosted on the website of the City of Vancouver and on the archival site of Internet Archive.
Become a Volunteer
To become a volunteer, email info[at]globalcivic.org and let the team know you are interested in volunteering with Transcribimus. They will send you photographs of the documents by e-mail. You can transcribe them wherever you happen to be.However little or much you are able to finish, you are adding to our shared knowledge of our history. Your volunteer efforts are recognized on each document you transcribe.