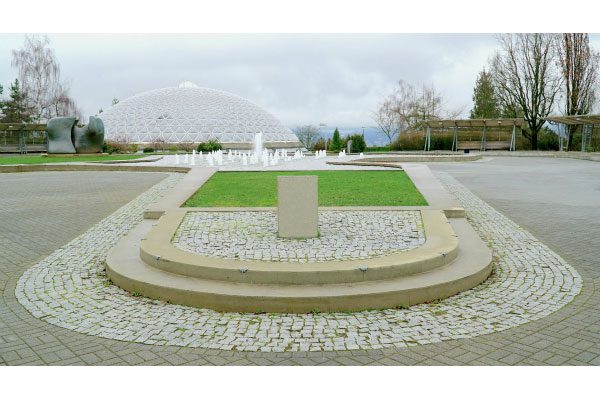 There is wide agreement among scholars of comparative mythology that the 'axis mundi' is the most ancient and culturally widespread mythological motif known to us. It spans the range of societal forms, from those that practice animistic or shamanic belief systems to complex, post-industrial urban centres. It is, at the same time, one of the least commonly recognized myths.
Put simply, an axis mundi—sometimes referred to as a 'cosmic mountain' or 'world pillar'—is a sacred space that occupies the geographic centre of an inhabited region, often located at its highest elevation, and that acts as a portal to link the earth's surface with the heavens and underworld. A survey of the relevant literature reveals nine criteria that assist in the identification of axes mundi within populated areas worldwide. In addition to the three qualities mentioned, they must be established in a young settlement, consecrated by a holy person or shaman, demarcated for society's rulers, symbolically 'feminine', include a temple, and transmit a theme. The video below describes how all nine are observed at Queen Elizabeth Park (please view in 1080p HD and full screen).
A Curious Little Mountain
In early 2015, I recalled what I had learned decades earlier as an undergraduate student of comparative mythology, noting several of these axis mundi identifiers at Vancouver's Queen Elizabeth Park. Its elevation at the city's highest peak, central geography and establishment while the city was still young were indicators. So, I undertook to investigate the possibility that our affectionately nicknamed Little Mountain might reasonably be identified as our local axis mundi.
I did so based on my observation that modern western cities are often devoid of local mythologies. We have our urban legends designed  to provoke giggles or shock, but genuine myths—as shared stories that reveal the ethos of the cultures within which they arise—serve a higher purpose. That purpose is to bolster social cohesion.
Decoding Queen Elizabeth Park
To test my hypothesis that Queen Elizabeth Park is Vancouver's axis mundi, I drew on work by the renowned late mythologist Mircea Eliade and by contemporary geomancers Scott Onstott, creator of the film Secrets in Plain Sight, and Cort Lindahl, author of the book Axis Mundi: The True History of the World Revealed through Architecture. While the axis mundi concept predates Eliade by millennia, he coined the term and wrote extensively on the motif.
Onstott and Lindahl offer techniques, made possible in 2005 with the release of Google Earth, which I apply to my examination of Queen Elizabeth Park. I also reference private study on synchronicity, a word coined by analytical psychologist Carl Jung to describe meaningful coincidences; on ancient Egyptian mythology; and on a succession of secretive groups that have acted as custodians of occult knowledge that date from the ancient Babylonian mystery schools to present-day Freemasonic orders.
As Above, so Below
Geomancy, as practiced in my study of Queen Elizabeth Park, is a form of divination that involves interpretation of lines and textures on the ground. It is also defined as the propitious placement or arrangement of buildings and significant landmarks like monuments, memorials and public artworks. The video presentation embedded above traces lines and textures beyond the intentional design inferred in the latter sense to reveal a hidden universal architecture not fashioned by the minds and hands of people.
Motivation for the purposeful encoding of symbolic elements (often numbers and equations) in the built environment by some city planners, architects and other professionals involved in urban design might rest in a quote by ancient Egyptian goddess Isis in The Book of What is in the Duat:
Whosoever shall make a copy of these forms, and shall know it, shall be a spirit well-equipped, both in Heaven and in Earth, unfailingly, regularly and eternally.
Apparently, some among us quietly make it their work to encode the layouts of cities we call home with numeric patterns found in the manifest universe, in hope of gaining the favour of the gods. But whom or what is the source of the improbably present yet measurable patterns that pervade creation? Whose template are certain tight-lipped people using in the design of places we live, work and play in? For now, the uninitiated can only speculate.
Transcending Ghettoization
Mass migration guided by public multiculturalism policy in Canada has fostered the grouping of people of diverse ethnicity and faith into metropolitan areas while advocating respect for differences as they appear. Those who express intolerance may be sanctioned under law.
This apparent need to punish might be lessened if residents of cities characterized by such diversity work together to fashion mythologies resonant with the widest array of tiles that comprise the cultural mosaics they occupy. The axis mundi, a setting for many creation myths, might be an apt place to start.
An Uncommon Tolerance
Left brain dominant skeptics will dismiss observable universal patterns as coincidental and may, in so doing, affirm a preexisting belief in a random and ultimately meaningless universe. The evidence suggests otherwise, in my view. Until the source of designs that appear to be the products of consciousness is identified, some amount of faith is required to accept the mystery. Those willing to do so often experience a sense of awe over the intricate mathematical beauty found in creation.
A shift away from the segregation implicit in multiculturalism policy and toward harmonization with resonances revealed in sacred geometry can occur as we recognize we are all embedded in universal patterns and that the patterns are also embedded in us, independent of racial ancestry or cultural belief system. Science informs us they are, in fact, coded into our biology.
In such sentience, we might find inspiration to develop our myth-making talents and—by way of shared story—to transcend the superficial differences and indoctrinated attitudes that hold us apart. It would be a step toward reconciliation and genuine peaceful coexistence, and one away from ghettoization in Canadian cities.
What better place for Vancouverites to embark on a civic myth-making project than from our centre, our very own axis mundi, Queen Elizabeth Park?
***
Jay Black is the eye behind the lens of Unicorn Portrait + Editorial. His freelance photography portfolio includes work published by the City of Vancouver, Vancouver Board of Parks and Recreation, BC Civil Liberties Association and Pivot Legal Society. His poetry has appeared in numerous North American and Western European literary journals, in English and in French translation.