The New Beautiful City
New ideas about trash
While our city figures out the monster garbage bin mess,
a Toronto designer's EcoTrio is winning over Chicago's braintrust.

A column by winner Amanda Smith

: : : : : : :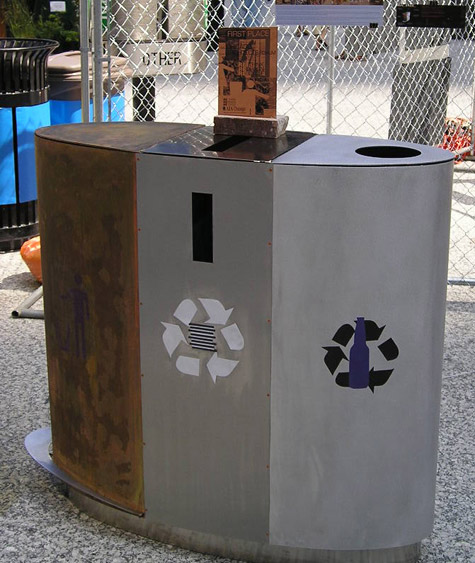 Recycling should be 'glamorous', 'beautiful' and 'desirable'. At least that's what some of the entrants in a recent competition to design a new urban recycling receptacle for the streets of Chicago would like you to think.
The competition, held in the summer of 2005, by the American Institute of Architects (AIA) – Chicago Young Architects Forum, called for designs for an ecologically intelligent urban recycling container for downtown Chicago. In response to the AIA's call for entries, they received proposals for a varied selection of innovative containers described in the event program with words like 'sculptural', 'memorable' and 'symbolic'. At around the same time as Chicago's competition was announced, Toronto was co-incidentally introducing the trial of EUCAN's seven-foot high MegaBin, a combination recycling/garbage/advertising structure, which is currently trying to make its way through councils and committees.
The call for entries for the competition, named reThink/reDesign/reCycle, asked entrants to reexamine the process of recycling in its entirety from the creation to the disposal of materials. My design partner, Deborah Kang and I, along with 130 other entrants, submitted a proposal for a receptacle. Our container, called EcoTrio, (pictured above) an elliptical recycling container made of copper, steel and aluminum, was chosen as the winner of the competition. As thrilled as we were to win, we were also blown away by the creative solutions the other twenty-four finalists had proposed. Their submissions included green alien-shaped containers that attach to existing trash cans and containers made of recycled and reclaimed materials including bicycle tires and a variety of metals and wood. There were also receptacles that combined recycling with other functions, doubling as flower pots, subway station signs, public notice boards, bus shelters and light standards. The entrants seemed to have endless ideas for how recycling containers could be used to inspire and involve passerby in the recycling process.
When preparing our submission we wanted to propose a container that was both attractive and easy-to-use. We designed a three-compartment container (for containers, papers and trash) that would be constructed out of reclaimed materials and of materials that would be collected in the container: steel and aluminum. We wanted to demonstrate to users the potential for re-use of reclaimed and recycled materials. A circular opening was used for the container section of the bin and a rectangular opening for the papers so the user wouldn't have to think about how to dispose of their recyclables. We also included a foot-pedal operated lid on the waste section of the container so users wouldn't have to touch the container. The lid would also help keep odours inside and pests out. We envisioned that while opening the lid to the trash section, the user would take an extra second to think if the item they were about to throw away could be recycled instead. We wanted to design a container that would invite users to recycle.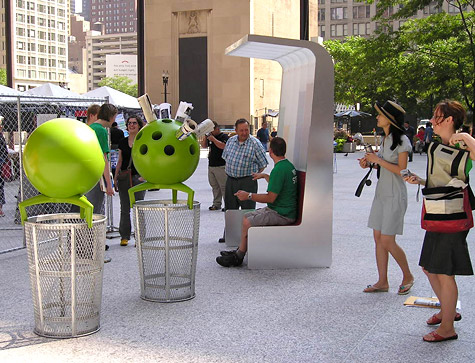 When I turned my focus back towards Toronto's streets, it became quite obvious to me that EUCAN's MegaBins have been designed with advertising as the primary function, and recycling as an afterthought. The bins are difficult to use and do not fit well into Toronto's cityscape. Illuminated and seven feet high, they are more intimidating than inviting. When the bins are oriented perpendicular to the sidewalk, as they are in many of the trial locations, the user has to walk very near the edge of the road, and off their course on the sidewalk to access the street-side openings. The trash compartments are too small and often overflowing with trash that is accessible to birds and bees and children. The labels and the orientation of the openings make it difficult at first glace to figure out where to dispose of recyclables. The two bus shelter-sized advertising panels on either side of the receptacle are, however, oriented perfectly to ensure optimal exposure to passing pedestrians and vehicles, blocking the sidewalk in the process. The recycling containers that line our streets should invite passerby to use them and should contribute to the experience of living in the city, not detract from it by blocking our sidewalks and making advertising visibility a priority over function.
As the City of Toronto moves towards its goal to divert 100% of Toronto's waste from landfill by 2010, the City should be looking for ways to invite recycling, not to discourage it with confusing and uninviting bins. If Toronto Council and citizens decide they can't give up the subsidies provided by EUCAN, the City should put the project out for other competitive bids. As I learned in Chicago, there is no limit to the number of ways we can collect our waste and Toronto should hold out for a solution that is both functional and beautiful.
Go to reThink/reDesign/reCycle website