The Nova Scotia Archives is pleased to share photos showcasing the changing faces of urban centers in Nova Scotia. You can learn more about the archives and explore thousands of photos, textual records, maps, art, and more on their website.

HALIFAX — Before the Maritime Centre opened its doors in 1977, the corner of Barrington St. and Spring Garden Rd. in Halifax was home to the Capitol Theatre, which was demolished in 1974 to make room for the office tower.
The movie house and theatre opened its doors in October 1930 to considerable fan-fare. The architect, Murray Brown, designed the building with a castle theme, which included stars and clouds on the ceiling.
The Halifax Mail wrote an article on 31 October 1930 describing the theatre on its opening day:
Entering the theatre under the brightly illuminated marquise and sign we find ourselves at the entrance to a castle, with a stone wall coped with red tile surrounding us. This wall is pierced with ballustraded and grilled openings through which we catch glimpses of the surrounding countryside.
This Mezzanine Promenade has the same magnificent carpeted floor and massive round pillars supporting the groined and vaulted roof. Deep vaulted embrasures lead to the Balcony level through brass-studded and felt-covered doors, while other embrasures have mullioned and leaded windows.
The walls of the staircase are in old-time half timber construction, the balustrade being of carved oak and the whole stair covered with the same fine carpet.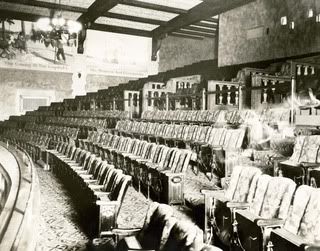 The roof is formed of massive oak beams carried on the carved grotesque brackets on smaller beams running between the main beams. The panels between these beams are formed of special acoustical plaster so as to get the best possible results from the sound equipment in the Auditorium.
The Stage is fitted with a very modern electric panel board, which controls the lights of the Theatre and Stage. It has the most modern equipment for dimming these lights, so as to produce pleasing color schemes in the Auditorium. The Stage is fully equipped with a gridiron floor some seventy-five feet above the Stage level which provides ample accommodation to allow for hoisting the large talking horns of this sound equipment, as well as making it possible to accommodate any large traveling theatrical production which may visit the city.
Previous to the Capitol Theatre, this location was home to the Academy of Music, renamed the Majestic in 1918. It opened in 1877, and was home to countless musical and theatre productions for over fifty years. It was demolished in 1929.
Reference: NSARM Photo Collection Places: Halifax: Buildings