The Nova Scotia Archives is pleased to share photos showcasing the changing faces of urban centers in Nova Scotia. You can learn more about the archives and explore thousands of photos, textual records, maps, art, and more on their website.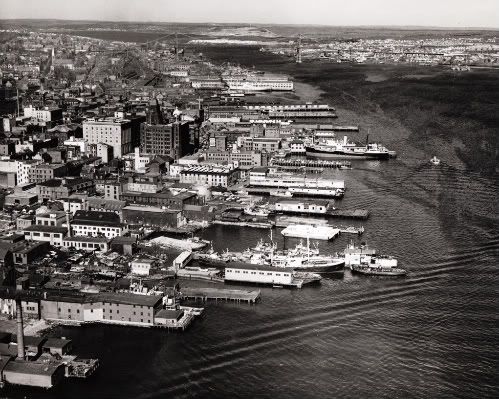 Halifax Waterfront
Aerial photos taken by Nova Scotia Information Service. NSIS dates back to 1924, when the Nova Scotia Publicity Bureau was established with a mandate to "Tell the world about Nova Scotia."
Images were taken between 1945 and 1970.

Macdonald Bridge under construction

Chester

Truro
Liverpool

Mahone Bay

North Sydney
Canso Causeway under construction
Downtown Halifax
Yarmouth
Reference: Nova Scotia Information Service NSARM no. NSIS 9171, no. NSIS 9164, no. NSIS 12281, no. NSIS 11920, no. NSIS 11915, Nno. NSIS 9496