The Nova Scotia Archives is pleased to share photos showcasing the changing faces of urban centers in Nova Scotia. You can learn more about the archives and explore thousands of photos, textual records, maps, art, and more on their website.
A look back at the shops and businesses that made up the Water Street area in Halifax.
Halifax, Looking North from the Grain Elevators, ca. 1886

The Canadian Atlantic and Plant Steam Ship Company Wharf and Building, "After the fire at T.J. Egan's [177 Lower] Water Street", ca. 1904
The Plant Steam Ship Company was located at the foot of Sackville Street, on the waterside of one of the numerous downtown 'arches' leading from street to wharf, all of them now long gone from the urban landscape. The firm of Thomas J. Egan sold guns, fishing tackle and sporting goods, and it was in that building that the fire began.
The Plant Line, established in the city since 1889, offered the only direct shipping and passenger service between Halifax and Boston, and thus captured the majority of business traffic along this important sea route.

Cook's building, 47-49 Upper Water Street at head or entrance to Black's Wharf, ca. 1910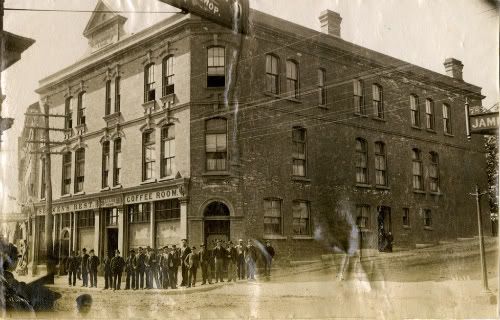 Sailors Home and Seamen's Rest, #74-76 Upper Water Street, Halifax, Nova Scotia, ca. 1885
A. Fordham, Leather and Shoe Findings. — West side of Upper Water Street. To the South at 144 & 146 Upper Water Street is Starrs & McNutt, and at 138 & 140, "The Fremont House" of Thomas Martin, ca. 1871
See an advertisement for these businesses here
Nova Scotia Brewery, Alex. Keith & Son. — West side of Lower Water Street, ca. 1871.
See an advertisement for the brewery here.
R. Pickford, Ship Chandlery. — East side Upper Water Street. To the left in the image, at 27 Upper Water Street, is the premises of Thomas Doyle, Grocer and Liquors, ca. 1871.
To see an advertisement for this business, please click here.
Victoria Paper and Twine Company, Lower Water Street, Halifax, ca. 1941

Children at play on steps of the Atlantic Fisheries Experimental Station, 209-211 Lower Water Street, ca. 1942
Halifax Waterfront, ca. 1940s
"A small army of men and boys is kept busy on the wharves of Halifax, handling the vast quantities of fish which the boats bring in, unloading vessels, weighing fish, mixing brine, mending barrels, packing casks and boxes, and doing the hundred and one jobs which handling fish in such large quantities entails."
From Prince Street to Cogswell and Cunard Streets, including wharves along Water Street, ca. 1934
References: Tom Connors NSARM accession 1987-218 no. 813, Notman Studio NSARM accession no. 1983-310 number 35 /  negative: N-10119, Notman Studio NSARM accession no. 1983-310 number 65423 /  negative: N-5301, Joseph S. Rogers NSARM negative N- 439, Joseph S. Rogers NSARM negative N- 439, Joseph S. Rogers NSARM negative N-454, Joseph S. Rogers NSARM negative N-455, E.A. Bollinger NSARM accession no. 1975-305 1941 no. 295b, H.B. Jefferson NSARM accession no. 1992-304 / 43.1.4 201