The Nova Scotia Archives is pleased to share photos showcasing the changing faces of urban centers in Nova Scotia. You can learn more about the archives and explore thousands of photos, textual records, maps, art, and more on their website.
From Halifax Street Names: An Illustrated Guide edited by Shelagh Mackenzie with Scott Robson:
"The original British plan for Halifax divided the colony into a fortified central town flanked by North and South suburbs. The North Suburbs began in the vicinity of what is now Scotia Square and, over the years, expanded north. Initial settlement took place from 1750 to 1752, with the arrival of hundreds of "foreign Protestant" immigrants. Many were German, and, owing to an anglicization of the German word "Deutsch", the North Suburbs where they settled became known as Dutch Town.

In 1753, most of the Germany relocated to Lunenburg, but a small nucleus remained behind in Halifax. In 1764, some of them petitioned the government in council to name their area Gottingen, commemorating the district of Germany. The council granted their petition, but the name Gottingen became less appropriate when Brunswick Street, named after another Germany district, emerged as the major artery north. The parallel street one block west remained Gottingen Street."
Countess Clans William's group, relaxing by the tennis courts on the lawn east of Admiralty House, Gottingen Street, ca. 1885
"For many years, Gottingen Street remained a sparsely settled country lane, trailing north to Fort Needham and the nearby Governor's North Farm. When military property prevented the extension of Brunswick Street north of North Street, however, Gottingen became the main artery of Halifax's expanding North End. In the late 1800s and early 1900s, north Gottingen attained prestige as a residential address, and south Gottingen became a bustling centre of commerce."
Professor McGregor's House, 130 Gottingen Street, Halifax, ca. 1890
"This is Gottingen Street 40 years ago (ca. 1900). On the corner Mrs. Cooks' meat shop. Paul's tailor next door and Freeman's furniture store."
–  Tom Connors

View of Halifax after explosion showing damage to buildings not burned. looking West. The foreground shows Gottingen Street in the vicinity of Kane, Livingstone, Stairs and Stanley streets.  ca. 1917


Gottingen Street a few hours after the Halifax Explosion, ca. 1917
Recently Constructed Hydrostone Houses, Gottingen Street at Fort Needham, Looking North, ca. 1921
Aerial view of north end Halifax showing Hydrostone district
at centre right, ca. 1921
Landmarks include High Services Reservoir, Robie Street (near upper left), Richmond School (near upper right), St. Mark's Anglican Church, Gottingen Street (lower right), and Oland & Son (Breweries), Agricola Street (near lower left).
Probable Birthplace of Sir John S.D. Thompson, Prime Minister of Canada, ca. 1933
109 (formally 95) Gottingen Street, corner of Prince William Street, Halifax. 1st Headquarters of 40th Battalion under Lieut.-Col. W.P. Gibsone, World War I. Demolished 1947.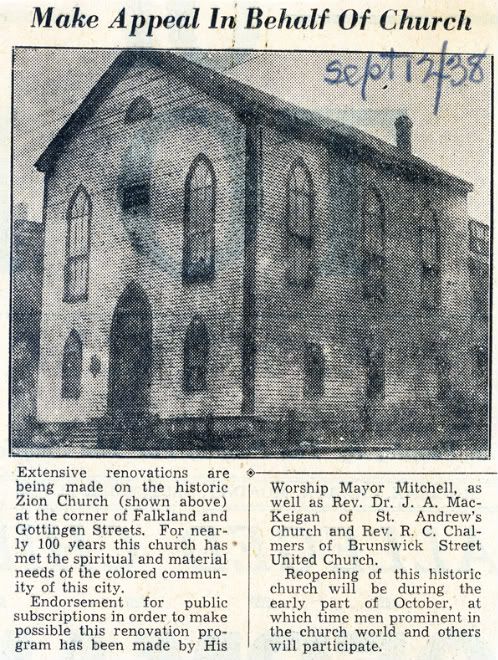 African Methodist Episcopal Zion Church, ca. 1938
The African Methodist Episcopal Zion Church opened in 1846. It stood for over a century at the southwest corner of Gottingen and Falkland Streets. It was demolished ca. 1955. The Black Methodist community in Halifax dated back to the preaching of Moses Wilkinson ("Old Moses") and Boston King on the eve of the exodus of the free African Nova Scotians to Sierra Leone in early 1792.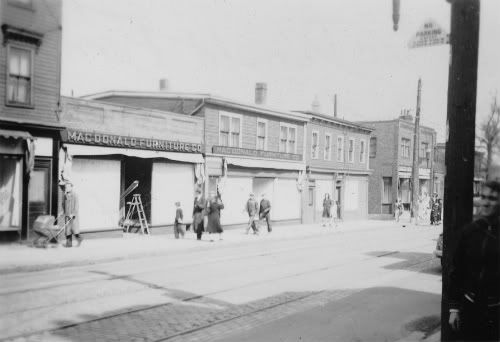 MacDonald Furniture Company, 15-17 Gottingen Street, ca. 1945
I.P.C.(International Provision Company) grocery, 35 Gottingen Street, ca. 1945
Gottingen Street looking north, ca. 1949
"After the Second World war, owing to demographic trends and unsuccessful urban planning, the area surrounding south Gottingen began to deteriorate, so that by the 1970s it presented an unflattering image of urban decay. However, the area surrounding north Gottingen became renovated and improved. "

Gottingen Street near Falkland, looking north, Halifax, ca. 1957
"In the 1980s, apparently to eliminate social stigma, city council changed the name of Gottingen north of Young Street to Novalea Drive. Today, a trip along the full length of Gottingen Street/Novalea Drive passes through diverse neighborhoods that mirror key stages in the history of the North End."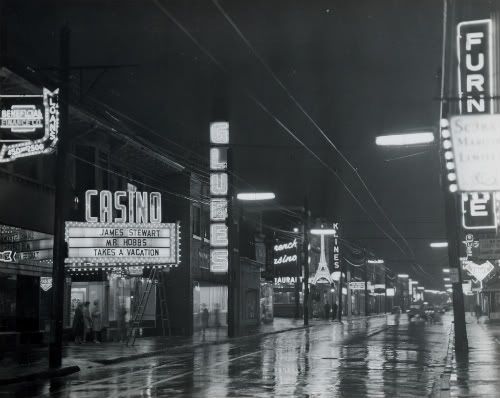 Gottingen Street at night ca. 1962
Gottingen Street at night ca. 1962
North End Memorial Library, ca. 1965 (Scan from Canadian Architect, April 1968)
Gottingen Street Shops ca. 1965. Shoppers came to Gottingen for footwear, clothes, jewellery, etc. at stores such as Rubins Men's and Boys' Wear, Macy's ladies wear, the Metropolitan Store, Woolworth's and Withrow Drugs.
Reference: Notman Studio NSARM accession no. 1983-310 number 61778, Notman Studio NSARM accession no. 1983-310 number 64154, Halifax Relief Commission NSARM accession no. 1976-166 no. 110, Lillian Blakeney NSARM accession no. 1989-439, Janet Kitz NSARM accession no. 1992-359  /  negative: N-7048, Halifax Relief Commission NSARM accession no. 1976-166 no. 41, NSARM  Photo Collection Places: Halifax: Houses, NSARM  "Make Appeal In Behalf Of Church", Halifax Mail 12 September 1938 p.2 (microfilm no. 7288), Copyright (c) Estate of Ralph W. Kane. Used by permission. NSARM, Copyright (c) Estate of Ralph W. Kane. Used by permission. NSARM, Nova Scotia Information Service NSARM no. NSIS 11366, HRM Archives photo #102-39-1-377.2