The Nova Scotia Archives is pleased to share photos showcasing the changing faces of urban centers in Nova Scotia. You can learn more about the archives and explore thousands of photos, textual records, maps, art, and more on their website.
One of the finest surviving examples of Victorian Gardens in North America, the Halifax Public Gardens began on Common land by the Nova Scotia Horticultural Society in 1836. (Text from Friends of the Historic Public Gardens and HRM.)
The Society's aims were to establish a garden to promote an interest in botany and proper horticultural technique – "to improve the culture of the best kinds of fruit, the most useful vegetables, shrubs trees, and choice flowers," while at the same time providing a delightful retreat for the citizens.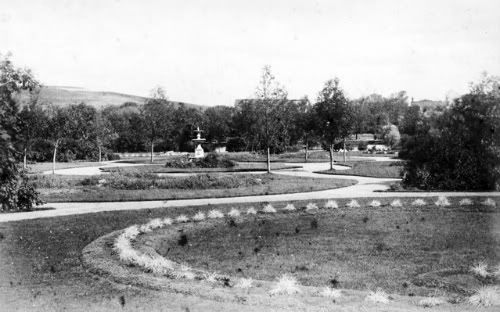 Public Gardens ca. 1879
About 1841, the site chosen for the new garden was then part of the Halifax common, and now comprises the southern half of the Public Gardens. The space was fenced and laid out in flower beds and vegetable plots. It became a resort for all the wealth and fashion of the time, with military bands furnishing music on fete days and holidays. The Society strove to become self-sufficient by selling vegetables and flowers. In1848, Horticultural Hall was built to accommodate meetings of the Society, and had a frost-proof cellar to protect vegetables stored through the winter.


Strolling by the Bandstand, ca. 1880s
In 1866, Alderman John MacCulloch directed gardener Michael Shea to lay out a flower bed north of the Horticultural Gardens in the vicinity of "the lake" – now called Griffin's Pond – based on a plan Alderman MacCulloch had seen while on a visit to Paris. And in 1867 Sir William Young, Chief Justice of the province, opened the two-acre City Garden Plot to an appreciative public.
Champion oarsman George Brown on the Gardens' pond, ca. 1870
A second series of gardens was established by the City of Halifax in 1867 and in 1874 the gardens were unified into the present 16 acres.
Posing with installations, ca. 1890s
In 1872, Richard Power was hired as the Garden's superintendent. Under his supervision, the Gardens saw many of the linden and elm trees along Summer and Sackville Streets that still exist today.
School children at unveiling of fountain, Public Gardens, Halifax, Jubilee week, ca. 1897
Power remained the superintendent until 1915, and during that period he oversaw the introduction of the bandstand, the fountains, statues and wrought iron gates – all fundamental features of the High Victorian Pleasure Garden and all honouring a milestone in Queen Victoria's reign, a contemporary military event, or an important local personage.
Iron wrought gates, ca. 1908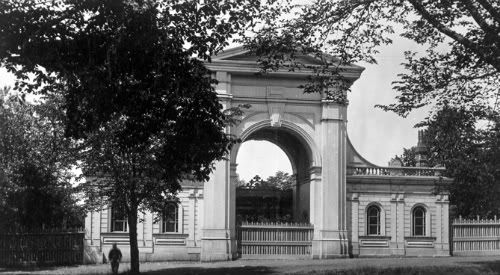 South Park Street Gate, ca. 1890s
Throughout the Gardens the trees, shrubs and flowers are planted as separate specimens. The Gardens are filled with many exotic and semi-tropical species enriched by colour and texture. Power believed the Gardens were a work of art rather than a work of nature.
Public Gardens' Pond, ca. 1941

Among the flowerbeds, ca. 1950s
Some archival film featuring the Public Gardens has been digitized, including:
Beauty Spots of Nova Scotia (starting at 6:26)
Nova Scotia Travelogue
The Land of Ultima Thule (5:00)
Scenes of Halifax
Citadel City (7:43)
Further reading: Halifax Public Gardens Protection Act