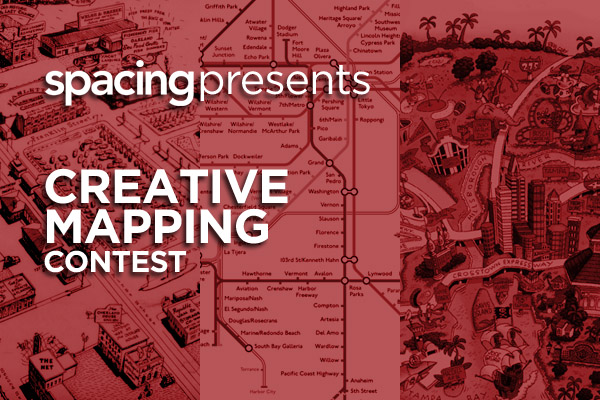 Spacing magazine presents the CREATIVE MAPPING CONTEST
Do you love maps? Are you an illustrator, graphic designer, or visual storyteller? Spacing wants you to submit your original creative maps inspired by a Canadian city.
WHAT MAKES A MAP CREATIVE?
The art of map-making has taken tremendous strides in the digital age. In the last decade, there has been an explosion of maps that are not necessarily meant to be used for directions, but instead are considered works of art and inspired imagination. We want you to create an illustrative map that reflects a Canadian city (or a neighbourhood, community) or is inspired by the urban elements that make up a city (examples: waterfront, transit, cycling, walking, graffiti, parks, architecture, laneways/alleys, streets, traffic, taxis, weather, sewers, infrastructure, etc….)
DEADLINE: Monday, April 30th, 2012
KEEP UP TO DATE: Visit the Creative Mapping Contest web page for updates and feel free to "RSVP" to our event listing on Facebook in order to receive reminders about the deadline and other announcements.
PRIZES: Yes! We are still in the process of collecting prizes from sponsors but we guarantee the winners will get some really cool stuff.
COST: Free!
WINNERS: Spacing editors and a panel of judges will pick a handful of winning entries that will be published in the September 2012 issue of Spacing (our next national issue). Spacing will contact the winners; by entering the contest you are given permission to Spacing to publish your map(s) for a one-time usage.
HOW TO ENTER: You must register to enter. Send us an email by April 30th and we will provide you with uploading details. EMAIL: creativemapping@spacing.ca
HERE ARE SOME CREATIVE MAPPING EXAMPLES: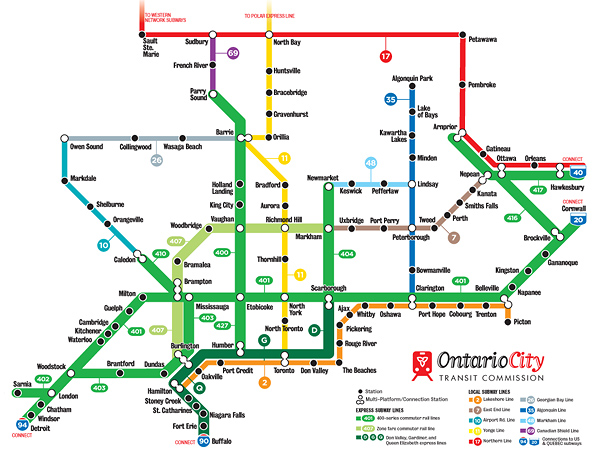 • MASH-UP MAPS (two separate subjects combined) like this one that was just published in the Winter 2012 issue of Spacing. It imagines if the actual highways of Ontario were subway lines instead.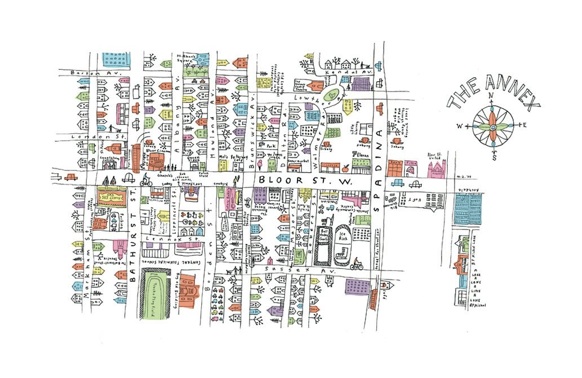 • NEIGHBOURHOOD MAP, such as this example by Marlena Zuber
• FANTASY TRANSIT MAPS: You can find a wide range of these for any city that already has/wishes they had a subway system. This example of an imagined Ottawa subway system is by Adam Bentley of Spacing Ottawa.
• UNCATEGORIZED MAPS: Below are examples of mapping that are we are seeking for this competition.
by Olly Moss
by Ork posters
Matthew Cusick creates paintings of people using maps.