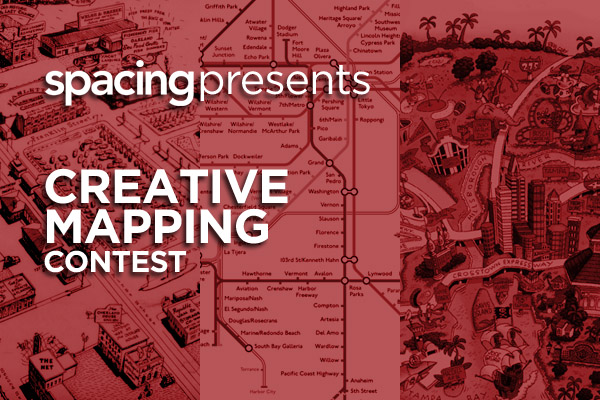 DEADLINE EXTENDED TO MAY 31st

Spacing magazine presents the CREATIVE MAPPING CONTEST
Do you love maps? Are you an illustrator, graphic designer, or visual storyteller? Spacing wants you to submit your original creative maps inspired by a Canadian city.
To date we have received an amazing assortment of submissions. But we also had a whack-load of requests for late submissions. In the spirit of openness, we've extended the deadline until the end of May.
DEADLINE EXTENDED: Thursday, May 31st, 2012
COST: Free!
WHAT MAKES A MAP CREATIVE (see examples at bottom of page)?
The art of map-making has taken tremendous strides in the digital age. In the last decade, there has been an explosion of maps that are not necessarily meant to be used for directions, but instead are considered works of art and inspired imagination. We want you to create an illustrative map that reflects a Canadian city (or a neighbourhood, community) or is inspired by the urban elements that make up a city (examples: waterfront, transit, cycling, walking, graffiti, parks, architecture, laneways/alleys, streets, traffic, taxis, weather, sewers, infrastructure, etc….)
FREQUENTLY ASKED QUESTIONS
HOW TO ENTER: You must register to enter. Send us an email and we will provide you with uploading details. EMAIL: creativemapping@spacing.ca
How many maps can I submit?
As many as you like.
When will the winners know that their map is being published?
Spacing will email all winners in the summer to make sure we have the optimal file for printing, as well as make sure your name is spelled correctly. Nothing will be published in Spacing without your permission.
Are there prizes?
Yes (but no cash). Besides all the fame you will receive for being published in Spacing (!?!), there will be a variety of prizes from sponsors and Spacing advertisers. We will announce the prizes available as we get closer to the deadline.  Spacing is assembling a team or jurors from across Canada, including a few Spacing editors. We are trying to get a mix of jurors from different professions (cartographers, architects, graphic designers, illustrators, and Spacing readers). We will publish the jurors' names after the final submission deadline of April 30th.
What if my map is not selected — what happens to it once the contest is over?
Spacing plans to publish the winners' maps as well as a number of honourable mention entries on our web site (we will keep the online versions low-resolution and embed the files into an app so that your work cannot be extracted and distributed without your consent).
On your entry form, you can indicate whether you wish to allow Spacing to hold onto your map(s) so that we can consider using it in future issues.
What if I don't live in Canada?
We won't hold that against you. We just want the maps that you create to be inspired by Canadian cities (since our audience and distribution is exclusively in Canada).
TECHNICAL STUFF
Is there a preferred size to the maps?
There is no limit to the physical size of your map. But please consider Spacing's page dimensions (landscape format) when submitting your maps. Your map doesn't have to be the exact same size as our pages, but you should keep in mind readability of text and other design elements in relation to our dimensions. PAGE SIZE: 10.5-inches in width / 8.125-inches in height; add .25-inch to either side if you wish to see the map "bleed" off the edge of the page.
What type of file can I submit?
Photoshop: If you submit a Photoshop file, please make sure it's saved as an uncompressed JPG, in CMYK, and has a minimum resolution of 300dpi. Make sure the file is "flattened" so that any fonts or effects are not lost when opened on Spacing's computers. Please submit a low-res JPG so that we can compare/contrast with your high-res entry.
Illustrator: If you submit an Illustrator file, please make sure it's saved as a PDF or EPS, and in CMYK. All fonts need to be converted to outlines (mandatory!). It is always safest to "save down" the file to the lowest possible Illustrator version (ie. CS1) in order to make sure there is no corruption of the files once Spacing receives it. With Illustrator files it is always smart to submit a low-res JPG so that Spacing can make sure it has received the file as it is intended to be seen.
Please note that any photo files that are embedded in your Illustrator file must be in CMYK and have a resolution of 300dpi.
InDesign: Spacing prefers not to receive any InDesign files. If you must submit your entry in this format please save it as a PDF and also submit a low-res JPG.
Mixed-Media: Some entrants may choose to create a map with mixed-media that cannot be properly displayed as a scanned image. We ask that you submit it by mail or in person. It must be post-marked or dropped off at Spacing's office no later than April 30, 2012. Please note that we will not return your submission unless you specify your desire to see it returned. Spacing will contact you to make arrangements.
Send it to:
Spacing
720 Bathurst St. #309
Toronto ON, M5S 2R4, Canada
What if my file is huge — can I upload it as Stuffit or Zip?
Yes, if your file size is over 20MB we ask that you place your files into a folder and either Stuff or Zip your files.
How should I name my files?
Please title your files with your name (ie. "matthew-blackett-map.pdf"). It will make us very happy.
Where do I upload my files?
Once you've sent an email to Spacing [ creativemapping@spacing.ca ] to notify us of your interest to enter the contest, Spacing will provide you with FTP details.
CREATIVE MAPPING EXAMPLES: Still not sure what we're looking for? The maps below are good examples: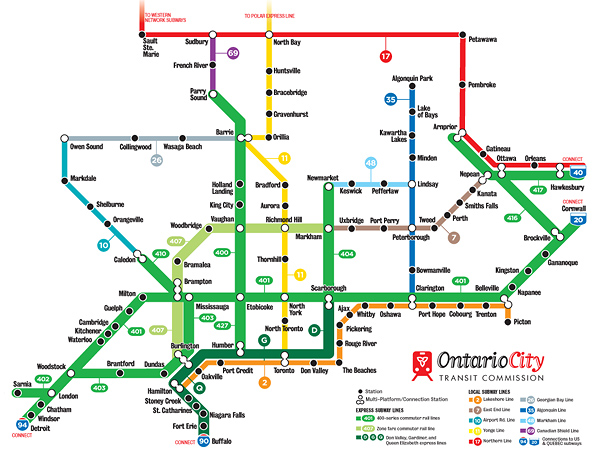 • MASH-UP MAPS (two separate subjects combined) like this one that was just published in the Winter 2012 issue of Spacing. It imagines if the actual highways of Ontario were subway lines instead.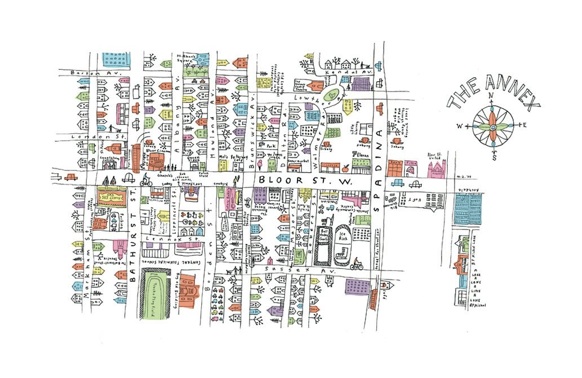 • NEIGHBOURHOOD MAP, such as this example by Marlena Zuber
• FANTASY TRANSIT MAPS: You can find a wide range of these for any city that already has/wishes they had a subway system. This example of an imagined Ottawa subway system is by Adam Bentley of Spacing Ottawa.
• UNCATEGORIZED MAPS: Below are examples of mapping that are we are seeking for this competition.
by Olly Moss
by Ork posters
Matthew Cusick creates paintings of people using maps.