DARTMOUTH – Last fall, my neighbours and I on Tulip Street in Downtown Dartmouth's Austenville neighbourhood came together to plant over 10,000 tulips. Tulip Street's tulips went into the grassy space between the sidewalk and the road (the verge) and into front lawns up and down the street's five blocks. The tulips were made possible by generous donations from the Halifax Awesome Foundation, Councillor Gloria McCluskey's district fund and Killam Properties. A local landscaping company, Edmonds, and the Halifax Regional Municipality's (HRM) horticulture staff also provided some old bulbs that were otherwise destined for the compost pile. This spring, the tulips bloomed and made a very impressive and colourful spring show. So what do 10,000+ tulips mean for Downtown Dartmouth and the wider community?
Crime/Disorder:
It's possible that the mass tulip planting may reduce crime in the neighbourhood through the so-called "Broken Window" theory. The idea is that space that looks cared for deters crime whereas space that looks rundown will attract trouble. The theory dates back to the 1960s, but became famous in the 1990s when New York City used it as the basis for a crack down on petty crime (graffiti, public drunkenness, etc). Scientific studies generally confirm that signs of disorder impact behaviour, but the broken window theory is still very controversial. Critics say the theory takes the emphasis off larger social issues, such as addictions, homelessness and poverty, that undoubtedly have a bigger impact on crime. Most of the tulip gardens are only visible for a few weeks in the spring so it's important not to overstate the case, but there has likely been some small public safety benefit for Austenville. It's worth noting that since the tulips bloomed several weeks ago, very few have been trampled or picked. Despite being really vulnerable, they've been respected and left alone.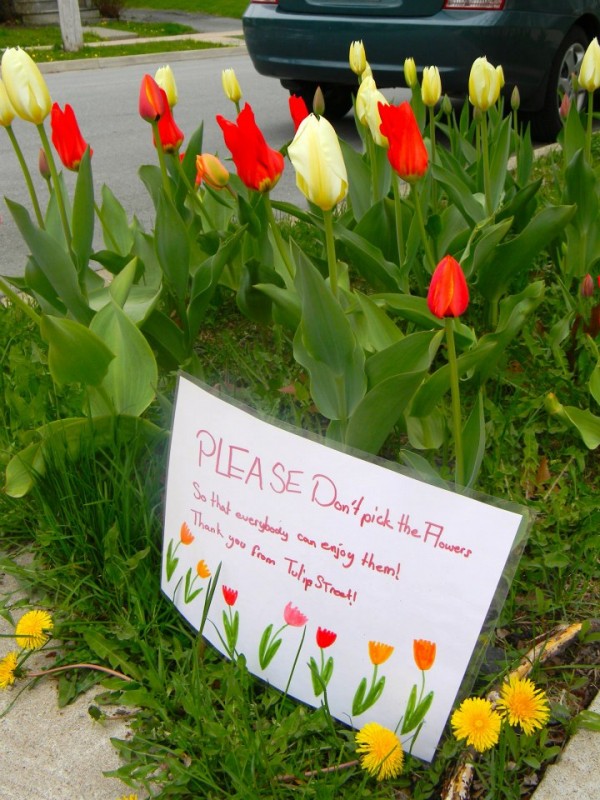 Public Space:
Planting tulips on Tulip Street's verges has improved forgotten and underutilized public space. The verges found on most residential streets in the urban core are owned by the HRM, but the municipality's street bylaw, S-300, assigns maintenance responsibilities, like cutting the grass, cleaning up trash and clearing snow to the adjacent property owner. Responsibility without ownership means most people are reluctant to do anything creative with the space. It's a kind of no man's land that provides a buffer for the sidewalk, but is otherwise only used as a space for trash on garbage day. It's unremarkable and unloved. The tulips have changed the way people on Tulip Street relate to the verges. The project took forgotten space and turned it into something surprising and beautiful. It's what planners call placemaking. Placemaking focuses on designing communities to be people-friendly and unique. Planting tulips in the verges in Austenville was a citizen led, grass-roots initiative that reinforces and celebrates the neighbourhood's unique identity and maximizes the public space that's already there. It's placemaking in action that enriches the public sphere in Downtown Dartmouth.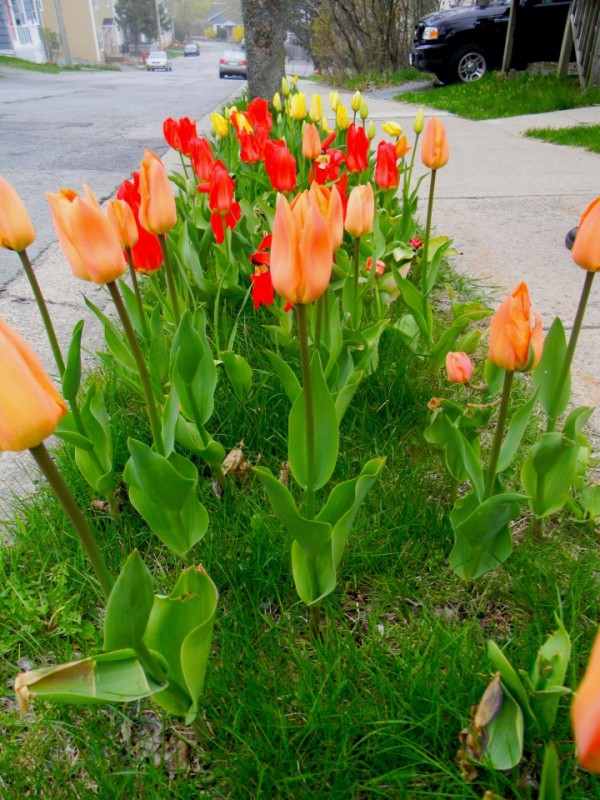 Downtown Dartmouth:
The tulips have been a big win for Downtown Dartmouth. There has been positive press coverage on all three local television stations, on the radio, in print and online. This media interest brought a steady stream of tulip tourists. Some of the tulip tourists undoubtedly stopped for coffee or lunch in Downtown Dartmouth and some may have visited other small businesses. The tulips aren't about to make anyone rich, but they have put some additional cash in the hands of Downtown's local merchants.
The tulips have also been important in adding to Downtown Dartmouth's increasingly positive image. Starting around the 1970s, Downtown Dartmouth went through several tough decades as urban renewal and suburban sprawl undercut the Downtown's role as the centre of the community. As Portland Street became home to tattoo parlours, pawnshops and seedy bars and as vacant lots multiplied on neighbouring steets, Downtown Dartmouth developed a serious image problem. Recent decades have been kinder. New businesses have joined the survivors and several new residential projects have been built and more are planned. Dartmouthians are even lovingly co-opting the Darkside nickname. Despite the renewed interest in Downtown, old attitudes and impressions can be very slow to change. Tulips on Tulip Street is a feel-good story that adds to Downtown Dartmouth's new, and increasingly favourable, image. They help lay the ground for the next phase of Dartmouth's history.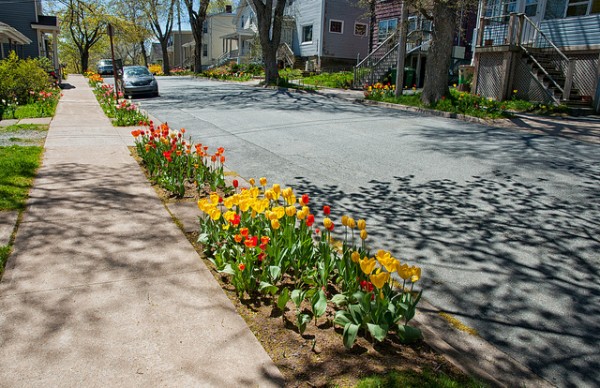 Community:
One of the lasting legacies of the tulip project is how it has strengthened the community. Having a shared project and a collective goal has brought the neighbourhood closer together. Everyone on the street had to work together to plant the thousands of tulips and it produced both a fall and a spring party. The project has given everyone something to talk about. A comment I have heard over and over during the last few weeks is that the tulips just make people smile. There is an extensive academic literature that shows that people who feel connected to their community are healthier in both mind and body. The tulips, in some small way, have improved the health of the neighbourhood.
Perhaps for planning, the most important long-term benefit is a mobilized community. Planning is at its best when it's a collaborative effort that includes feedback from local residents and feedback is more readily provided in communities with strong neighbourhood ties. Downtown Dartmouth is currently going through a period of significant change. Having mobilized and engaged residents that can offer input will be key to shaping the Downtown's future. The tulip project may help encourage more public involvement when bigger planning issues arise.
Not a bad list for some flowers that people planted for fun.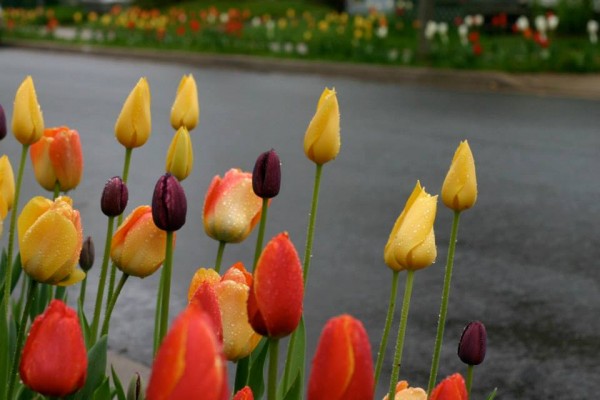 Photos courtesy of Cornelia Schneider, Cathy Tutton and Dean Bouchard