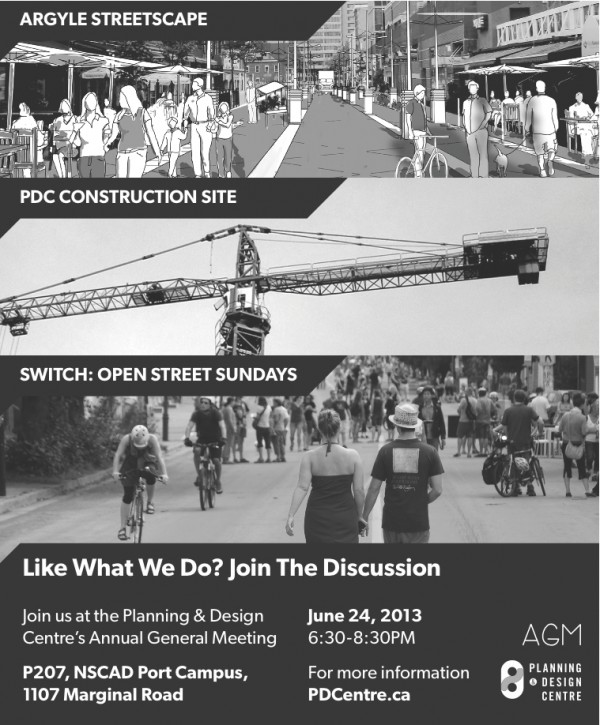 Please join the Planning & Design Centre for its Annual General Meeting on Monday June 24 from 630-830PM. We will be holding this event on the second floor of NSCAD Port Campus on 1107 Marginal Road. As part of the evening we will be hosting a panel discussion on community engagement with some local community builders, followed by a presentation of projects and accomplishments in 2012. We will also be discussing how the local planning and design community should respond to the Draft Regional Plan.
Planning & Design Centre Annual General Meeting
Time: 630-830pm June 24
Location: P207 (second floor) NSCAD Port Campus, 1107 Marginal Road
Who is the Planning & Design Centre?
We are are a non-profit organization located at 5257 Morris St. We are dedicated to raising awareness, increasing the level of collaboration around planning issues, and advocating for innovative high quality infrastructure.
What do we do?
Argyle Streetscape Plan
Aimed to position Argyle Street for timely investment in conjunction with the Nova Centre development, the plan advocates for permanent infrastructure improvements to support the strong cafe culture and active street life of Argyle Street.
Switch: Open Street Sundays
Switch re-imagines the streets for a day as a public space open to the community. On a designated route, streets are closed to vehicles and made open to walkers, cyclists, sidewalk shops, and more. Switch has run two events in Halifax with a Dartmouth route set for August and another in Halifax this September.
Construction Site
A map of all planned, approved, and in construction multi-unit developments in metro HRM. The construction site is a resource for residents to educate themselves on development in their neighbourhoods and a tool for developers to showcase their work.
SEEK Newsletter
A free annual newsletter that provides discussion and analysis of current planning, design and development projects. Information is matter-of-fact and intended to help individuals better engage with the changes happening in their region. SEEK is distributed around Halifax and Dartmouth, in coffee shops, institutions, associations, and government.