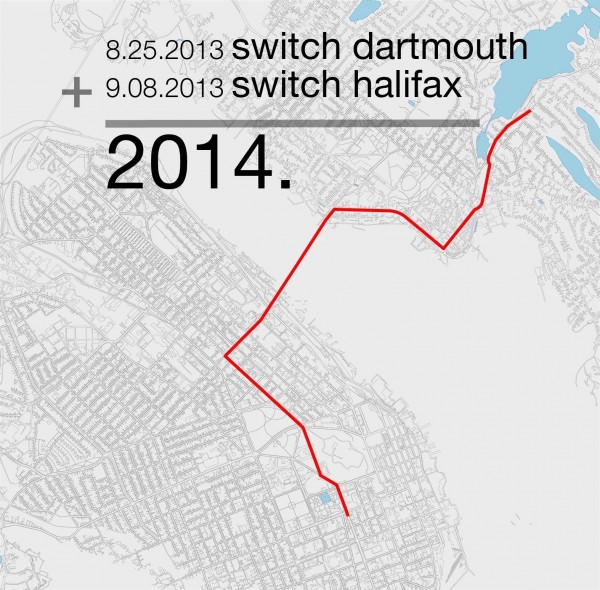 Switch Open Street Sundays connecting Halifax and Dartmouth by 2014 may not be as crazy as we thought when we posted it two weeks ago on the Switch Hfx Facebook page. Given the growth of Switch from 2012 to 2013 the Switch is on.
In 2011 a group of people involved in the Planning & Design Centre's (PDC) Sustainable Transportation Task Force started talking about how to change the culture of transportation in Halifax from an automobile oriented transportation system to one that was more multi-modal. Discussion shifted to the concept of open streets. Popularized by cities such as Bogota in Colombia who launched Ciclovia, which translates to "bike way" or "bike path". This version of open streets has engaged millions of people opening up large sections of the city every Sunday. Ciclovia has also been a humanizing force making Bogota safer, changing the way people move in the city and creating a new vision of public space.
After some early debates and some help from Breakhouse, Halifax had its own local brand of open streets (Switch Open Street Sundays). Next PDC and others started to explore where an open street route would make sense for Halifax, identifying the importance of connecting neighbourhoods and demonstrating the future AT network. Switch opens streets on select Sundays to allow people to experience their streets in a new way that gives priority to pedestrians, cyclists, joggers.
After much fanfare, including some serious volunteer dedication and support from community partners Switch is marching toward the goal of becoming a regular occurrence throughout HRM. Switch launched in 2012 with the Halifax route connecting North and Agricola to Victoria Park and 2013 will see two more Halifax Switch Sundays and one in Dartmouth.
This Sunday August 25, 2013 Switch is headed to Dartmouth for the first time thanks to a recently formed partnership between Downtown Dartmouth Business Commission (DDBC) and the Planning & Design Centre. DDBC has built interest among local businesses on Portland St. and community groups in the region. On Sunday August 25 the inaugural Dartmouth Switch will connect Downtown Dartmouth to Lake Banook. The 2.5Km route will be closed to vehicular traffic and open to walkers, runners, cyclists, in-line skaters, strollers, and much more. Switch Open Streets Dartmouth will bring together over 40 different community partners creating a festival like atmosphere, allowing people to experience Dartmouth in a whole new way.
DDBC has been leading the outreach efforts resulting in an eclectic mix of free activities and programming for Switch Dartmouth at the five activity nodes. Everything from music to zumba to face-painting to sidewalk sales to free paddling trials will be taking place at Portland Street, Canal Greenway, Sullivan's Pond, Findlay Centre and Lake Banook. Check out the Switch website for a map of the route and activity nodes. Come out and experience the streets in a whole new way.
Event Details
August 25,2013 12-3PM
Event is welcome to all, lot of route activities and programming all free.
Follow Switch Dartmouth on Facebook @ Switch Hfx and Twitter @SwitchHfx
Learn more at
 Dartmouth Switch Route