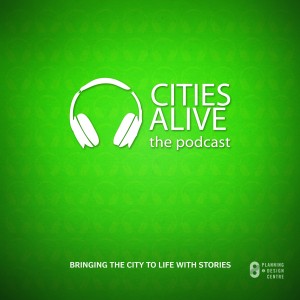 Are you looking for a way to stay on top of the latest trends in planning, design and city-building across the Country in between Spacing issues?
The Planning & Design Centre (PDC) in Halifax has the answer. Cities Alive, a half hour podcast that you can download from Itunes and listen to on your walk home from work has just launched.
Cities Alive is bringing the city to life with stories, weaving together interviews with respected city-builders, change-makers and leading academics from across Canada and even abroad. Cities Alive is working to bridge the communication gap between planners, designers and the general public.
Cities Alive brings a fresh approach to understanding the places where we live. The podcast mixes popular music with stories from international experts to learn about what makes our cities tick. For example in Episode One "Temporary Spaces" we delve into the origins of the open-street movement in Bogota with Gill Penalosa, explore the potential of placemaking to transform our cities and share a story of pop-up installation architecture in Winnipeg. Episode Two "Neighbourhoods" takes us from Finland to Seattle to test the question, are neighbourhoods still relevant in the 21st century?
We hope you will listen to our pilot episodes "Neighbourhoods" and "Temporary Spaces". Gill Penalosa tells us people are hungry for public spaces and we think you will be hungry for more Cities Alive after you listen to our first two episodes.
Check out Cities Alive at Pdcetnre.ca/citiesalive or Search Cities Alive on Itunes
Follow us on Facebook @Cities Alive and on Twitter @PlanningDesign