HALIFAX – The city is home to some of the most unique intersections in the world, but none is so unique as Chebucto and Windsor. If you have nothing better to do during morning rush hour, stroll over to the Good Food Emporium, have a coffee, and watch the chaos unfold.
This intersection is on a list somewhere in a filing cabinet for city staff to eventually redesign. I say that would be a tragedy. If we want to attract tourists and talent to Halifax, we need to preserve those aspects of our heritage that make us like nowhere else in the world—and insane traffic planning sets us apart like nothing else.
Some express concern about the safety of the intersection, but by following a simple set of rules it should pose no risk. Instead of ripping up pavement, let's put the following guide in the Driver's Manuals.
East on Cunard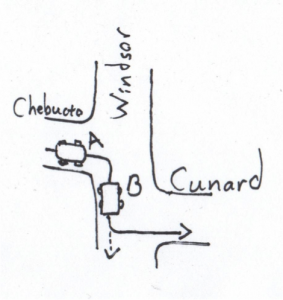 A. First: choose which turn signal to use. Now, you may wonder, "Am I going right, left, or straight?"
The answer? All three! You may do as you like with your turn signal because it will not mean anything anyways! (Fun morning game: take bets on who will choose which).
B. You are now going straight on Windsor, and also, somehow, straight onto Cunard. Savour the moment: you may now legally turn left on a red light. (Or, feel free to stop at the red wondering when or how you are supposed to turn left, as this will entertain onlookers).
Turning Right onto Windsor from Chebucto
So you have turned and now you are going straight South on Windsor. You may wonder, "Why is there a red light in front of me?" Never fear. That is a "fake" red light. Go ahead, there is nothing to get in your way.
Wait stop! Pedestrian! I forgot the pedestrians—and so does one driver every ten minutes
Remember the rule: there are no pedestrians when you are driving green-right-red-left-straight, but there are pedestrians when driving green-right-red-straight.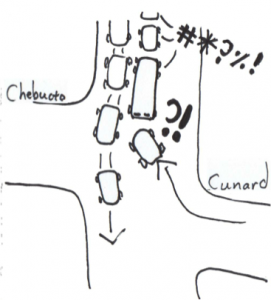 Driving West from Cunard to Chebucto

To enjoy this intersection to its fullest, try passing on yellow, so that North traffic will start, and you will be stranded in the centre lane blocking buses and cars lined up on Windsor. Enjoy your time here in this space outside of social and legal norms, and reflect on the choices that brought you here.
Turning South From Cunard

Question. Does that guy in front of you going left-right-straight have priority?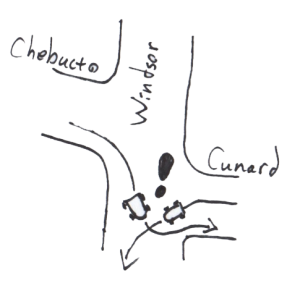 Answer. It depends on the turn signal your opponent has chosen:
None: He/she is going straight and has priority.
Left: I don't know how we got here, but you are both apparently turning left and have equal priority. So… gun it!
Right: You may be thinking: "Wait…what?…How?" as you should be. Nudge forward uncommittedly.
Once you see an opportunity to get through, floor it and get out of there.
Wait! Stop! Pedestrians! Sorry, keep forgetting that crosswalk.
Biking West or East on Cunard
First, come to a complete stop. Second, make a safe u-turn and proceed to City Hall. Third, lobby for a bikeable intersection. Fourth, become disillusioned. Fifth, purchase a motor vehicle. Sixth, try again.
Bikng North-South on Windsor
There is a bike lane on both the North and South sides of the intersection. What happens to it, and the bikes it carries, is currently a mystery, and so more research is needed before we can provide instruction on how to navigate it safely. If you or anyone you know has made it through, please contact Planning and Infrastructure and report where you went and what you saw there.
Walking
Be careful. The cars around you are having an identity crisis. They do not know who, what or where they are, and are known to accelerate suddenly to escape the uncertainty.
Keep the Quantum Intersection
As you can see, the intersection is perfectly safe, and city staff should save their money for whatever other apparently more chaotic priorities they have to work on. This intersection is a gem, a unique livable experiment in space and time, and a potential tourist attraction.
Chebucto and Windsor is perhaps the only place in the world where people may experience the strange reality of quantum physics directly. Ever wonder what it is like to be simultaneously an "up" and "down" particle? Curious how to travel when everything is moving based on probability? Try turning right-left-straight onto Cunard and feel the magic. What is it like to experience the life-death uncertainty of Schrödinger's Cat? Enjoy that crosswalk!
We should be investing in this intersection as a destination for school trips. If we simplify it, we will wipe away in one swoop this learning opportunity, this chance for creativity in our driving, and the heritage view-plain from the Good Food Emporium.
Tell city staff to keep the Quantum Intersection!