HALIFAX – You may not have noticed them even if you live in the area. Three tiny residential units are being built in a backyard on Hunter Street, and unless someone points them out, they are hard to spot from the street. Making more from less space is a growing trend in architecture/planning as one way to make houses affordable while prices rise in inner cities.
I went to interview the project's lead, Kerry Lynch of Urban Renewable, to find out about the motivations for the idea. Lynch is a graphic designer by trade who does renovations of heritage homes as a side-project, and this is his company's first new construction. He had a lot to say about density, efficiencies, and design.
I especially wanted to know how the project was even possible, considering Halifax's regulatory process can be conservative. As it turns out, the residential units are considered extensions on the existing houses on the two lots, which is allowed under the area's zoning with only minor variations. This interpretation of the rules may lead to more small residential units on the peninsula—and more innovative architecture/planning, since off-street houses have less of an impact on streetscapes.
Read on for insights on what it takes to make small-scale development work in Halifax.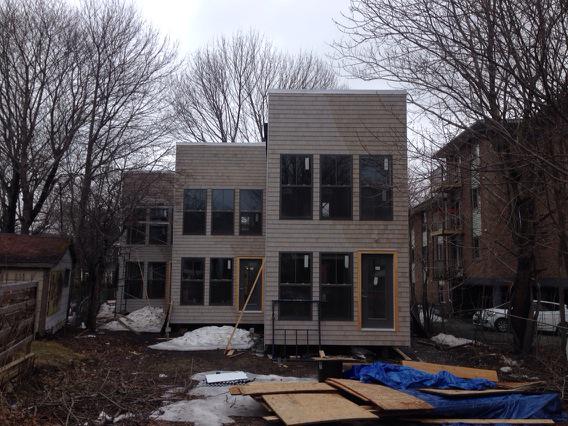 What inspired this development?

When my father retired from architecture last year we were looking for a new construction project to collaborate on so we were on the hunt for land. We were going to build something and sell it. But then the market went sideways, and there's no land on the peninsula that's feasible, so then you start looking off the peninsula and asking yourself, what are your intentions, construction off the peninsula is just contributing to sprawl in my mind.
So we gave up on that and looked in our own back yard on Hunter Street. There's a 150 foot deep lot with a lot of grass to mow. Let's put that space to use and add well designed infill units.
We've been talking about this at the dinner table for probably half a dozen years now, so, it was exciting to actually make the project a reality, to get approval and now we're finally putting a roof on it this week. Things are progressing pretty quickly now which I think is awesome.
What lead to their small size?
The orientation and size of the units works back from the shape and size of the lots, so the reason they ended up at 12 feet wide by 30 feet long isn't just by coincidence. We had to make them tiny and tall. It's kind of like designing for a boat: you have to make everything inside as efficient as possible, making use of 100% of your space.
There's a mental image people have of a house that's big enough to live in, and generally it is bigger than what you're building. Yet you're saying there's ample space for everything you need in a house. Why the difference?
I think a lot of people think bigger is better. We're a family of four with a dog and a cat. We live in a 1200 sq ft house on the peninsula. It's tight sometimes, but I wouldn't want too much more. So, these homes, (at 560 square feet plus a rooftop deck) are perfect for a young professional couple or an individual, maybe a retiree who still wants to live in a stand-alone unit, downtown. It's not for everyone, these were not built for a family of four.
But at the end of the day, we're really not sacrificing too much. You have your own front door, you have your own private deck, two 5 by 3 closets and a media/office space. 5 appliances, a pantry and laundry.
What does the small-scale of development mean for the affordability of the homes?

We're doing this at a pretty lean cost. We are taking advantage of 0 land cost, a small footprint and some innovative construction methods. They are also very well insulated which will have a positive impact on operating costs.
We're projecting it's going to be between $75 and $90 a month for electricity and heat over a 12 month period. You can't beat that anywhere. We are using close-cell spray-foam on a lot of the building cavity, and the building is small so you don't have to heat as much. And we're using in-floor radiant heat in a thermal mass for the floor, so we can take advantage of time of day with Nova Scotia Power.
And we're using an undersized boiler to heat because our slab was only 360 sq ft. It's just a bit bigger than an out-building, like a shed, so we can use smaller equipment more suited for the space.
Then you look at the cost of that heating equipment, your in-floor coil and your domestic boiler, is probably $1300 at the end of the day, whereas a heating system for a larger home would cost 10 times that to start. There's efficiencies all over the place. We have briefly looked at integrating solar and will probably rough-in the ability to add a 4 kWh system. What a story it would be if we could get these to net zero, something I think is very realistic.
Did you look at options for selling these as stand-alone homes?
We would have to convert them to a condominium corporation and sell the units individually. I have talked to Andrew Murphy (accountant and  informed social housing consultant) about getting young people on the property ladder and establishing equity in home ownership, but a lot of the landlords around town are finding that the tax burden is so steep to sell, why would they? They make more money keeping those properties and renting. Sometimes it's a headache because you can't please all the people all the time but the tax system would have to change in order to sell them. The trouble with that is you end up with a few people owning a large portion of the rental units in the area.
There is a big expense with condo conversion. We're looking at another project in the same area and to be honest, I don't want to own any more properties, so I'm looking at ways to do it and then have an exit strategy in place for completion.
Is there potential for other homes like this in Halifax?
There's a hundred, if not five hundred lots on the peninsula, where people could create density on a smaller scale tomorrow. And the municipality gets back a tax benefit from it, servicing is already in place, so you don't have to worry about the infrastructure costs, and it adds value for the home owner. So there's a lot of pluses.
How did you convince city planners to approve the project?
I got together all the information that I could, including the Stantec Report, information from the Active Transportation Plan, Windsor Street bike lane,  density maps, concept photos on Pinterest, sketchup rendering, 2-d illustrations and I put it all together on the densecity.ca website. And once we got all this information in one space, so they could see all the documentation and the effort we put into it, then the argument became a little more convincing. We met with them face-to-face to explain that our intention is not to put up 90 units. We're trying to do something that's sensitive to the area and the neighbours. They got it!. They changed their letter at the 11th hour from opposing the project to supporting it.
Up to that point it was a soul-killing exercise, knowing it was the right direction but the legislation wasn't in place to support it. Everybody was saying that's such an interesting project, that's exactly what this city wants and then meeting with development technicians who are handcuffed by black and white rules written in the 50's. Because that's what the variance process is all about, it's all black and white, whereas the development agreement, there's a lot more room for negotiation. But to do a small addition like this it doesn't make sense to go through the expense and the time that you would have to for a development agreement. Andy Filmore (urban designer) described them as "invisible density" and likened them to lane-way houses in Vancouver.
And I think, if this is successful, it should be the blueprint for other similar construction around the peninsula that's similar. They should also go through the variance process because if you look at the 19 storeys that are going up on Robie Street, and you look at this, those don't belong in the same decision making process. You're adding 2 units in one application and 200 in the other. I think after we are finished you will see similar projects passed, provided they are well thought out and constructed.
Then we finally got the green light and we went back and forth with some of the building inspectors who looked at the final details in the construction drawings. They had a lot of questions, so we had to revise them and go in and meet with them and revise them again and go in and meet with them. And at the end of the day we have three engineers working on these three small structures and really that was the one thing that gave it the green light.
Did you run into any regulations you feel do not make sense?
Parking, I think, is a big problem, because you can't vary parking through the variance process. In this project they allowed us to substitute a parking space for bike racks, which I thought was a great idea. If they could take that one step further, and say, if you could get a car share program in place to satisfy a four unit building, it makes more sense on a larger scale. People are removing cars to move to the peninsula, the ratio of 1 unit to 1 car doesn't necessarily apply.
Urban Renewable has done a lot of work restoring heritage homes. Is there a role for more traditional design elements in modern, new construction?
I think you have to add some character from traditional halifax houses or it looks soulless, clean and shiny and new. For example, the exterior we're doing half cedar shakes half metal. The metal satisfies the non combustible component and low maintenance. The shakes connect to traditional construction and link the two existing duplexes and the neighbourhood. We're working in a traditional window grill pattern to continue that connection. It's a balance of old and new, without it, it lacks character.
Once these are done, you won't be able to tell without rubbernecking the back yard that there's anything there. This preserves a street scape and ads invisible density.
Is it fun? Designing a small house?

Totally, I'm a graphic designer so this allows me to design in three dimension.
* * *
Editor's Note: For more info on Kerry Lynch's pilot project on Hunter Street to address residential density on the Halifax Peninsula, please visit http://densecity.ca.