Why am I writing an article on nature and rural environments for an urban affairs website? For one, urbanism is not confined to large cities. The appeal of walkable downtowns and attractive neighbourhoods applies to smaller towns and communities. These were highlighted in my earlier article on McAdam, New Brunswick and in a consulting firm's report on Millinocket, Maine.
For many smaller towns and communities which are struggling, a connection to natural surroundings can be key in attracting tourists (who support local businesses) and in attracting new residents who want an alternative to big city life and enjoy outdoor activities. Urbanist and author, Richard Florida, in speaking on Anchorage, Alaska, highlighted proximity to nature as an attraction for some members of the creative class.
Where my previous article was about McAdam, New Brunswick, this article will focus on another area of rural New Brunswick near the province's capital city of Fredericton, Route 101 which includes the villages of Tracy and Fredericton Junction and a variety of rural communities.
The photos in this article were taken over the course of three trips in the area, hence the difference in seasons (no, Fredericton Junction is not subject to weather changes that are that rapid!).
NOTE: The Village of Fredericton Junction is not to be confused with the City of Fredericton, the latter which is the province's capital city.
Fredericton Junction and the Outdoor Art Gallery…
Fredericton Junction was given its name in 1869 for its position on the railway, where the Fredericton Branch Railway (which ran to Fredericton) met with the European and North American railway. Fredericton Junction was a destination for people from the City of Fredericton to take the Via Rail train until it was discontinued in the 1980s.
As of the 2011 census, Fredericton Junction has a population of 752 people. Fredericton Junction serves as a hub for the area along with the adjoining village of Tracy which has a population of 611 according to the 2011 Canadian census.
Fredericton Junction's railway heritage is evident in the village centre as seen with the display railcar below.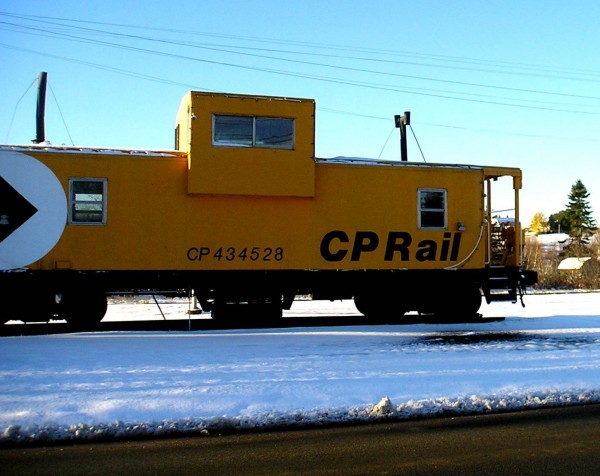 The Village's Sunbury Diner offers local and freshly made food, another attraction of the village centre.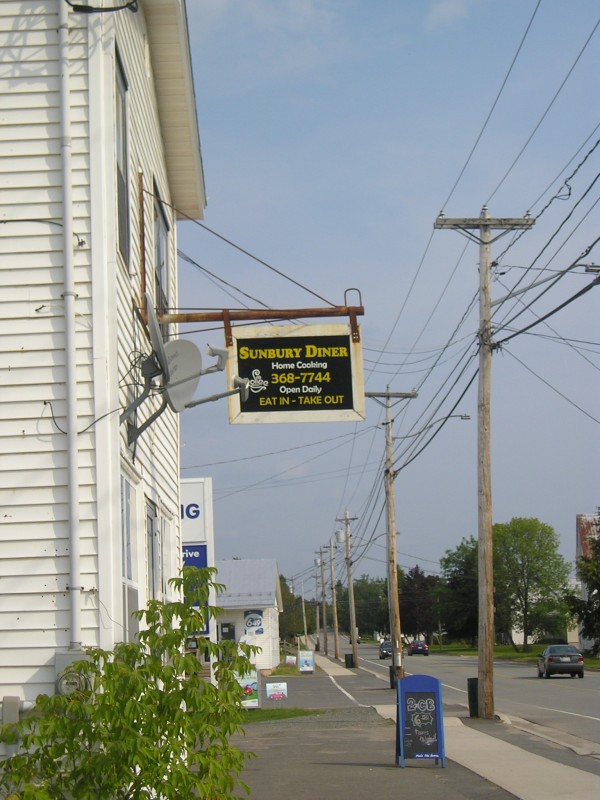 Fredericton Junction lies along the North Branch Oromocto River with a waterfront park where one can view the rapids. In close proximity to this is Currie House museum which features an outdoor art gallery. This art gallery made for some interesting snowshoeing in the winter.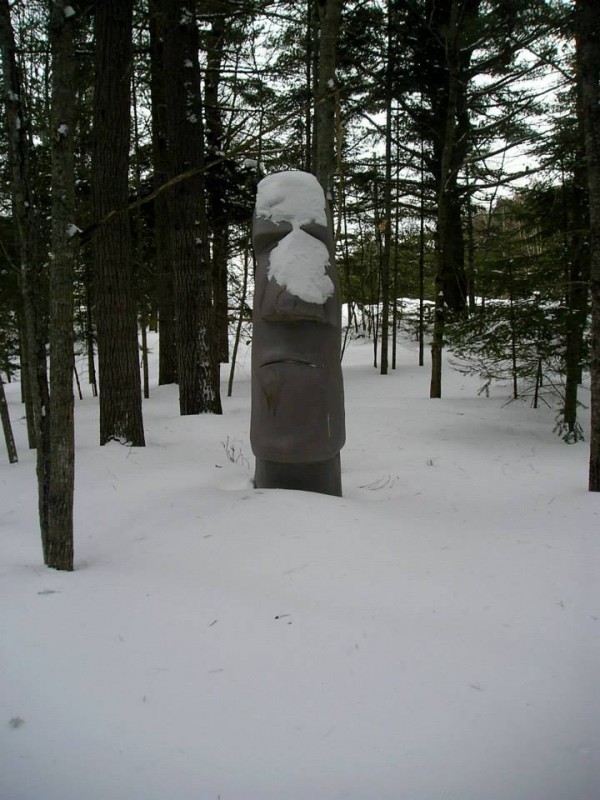 Fredericton Junction is located within the Oromocto River Watershed. This area of rivers and tributaries features numerous waterfalls which makes for scenic hikes. Fredericton Junction, with a relatively walkable downtown and a distinct heritage, offers a potential to be a hub of this area for hikers and outdoor enthusiasts. The Village Tracy, also with a discernable village centre, has the same potential.
Other attractions of Fredericton Junction and the Route 101 area include Fredericton Junction's Come Home Week festival, fishing, and U-Picks like Halls Apple Orchard.
Rural areas and small towns and communities face serious challenges, and residents may not want too much growth which would change the character of these communities, but nonetheless beautification and walkability of village centres along with promoting proximity to nature are priorities for planners and local politicians to keep in mind.
For many rural communities, villages, and towns, proximity to natural surroundings, as an attraction for tourists and new residents, can be a key economic asset. A walkable and aesthetically pleasing village or town centre can be a plus in this regard.
Kirkpatrick Family Trail…
One of the nature hikes along Route 101 near Fredericton Junction and Tracy is the Kirkpatrick Family Trail. This is a private property open to the public which features the South Branch Oromocto Falls. I had a great conversation with the owner of this property who stopped his truck to speak to me, we talked about the trails, the waterfall, and about fishing.
There was another experience of New Brunswick hospitality when I lost my watch near the waterfall while maneuvering along the rocks. In a conversation with someone enjoying the South Branch Oromocto Falls, I offhand mentioned that I lost my watch and that my car (as it was not an SUV) was parked some distance away as, closer to the property, the road was dirt and gravel.
On my way back, I found my watch attached to my windshield wiper. Not only had this person found my watch, but he went out of his way to go back to my car and leave it in a place I would easily find it.
The hospitality and friendliness of people is another plus to this area and to New Brunswick.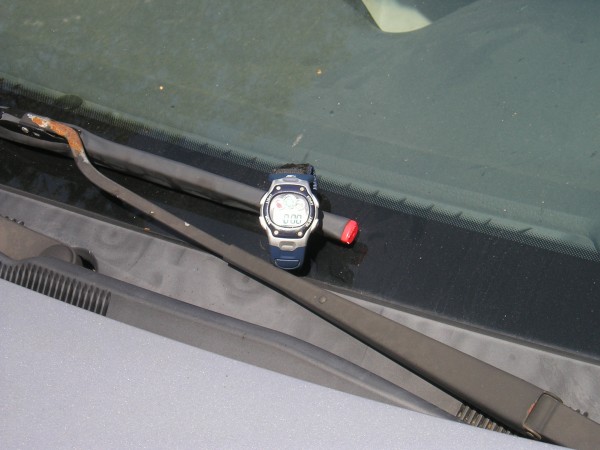 The South Branch Oromocto Falls (photo below) is one of the attractions on the Kirkpatrick Property. The falls are viewable from a look out or one can take a trail down closer to them.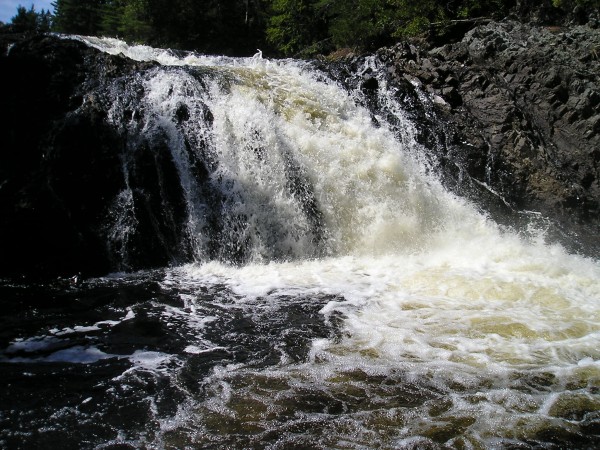 The Kirkpatrick Family trail also features tree stump art.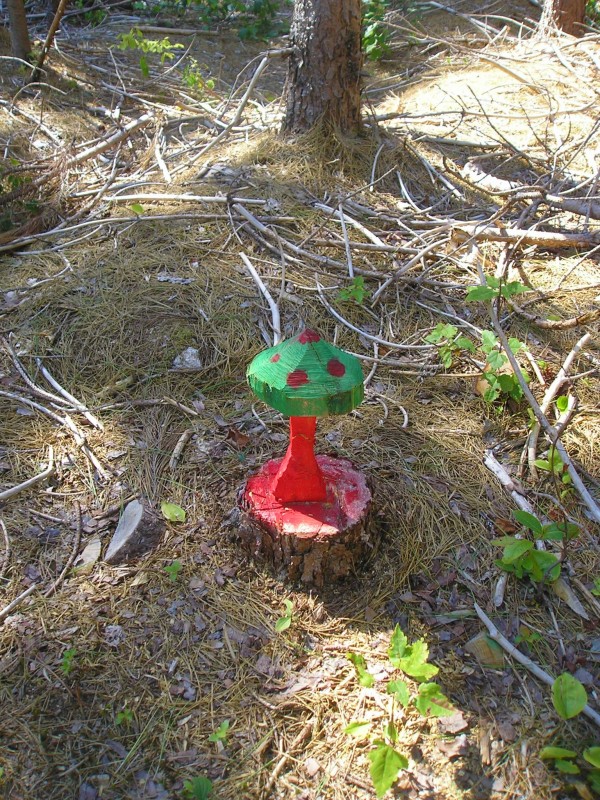 Ragged Ass Falls…
Ragged Ass Falls is a multi-tiered waterfall, another of the waterfalls located in the Oromocto River watershed. Ragged Ass Falls is located near the South Branch Oromocto Falls. Also, yes, Ragged Ass is the real name and yes I can type "ass" in this context without it being a swear word. The jagged rocks and multi-tiered falls offers an opportunity for those who want to climb to the different tiers of the waterfall (and can be careful about slippery and jagged rocks).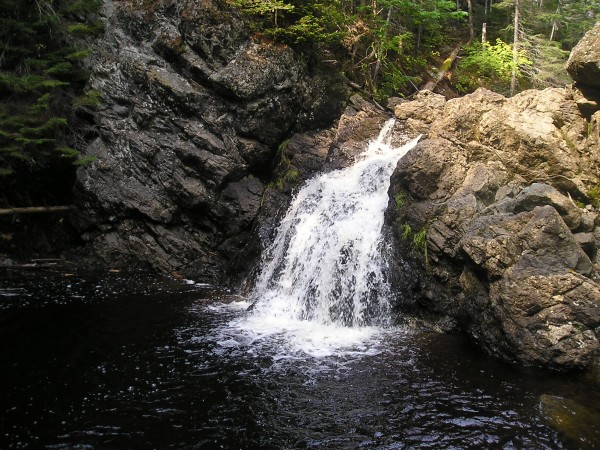 Route 101 and the New Brunswick countryside…
There is a lot of scenic countryside along Route 101 and along country roads adjoining it. One can see rolling hills, farms, forests and, a signature of rural New Brunswick, covered bridges.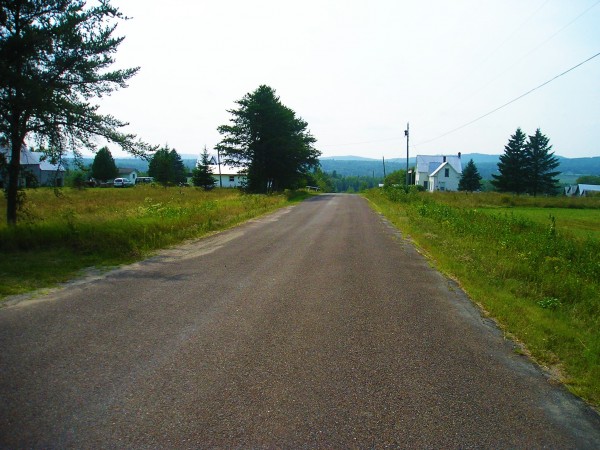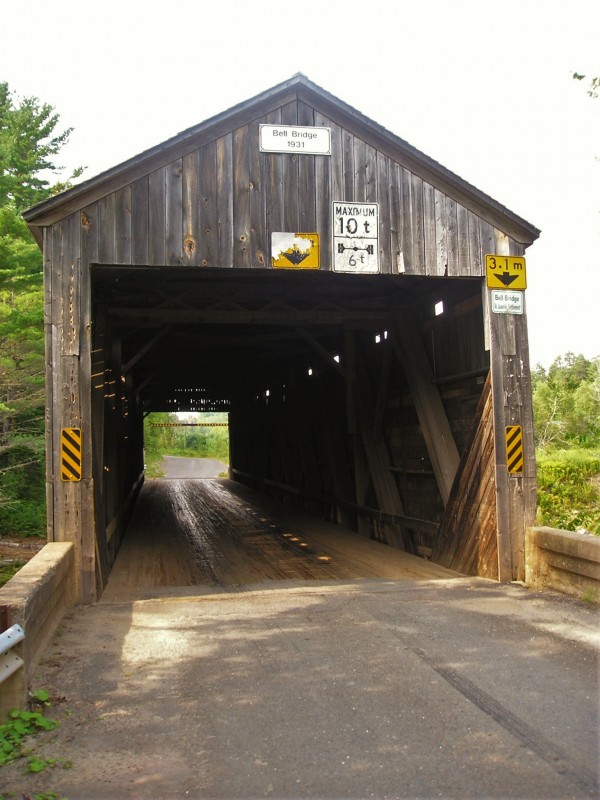 The Village Centre and the Rural…
One thing to note, these places are accessible primarily by car. Is there opportunities for tour buses of some kind or better transit for tourists and people from nearby Fredericton and Saint John (without a car) who would like to check out these sights?
New Brunswick's Fundy National Park lacks transit access which makes it difficult to access for backpackers who do not own a car.
In considering the future of small towns and communities, their proximity to natural surroundings, and the integration of a walkable town or village centre as a hub for the area, are key in considering the future of rural areas and small communities. Promoting vibrant and walkable community centres as hubs for hikers, tourists, and residents in the area is a potential area of economic growth.
Hassan Arif is a PhD candidate in urban sociology at the University of New Brunswick in Fredericton. You can follow him on twitter: @HassanNB and facebook: http://www.facebook.com/arif.h9