SAINT JOHN – Down a deceptively desolate lane lies Port City Royal, a restaurant reminiscent of a salon, which has become a magnet for creative types and foodies in Saint John, N.B.
Patrons are drawn to its food and to its urban rustic vibe – the exposed brickwork, piping and unpolished wooden slats –  remnants of the historic building which once stood there, whose raw form has been preserved.
But there is more than meets the eye. It is a venture that is deeply bound to the soul of the city, a critical investment to help revitalize a city in decline.
Owner Jakob Lutes wanted a stake in the city's future. He followed the lead of other chefs before him who sought out a city "slightly out of the way" and also because he "wanted to be part of the struggle."
Lutes, who grew up in Fredericton, said he purposely chose Saint John because "it is and was a depressed city." He's in it for the long haul, he stressed. "I wanted to help put my stamp on the potential revitalization, because it's hard to say if it will ever revitalize."
He chose Saint John ahead of Halifax or Moncton, N.B., as the locale for his restaurant, added Lutes, because of its intimate vibe.
>Port City Royal, which serves East Coast fare using locally sourced ingredients, opened in December on Grannan Lane in the refurbished Patterson building—a three-storey Italianate-style building that dates back to 1877. In previous eras, it housed businesses such as the Singer Manufacturing Company back in the 1930s and 1940s, and Patterson's Radio Shop from the 1930s to 1980s.
Lutes joined an extensive cluster of restaurants in the city's downtown –  called uptown by locals in a nod to Saint John's hilly peninsula – vying to make their presence known.
"There's still a large percentage of the public that doesn't know I exist. Because people here don't walk around their city," he said.
Apart from making East Coast cuisine more discoverable, his plan was always to "create an ambience for discussion," a place where locals could swap ideas about anything from art and music, even a discussion about living in Saint John.
"Although you need numbers to work, it's the entire experience of hospitality," he said. "It's everything rolled into one – even the street you're on."
For all the economic woes that dog the city's rebirth from "Port City" to "Renaissance City," as Mayor Mel Norton likes to envision it – Lutes is part of an ambitious cadre of entrepreneurs who see opportunity in the challenge of revitalizing Saint John's urban core.
Norton's rebranding of the city aims to convince residents to stay rooted and imagine a future that puts Canada's oldest incorporated city back on the map. He wants visitors to leave with an image of a 230-year-old city with deep roots to both its cultural and industrial heritage, hence its concerted effort to preserve historic buildings and promote investments in industrial projects that will create jobs.
The city has been locked in a cycle of booms and busts. A series of political decisions led to the death of the shipbuilding industry in 2003 and saw other industries wither away or shift operations to Ontario and other parts of Canada, said Saint John historian David Goss.
"Politics has always played a part in the city's stagnation," said Goss. "Saint John has adapted to new ways [with its IT sector], but it has just been enough to keep things afloat."
Saint John, with its population of 70,000, has been struggling to improve its outlook in the midst of stark numbers: Its child poverty rate is at a staggering 47 per cent, on par with Toronto, and its unemployment rate is at 9.3 per cent, is second only to Windsor, Ont., at 11.1 per cent. Following years of negative growth in 2012 and 2013, New Brunswick recorded no growth last year.
But a bleak economy isn't enough reason to avoid testing the market as Lutes and others have proven. Saint John certainly has its own pull: what this sleepy New Brunswick city lacks in flashy, monumental structures, it has in its place, historically resonant buildings, most of them built after the Great Fire of 1877.
Flush with cash left over from its shipbuilding industry, the devastated city could finance a rebuild that had business owners rivalling one another to construct ornate structures, said Goss.
"There were a lot of rich, well-endowed individuals who competed quite vigorously to build bigger buildings," Goss said. "[Businesses] wanted to put up the most lavish building they could, so it would stand out."
Germain and Prince William streets, core residential and commercial streets, benefited most from reconstruction efforts that saw architects from Boston, New York and Montreal pitch their designs. Among the structures in need of saving was the Trinity Anglican Church, a Gothic revival stone church and the oldest Christian congregation in the city, whose clock still chimes each quarter of the hour.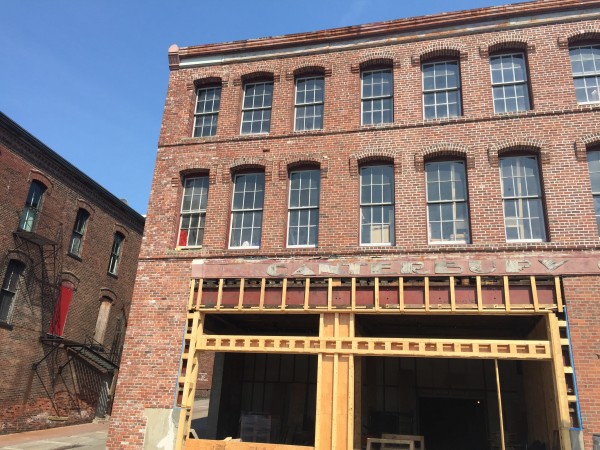 Prince William Street, a living architectural relic, was designated the first nationally historic streetscape by the federal government in 1981. "It's the best intact collection of Victorian structures in the whole nation – that's what they said at the time," he said. "It's just simply good luck that no building has burned down [since then.]"
Highly walkable and compact, uptown Saint John today has several pockets in the midst of renewal.
On Prince William rests the Old Post Office, with its Roman arches and mansard roof, poised to be repurposed into condominiums by developers from Alberta. Just a street over and down the block from Port City Royal, another venture is taking shape. Come November, a Victorian-era structure, which became a car dealership, will house new tenants: Picaroons, a Fredericton brewery; RealFood Connections, purveyor of local food; and Buckland Merrifield Gallery, an exhibitor of New Brunswick art. Above it, the Canterbury Car Park will also be remade into 14 luxury apartments.
"It's local beer, local food, local art all under the same roof," said Keith Brideau, the man behind Historica Developments, which heads the project.
Brideau is in the business of selling the idea of living life uptown. And baby boomers and young professionals are taking notice of the property developer's efforts. He took stock of the uptown and was struck with the idea of remodelling and repurposing heritage buildings while preserving its historical character.
The flurry of development isn't concerning for Goss, who believes there's a strong mandate to protect heritage buildings uptown, with a bylaw that designates its streets as historic under the Trinity Royal Conservation Area. He also recognizes things move at a different pace and cities need to find a functional use for its stock.
"We move things differently now than we did in 1879. …  You have to be open-minded," he said. "If there wasn't a good, solid board that are serving to protect the downtown, I would be worried."
Goss is supportive of Brideau's efforts, which keep the buildings alive long after they've been abandoned. Brideau's vision for uptown is straight from an urbanist's checklist: a vibrant, mixed-use landscape where people can pop in and out of shops and roam the streets. And it's been more than seven years in the making, as he works one building at a time to fill the often-lonely uptown streets.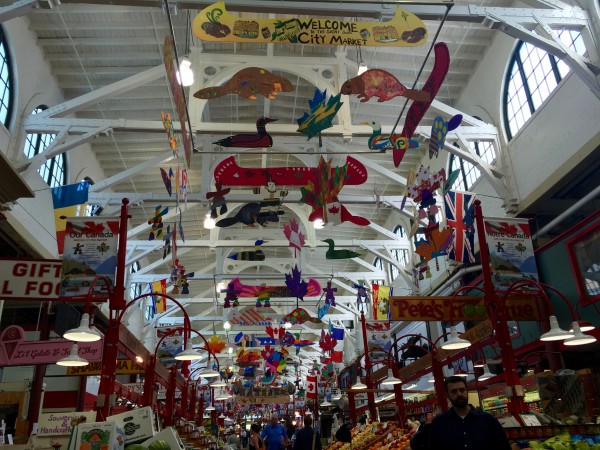 "People do want to move into the uptown now. We feel it's shifted to the point where a lot more people are going to… leverage the quality of life, all these amenities that exist, which took decades to attract," he said. "It has been a work in progress and finally, we feel like are in the tipping point."
Nancy Tissington, the executive director of Uptown Saint John, agreed. "There is a renaissance happening in the city. I noticed more people walking around the city and the uptown," she said, adding that's a far cry from when she left 10 years ago for Halifax. "But now, Saint John is a walkable city. And it has a strong restaurant presence."
Tissington looks after the interests of more than 650 business and property owners uptown through its Business Improvement Association (BIA), which spans 20 blocks. With an operating budget of $400,000 a year, the BIA doles out grants for beautification, creates events to generate traffic uptown, promotes new ventures, among other things.
It's encouraging to see that kind of appetite for investment, she said. "It makes me believe there are an awful lot of eyes looking here."
Like Lutes, Brideau has the long-term view of making a life in Saint John. It's a departure from the trend that has seen thousands of New Brunswickers leave in search of opportunity out West, making it the fastest-shrinking province, according to Statistics Canada. In the last three years, its population has declined by 3,497, even as Canada grew by a million.
But Brideau sees changes on the horizon. "We feel that in three or four years, things could be dramatically different," he said, referring to the arrival of $2-billion Energy East pipeline and the $205-million expansion for the Port of Saint John. "It's an incredible buyers' market, [and] in five years, it could be a sellers' market."
Saint John has made its bid to serve as the export terminal for TransCanada's proposed Energy East pipeline, which is expected to create about 2,300 jobs in the province and would deliver 1.1 million barrels of crude. Then there's the much-anticipated arrival of the $7.5-million barge terminal, which will allow companies to compete for construction projects in Atlantic Canada and the U.S.
However, investors still prefer Halifax over Saint John, he said. "Once projects like Energy East get the go-ahead … we feel people will look a lot more closely, but people are hesitant because of the issues we face."
Meanwhile, the Waterloo Street area – once-neglected part of town with a high rate of poverty – is undergoing its own transformation.
At the centrepiece is the restoration of the Cathedral of the Immaculate Conception, a Gothic revival structure that was spared from the Great Fire. Plans to convert an old high school into mixed-income housing, which had been vacant since 2002, have buoyed optimism that the neighbourhood is on the mend. Such projects propelled developer John Rocca to invest in the area, opening up the Cathedral Place, an apartment complex with a modern finish.
"It's great for the community," said Julia Wright, writer and founder of Hard Times in the Maritimes zine. "It takes a street that has a lot of issues and elevates it."
And as for whether these developments mark a renaissance for a city in search of a new identity, Wright said, "People need something to rally around – the idea of living life uptown, the idea of a renaissance city. Those concepts are really useful because they elevate the city."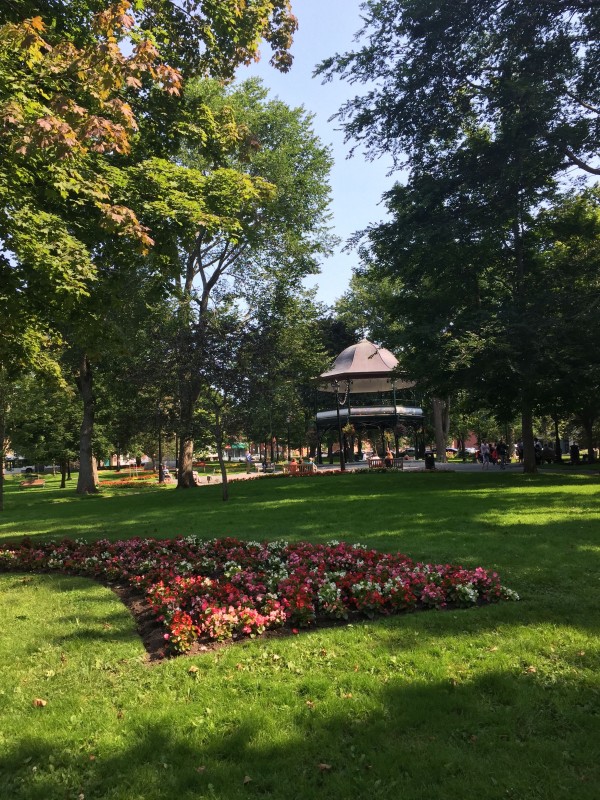 Although the city's rebranding doesn't resonate with Wright because much has yet to change, she said that she understands the mayor's intentions. "Politicians are under pressure to constantly … be announcing change of some sort. When in reality, change is a lot slower than that."
Goss also hasn't bought into Norton's "Renaissance City" saying, "It's a nice, catchy little slogan, but it doesn't ring true to me. It's a dream, you gotta have a dream. Maybe he's onto something, but it doesn't resonate with me."
Wright shares Norton's sentiments in wanting to change people's perceptions. "We have to reimagine Saint John, change the way we people think about it and the way people imaginatively construct it in order to make things better in reality. Change people's minds and hearts and you change reality."