DARTMOUTH – Turning extensive parking lots into vibrant and walkable communities has long become the new North American dream amongst urban planners and progressive municipal decision makers alike. While theory on this subject is vast, few Canadian examples have actually accomplished such a transformation on a large scale. The "Village on Main" from the capital region of Nova Scotia may have pulled just the right triggers over the last ten years to come close to making this dream come true.
When thinking about urban growth, the Maritimes are probably not the first place in Canada that comes to your mind. But even with low population growth rates in Nova Scotia, decades of car-oriented urban planning left their marks in the urban fabric and neatly separated places to live, work and shop in Dartmouth, NS, which is part of the Halifax Regional Municipality – the main urban conurbation of the province.
Brief historic digest
The setting of the Village on Main used to be something like the prototype of suburban shopping mall development in Nova Scotia. Some years after the Angus MacDonald bridge opened and structurally tied Dartmouth to Metropolitan Halifax, Dartmouth began to grow and attracted a K Mart store to open at its Eastern doorstep in the 1960s, in a location that had almost been in the woods at that time. Big box suburban shopping, which was a novelty back then, ran so successfully that ancillary shops and strip malls sprung up and formed a suburban shopping district. With time, single family housing enclosed this commercial centre and cut it off from land supply, preventing further extension of the area.
By the late 1990s retail markets had evolved and big box shopping required more space to satisfy the economy of scale. So the large stores started to move on and leave Main Street Dartmouth, exposing the district to a process of degradation over a decade and a half. The story is symptomatic of land use inefficiencies in a municipality that knows how to take a lot of land despite stagnating growth: between 1991 and 2011 Halifax managed to almost double its land cover while only growing by 19% in population numbers
The problem
The city is well informed about its unsustainable growth patterns:a previous Spacing article explains how a technical report commissioned by the city points to how the difference between urban sprawl and compact development can make a difference of 2.8 billion CAD on an 18 year horizon. Nevertheless, progress in changing land use patterns is slow. Even though Halifax has committed in the Regional Plan that 75% of development will occur in existing urban areas, one quarter of development will still contribute to an outward spread of the city. If business as usual continues, many of the current non-conforming development applications in suburban areas will likely obtain approval.
As in other parts of North America and the world, the negative effects of scattered settlement structures badly affect many areas of municipal policy: Transit struggles to increase its mode share, the costs of services and utilities per capita are high, ecologically valuable land disappears and the majority of the Halifax Regional Municipality has a Walk Score of 25 or lower.
But whom to blame? Many city officials know well about the blemish of Haligonian growth, but real estate markets do not change overnight and neighbourhoods are not being torn down because they are inefficient. It is probably one of the lessons of the past two decades of anti-sprawl campaigns that it is easier to talk about unsustainable land use patterns than to actually discontinue them. And then there is an anti-development alliance around Halifax, that will. lobby against any increases of density out of fear of change.
The solution
In times of political hesitation about how to switch to better land use planning, the importance of a good role model cannot be understated. There is only one good recipe to convince a city of the feasibility of suburban sprawl repair: to show everybody how it's done! The Village on Main is on a very good path to do just that.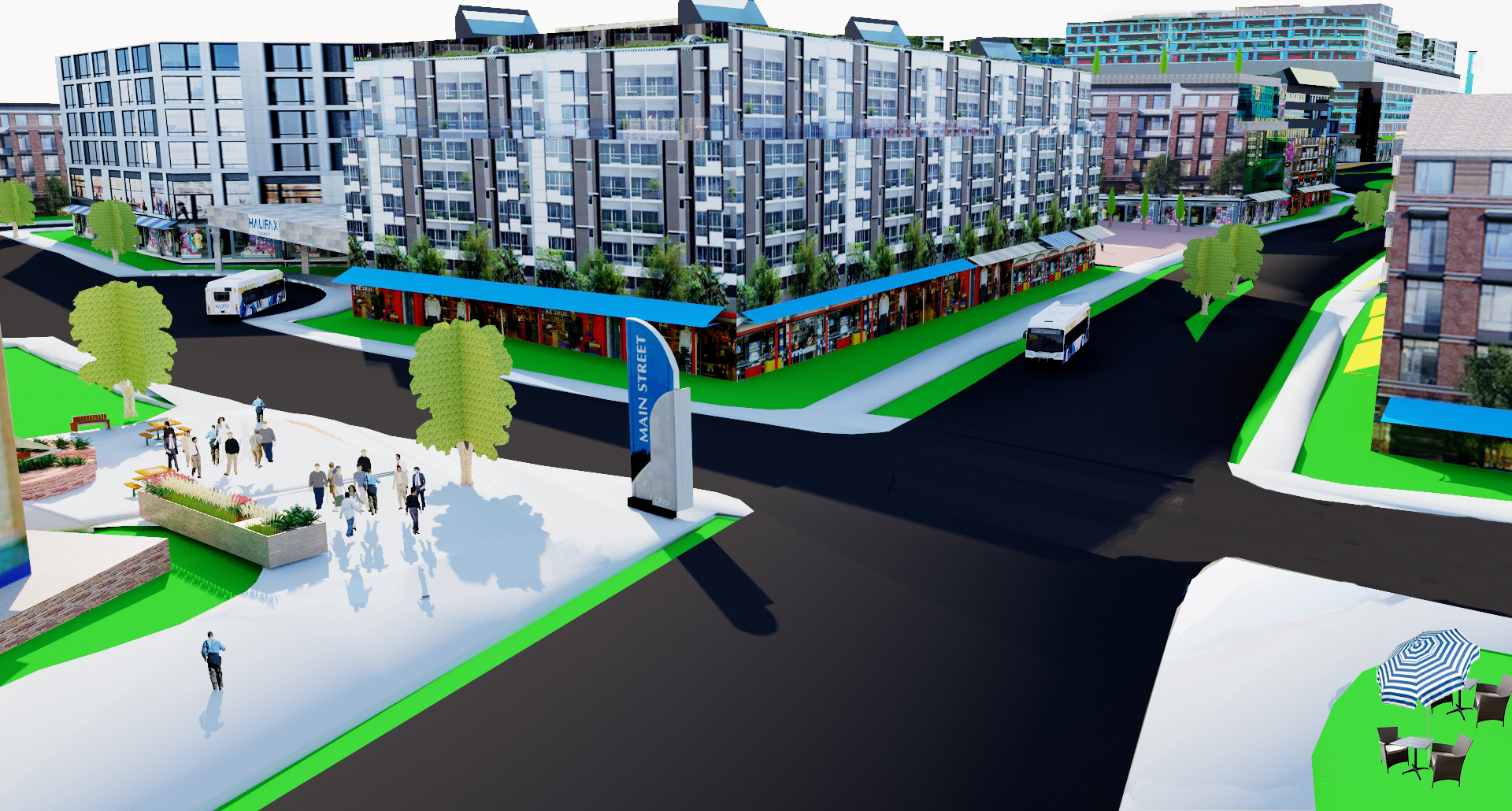 Form based coding demands some level of architectural quality and a great shopping experience for pedestrians, setbacks are designed to create wide sidewalks, parking in the rear yards of buildings is compulsory. This is just to name a few features of the reinvented district. The new Village on Main will be mixed use by default. You may not install residential uses on the ground floor of commercial zones, but residential use in upper stories is very much encouraged by limiting general office use to a maximum of three stories. With height limits prescribing predominantly between 4 and 7 stories, the human scale of new developments is taken care of proactively. An Active Transportation strategy ties the district into the pedestrian and bicycle networks of the surrounding areas and drive-through uses are restricted so that they don't affect the pedestrian look and feel of the area. The course for a vibrant community core has been set.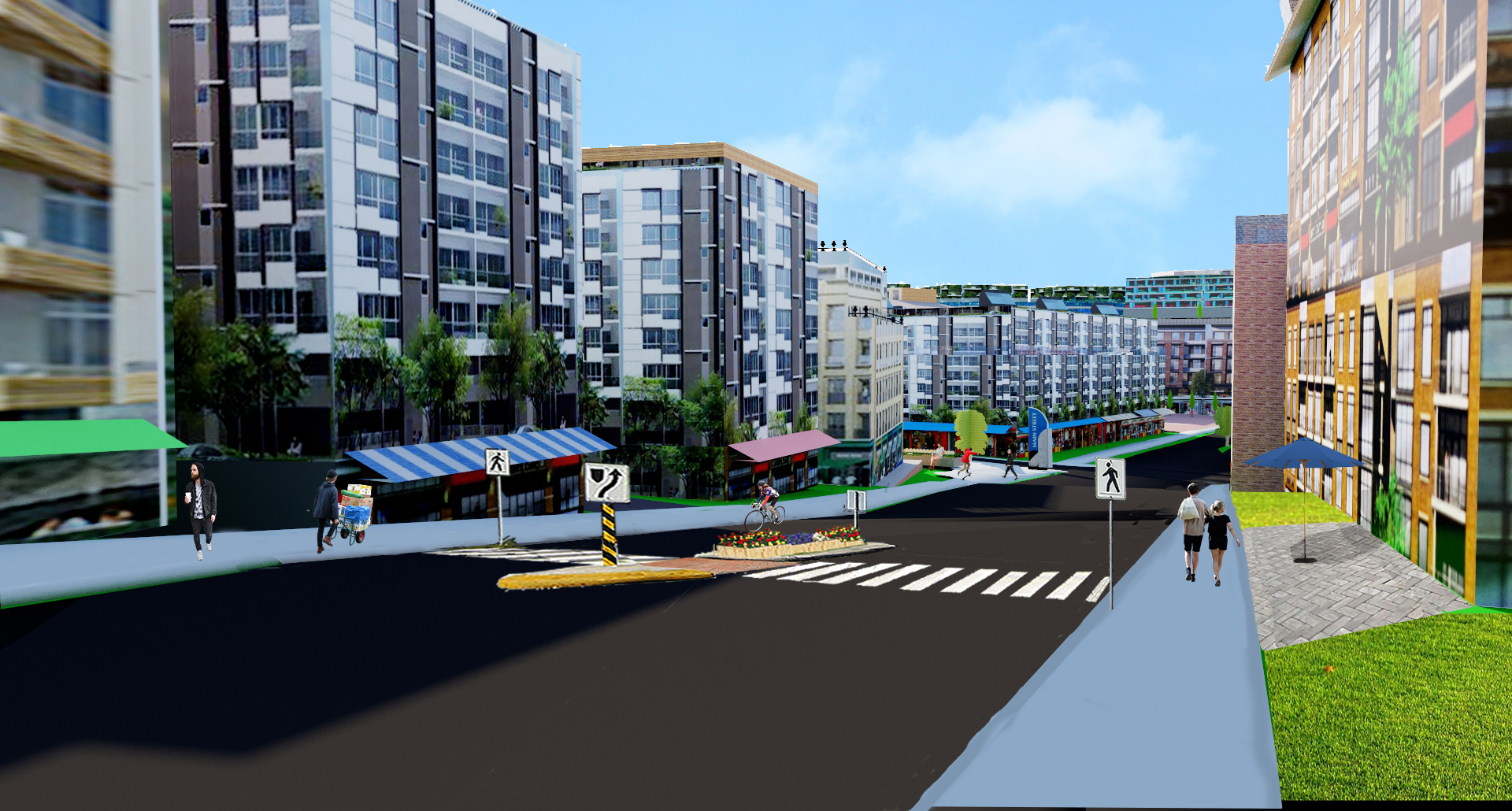 How did this happen?
What sounds like and urban planners' dream, started in a somewhat nightmarish situation. When many of the retailers moved on, what was left of Main St by the mid 2000s were many parking lots, vacant buildings, neglected properties and some frustrated remaining business and restaurant owners. The entrepreneurs accepted the challenge to try to turn it into something good. "We started off very naively", says Greg Fong, founding member and current President of the Main Street Business Improvement District (short: Village on Main), "we began to meet regularly in back offices, not really sure how we would attempt to change the character of the area." Soon it became clear that a comprehensive urban development approach is required to bring new life into the district. The discussions resulted in the formation of a business improvement district, which used much of its first annual budget to hire an urban design practice tasked to develop a regeneration concept. Their report embraces the word 'village' for the very first time in 2008. It became a guiding theme for the district since then.
Eight years later, the by-laws for a revolutionarily changed area are in place and the first developments have either taken off, or they are just about to start. The changes on Main are serious business: The new zoning allows for an additional 6 million sq ft of floor space, including residential development opportunities for up to 7,500 new residents in the neighbourhood. Changes of this magnitude are rare in Halifax, and often face a lot of opposition. How did the Village on Main manage to run through this process successfully? There are several success factors that have facilitated the urban conversion decisively.
Success factors
Engagement and Community
Participation was an integral part of the process leading to reimagining the Main St area. From the first conception of the outline character of the new district to the actual formulation of land use by-laws by the city, recurring workshops with local population created opportunities for participation in all key stages of the process. In order to facilitate the discussion about desired massing of buildings, residents were able to build their concept of ideal building proportions in Lego. City planners were side by side with residents during these collaborative exercises. It is this type of engagement that creates a sense of ownership with the local community. It becomes their project.
The strong community cohesion that was triggered by this process keeps benefiting the Village on Main during the implementation of the plan. The community based character of the transformation attracts a lot of inspiring minds and interesting characters that volunteer their support to the district: students and professionals contribute their design ideas to improve street corners, artists will begin to share a community space soon. Two of the development will play a very innovative role for the community. The previous Garden View Restaurant is about to turn into a multi-generational housing project with assisted living units for seniors, all integrated into a community concept with meeting spaces, libraries and a business incubator. Another development will mix market housing units with a project that helps persons to re-gain economic independence after periods of mental health problems.
Away from plain density debates towards a community vision
The usual discussion about density in Halifax is traditionally very bland. Proponents scream for more density while local activists yell 'less density' in response. The question about desired character of an area is rarely answered. In fact density is such a complex concept, that it hardly makes sense to talk about how many people per hectare we want. It makes much more sense to talk about the kind of community that we want to create in a certain area. This was the strong point of the Main St planning exercise. Walkable, complete and friendly were adjectives that described the characteristics of the area from the start.
Scale
The choice of an appropriate scale of redevelopment is key to the successful transformation of a parking lot paradise. If you allow for too much height and density, the development process will profoundly change the identity of the community. The local land owners will often have no means of implementing high rise developments and leave the floor to major corporations from further away. Less community involvement may endanger the 'market square feel' of such a district. However, the height restrictions need to be flexible enough to make underground parking economically viable and to create sufficient financial incentives for development to happen. It seems that the Village on Main has struck this balance very well. With up to eight stories on the central spine of the neighbourhood and 4-5 stories on its periphery, the new district will seamlessly tie into the surroundings while providing a small scale downtown for the Dartmouth-Cole Harbour area.
Building on existing strengths
Good urban development does not emerge from a void. Smart planners pick up existing trends and take them to the next level. The unique selling point of the Village on Main is that the area is home to over 160 mostly small and medium sized businesses. More than a quarter of these are health and wellness related establishments. Furthermore, there are schools for kids in all ages within walking distance.
The redevelopment concept for the Main St area embraces these existing strengths and supports the creation of a mixed use district with a full range of shopping and services for residents of all ages. Main Street may never be as trendy as existing cultural centres in Downtown Dartmouth or the North End of Halifax, but it will be a complete community where you can live, work, socialize and run all of your daily errands without dependence on motorized transportation.
Marketing
New land use by-laws and design codes do not automatically attract the interest of investors and developers. It takes a convincing public communication effort to explain why an unsightly area dominated by parking lots is a great opportunity for apartment buildings and condos. Appealing brochures and videos that portrayed the vision for the area with compelling 3D models and information about development opportunities on vacant lots were developed in the coordinating office to spark interest in the development community.
The logo of the Business Improvement district previously featured an image of the highway-style road of 'Main Street', cutting in its full extent through the centre of the drawing. The rebranding of the district to 'Village on Main' was helpful to convey the new image of the area.
People and support
Last but not least, a visionary project needs exceptional persons that drive this change. Trying something new involves risks, and it takes bold personalities to push aside regulatory burdens that may obstruct innovation. The Village on Main is beginning to flourish because all persons involved in this project, whether with the city, the district, planning offices, local residents or entrepreneurs, are all amazing people full of inspiration and a steadfast desire to change things for the better. Anyone attempting to recreate the success of Main St should bear this people factor in mind.
Paul is a passionate urbanist from Europe. He grew up in Poland and Germany and obtained his degree in Town and Country Planning from the University of the West of England in Bristol, UK. After his arrival in Halifax he quickly became involved with the urban development community and volunteered for organizations such as Our HRM Alliance, It's More Than Buses, Fusion and others. Paul is an urban planning consultant to the Main Street Dartmouth Business Improvement District.