Every year at the start of spring, my family and I visit our ancestors at the cemetery during the Qing Ming festival. For each family member that we visit, we place a pot of flowers in front of their grave, we burn incense and paper money to the heavens, we bring food offerings of tea, oranges, assorted meats and rice pastries, and lastly, we bow three times to pay our respects. This cultural tradition that I practice to this day sparked my interest in how cemeteries are planned.
Unsurprisingly, you don't hear a lot of people eager to study "cemetery planning" as it is not the most lively field compared to transportation planning or urban design. The truth is that cemeteries are on the back burner in terms of urban planning. Cemeteries are defined as a park in most municipalities, but the potential for these spaces often lacks direction from planners and policy makers because there are no guiding resources. This past November, the City of Edmonton adopted a Cemetery Master Plan contracted by Hilton Landmarks Inc., one out of the only two architectural firms in Canada that specialize in cemetery design and planning. The Plan forecasts that by 2055, the demand for cemeteries will require 407 acres, and currently the City is projecting only 43 acres of developable land by that time.
Historically and currently, cemeteries continue to be placed on city outskirts and are eventually engulfed by urban development. There is much to consider when designating a cemetery because once a body has been buried or interred, the body cannot be removed unless formally approved (as outlined by Alberta's Cemetery Act). Thus, cemetery spaces remain cemeteries forever.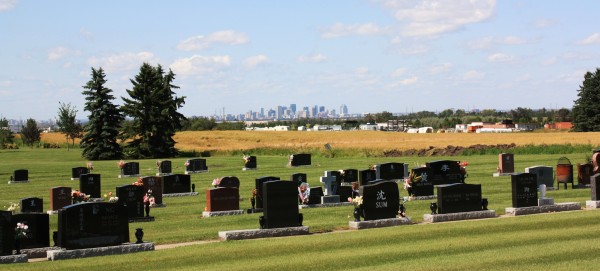 The true kicker is that cemeteries are expensive services. The maintenance and operation costs are huge financial burdens for municipalities because they must be cared for in perpetuity. The Alberta Cemeteries Act requires all municipalities to provide a perpetual care fund (PCF), which is the budget that collects annual interest for cemetery maintenance. The PCF collects interest from anything sold in a cemetery such as a grave marker, a memorial plaque, a crypt, or a space in a columbarium. The unsustainable part about this model is that cemeteries essentially operate at a onetime use, meaning that the City will receive no more income for that cemetery when it is full, and this places immense strain on the PCF. Fortunately, Edmonton's Cemetery Master Plan recommends an increase of 15% to 25% of its sales into the PCF.
While cemeteries are generally neglected in terms of planning, the City of Edmonton has had a breath of fresh air. The adoption of the Cemetery Master Plan is a vital sign for the City to provide more public awareness about cemetery landscape design, burial trends and finances, and to instigate more consultation between planners and the public. This is especially the case for one of Edmonton's younger cemeteries such as South Haven, which will be undergoing $6.175 million of infrastructure and landscaping costs over 2013-2016.
Edmonton's cemeteries tell the rich history, the culture, the religion and the traditions of the people who have lived a century ago to the people of tomorrow. Everyone holds a particular view of death, has a different sensitivity to cemeteries, and believes in a specific way of how we should use these spaces. We must not forget about them.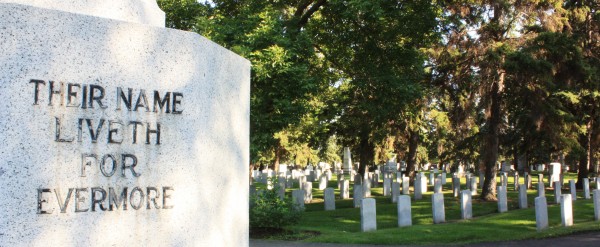 For more information about the City of Edmonton's Cemetery Master Plan review the November 28th, 2012 City Council Minutes section 6.8: Municipal Cemeteries.
Photos captured by Stephanie Mah (2012).