When newcomers choose a neighbourhood to settle in, proximity to a LRT station and walkability are top priorities at first.  For some, a few harsh winters later, living on the edge of the city seems to be the better option. This seemed to be exactly the case with an acquaintance of mine.  Her dream home was 'just' a 30-year mortgage away, not too big – about 1,400sqft with a front veranda, developed basement and a rear garage in a new neighbourhood in the south side of Edmonton, and only 12 minutes away by bus from the Century Park LRT station.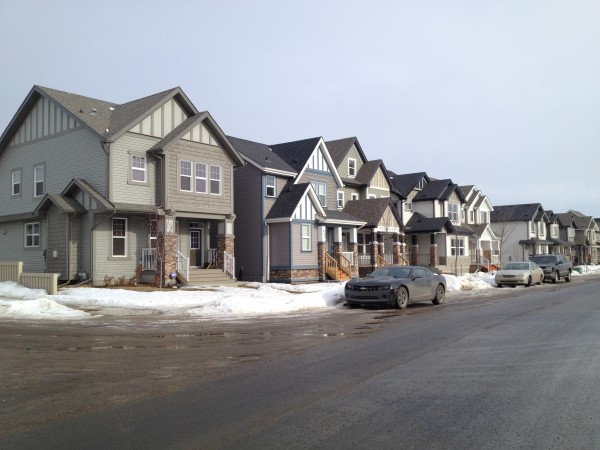 The builder advised her that the City had planned to extend the LRT further south with a future LRT station to be built at Ellerslie Road and 111 Street.  The plans also included a Town Centre within walking distance from her new home, where urban amenities would provide that same feeling from her old inner-city neighbourhood.  The LRT would be further extended to the Town Centre in the years to come, as the City had already made the developers dedicate all the land necessary for the LRT line.  While waiting for the neighbourhood to mature, the balance on her mortgage would decrease and the value of her home would probably appreciate.  It sounded like a plan.
Fast forward to 2013, the South LRT line is no longer coming down that path anymore.  Not long after moving to her new home, a report called Integrated South LRT Corridor Development submitted to Council in 2008 asserted that the optimal route for the South LRT line would be west of 127 Street.  In that greenfield site, the City could plan for a true Transit Oriented Development node close to the intersection with Ellerslie Road and 127 Street  and develop a park-and-ride facility.
Although disappointed with the uncoordinated and changing development of her neighbourhood, she confessed not having plans to move out.  She could have made a better well-informed decision, but can I blame her? While cognizant of her choices, she expressed having developed a sense of belonging to her community.  The once future LRT route and station have become focal points for the neighbourhood. The K-9 Catholic School, Virginia Park Woodland and the Southbrook Park with its amazing playground, are within walking distance from where the LRT station was meant to be, all in close proximity to many commercial opportunities to run errands.  In the summer, the Ellerslie Rugby Club Park located on the northwest corner of the intersection is a major attraction.  Sadly, she noted how much new development happening around the intersection will not take advantage of the expected transit infrastructure.  Family-friendly density comprised of four- to six-storey apartment buildings, townhouses, community services and urban amenities will have to build on the social infrastructure to nurture community bonds.
Urban planning raises expectations even when plans are not followed. My friend bought her home above market value, surrounding properties were rezoned to increase density, and land was frozen to allow for the transit infrastructure but the benefits of mixed use, walkability and public transit were never realized. We tend to plan our cities in a structured manner, but the dynamics of city building are more organic then what we want to conceive. Cities are complex, every piece of land is different, there is no master, yet we have master plans.