Edmonton and Manhattan
It's no secret that Edmonton has a reputation for low density development.  There is a lot of contemporary debate surrounding urban sprawl here, with disagreement over the degree to which it's a real or perceived problem.
Conversations on sprawl always tend to to gravitate toward a direct comparison of the size and density of two cities. Given the immense proportions cities can take, perhaps only relative differences render their true scale tangible.  Just as two shades of a colour reveal their difference more strongly side-by-side, two cities similarly describe their physical attributes.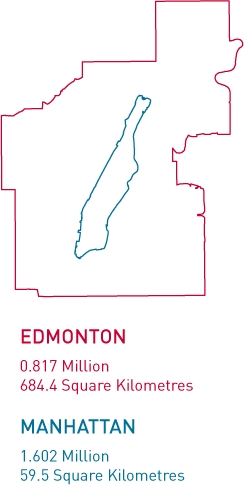 In this ongoing conversation on cities, none seems to serve as a barometer for urban comparison more than New York, and particularly the borough of Manhattan.  It is a paragon of urbanity in many ways, but is often cited in comparisons for its high density.
Conversations like this typically resemble a claim like "City X is 10 times as big as New York with 1/10th the population".  In Vancouver the West End is its densest neighbourhood and it's not uncommon hear the exclaimation: "The West End is the densest neighbourhood in North America, denser than Manhattan."  The myth of the West End's density has been demonstrated to be untrue, but shows the way Manhattan or New York serves as a superlative in density conversations.
Comparison of Edmonton and New York has been made before, but a different understanding is had with visual proportion.  The conclusion may be obvious but still of visual interest.
Roughly, Edmonton could fit Manhattan inside itself over eleven times and at the same density would contain 18.4 million people.
Edmonton and Phoenix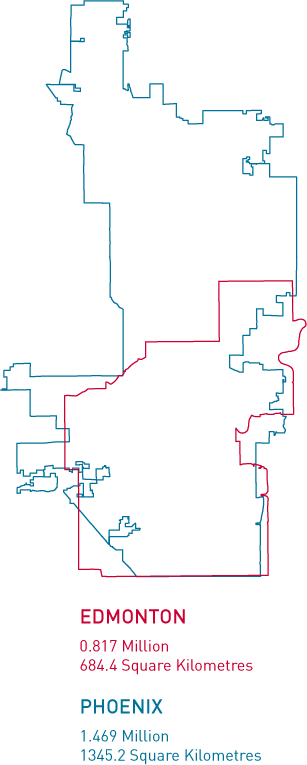 In stark contrast to Manhattan and with greater similarity to Edmonton, Phoenix Arizona illustrates a different end of a density spectrum.  Less cited for its urban qualities, Phoenix and its metro area are well known to many Albertans as a retirement destination, a winter escape, and a golf holiday.
Since 1990 Phoenix has experienced explosive growth, going from a population just under 1 million to just under 1.6 million in 2009.  One of the hardest hit cities by the crash of the American housing market, its population retreated over 100,000 people to where it sits today at roughly 1.5 million.  Without accounting for pre-crash numbers, in 20 years Phoenix has added a phenomenal 50% to its population since 1990.  Its rate of growth over the period far exceeded the national average to be one of the top two fastest growing metros in America.
Weather and climate aside, Edmonton and Phoenix share many urban characteristics.  While Edmonton has a greater population density they are not in completely different ballparks.  Edmonton like its counterpart is one of the fastest growing cities in Canada.  Both cities lack an urban growth boundary, and have accommodated high rates of growth by rezoning agricultural land on the perimeter.
If you line the south edge of Phoenix up with the south edge of Edmonton, it's boundary would extend well past Morinville.
So What?
People will criticize a comparison between Edmonton and Manhattan as apples to oranges and unfair.  They are correct.  Edmonton is not Manhattan and most Edmontonians would never desire it to be.
What Manhattan demonstrates is how a small island constrained to growth has highly optimized its land use and became a world economic and cultural powerhouse, containing a highly dense population who pay exorbitant housing prices out of a desire to live and work there.  Amazingly, Manhattan's population steadily decreased for a century – in 1910 it contained 2.3+ million people.  Today it's at roughly 1.6 million and started to increase again only in the new millenium.
Phoenix on the other hand is a much closer approximation of the scale Edmonton would come to realize should it continue its current style and pace of growth.  This pattern has impacted the economic resiliency of Phoenix,  and fear looms over impending environmental limits.  While Edmonton has its plan to densify it continues to propose annexation and approve development at low density on the urban perimeter.
It has been said that there is no good design without constraint. Is it time for Edmonton to embrace constraint, stop growing out, and start growing up?