I can't handle the thought of living outside of a central area. Mostly because it's where I have always been, and the thought of a torturous 45 minutes to work is scary. I like big trees and a mix of housing styles and commercial areas that I can walk to after dinner. However, I'm probably not going to live in my sweet, sweet 1950s walk-up forever. As I age, I will find no shortage of reasons to have a house, whether it is to own a dog, enjoy a yard, or use a washing machine that isn't crammed with the filthy cigarette butts of my friendly neighbours. But where does a young professional go from here?
The progressive housing needs of many Edmontonians are not being met by the existing stock in central areas. Realistic options amount to renting an exceedingly flexible condo at an extortionate rate, purchasing said condo, or laying down a lifetime and a half of debt to live in an old (but not too old) castle in stately Inglewood or Bonnie Doon.
The picture can look bleak. Is it too much to ask for a humble, reasonably priced home of my own located in a central area? I mean, I belong to the entitled generation-something set; I want a home that is simple but not a dump. I refuse to pay for renovations that I deem to be in bad taste, and it seems like there's an awful lot of that in the City of Champs.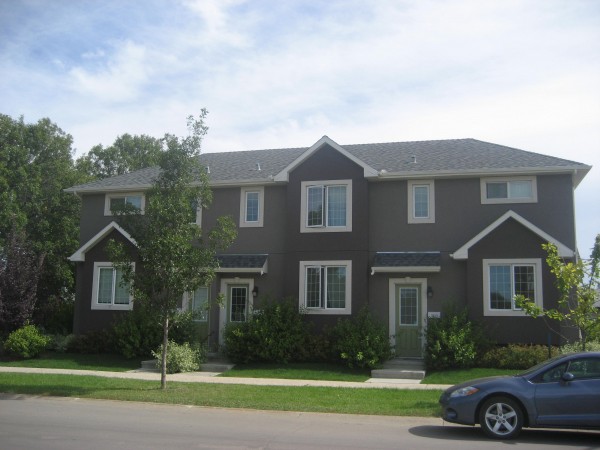 In February of this year, the City of Edmonton passed amendments to the Zoning Bylaw that enables the subdivision of behemoth 'standard' 50-foot wide residential lots. This means that a typical house in the appropriate zone can be replaced by two narrow houses. And that is awesome.
Let me be among the first to report that this news is, indeed, all rather exciting. I mean, these changes are precisely what many urbanists lust for: more density, more variety, and more relevant and contemporary designs. Increased housing stock in mature areas means that I don't have to become a multi-millionaire in order to afford to live amidst the lovely old elm-lined boulevards.
Right?
Well, maybe. It turns out that these things take time. Or at least that's my assessment as I scan the city's finer established areas for signs of the prophesied boom of reasonably priced dwellings. So what can be done to speed things up?
In a conversation I had with Tegan Martin-Drysdale of Infill Development in Edmonton Association, the answer is simple: reduce the risk for developers. Speculative home construction can be a nasty business, and the holding costs associated with developing in Edmonton's older neighbourhoods are often crippling. Land in mature areas is typically financed at great cost, and few things are guaranteed when an application falls outside of the standard low-density box endorsed by the City's current Zoning Bylaw. The longer a site sits while awaiting approval, the tighter margins grow for those willing to take a chance on mature areas.
These profits are slim relative to suburban construction, where holding costs are offset by the companies that have bought and parceled the land. As such, infill builders are pushed to:
cheap out and build the standard vinyl-clad disaster; or
target the high-end market with glitzy stone veneer, pricey HardiePlank, and imitative historical stylings.
Very, very little is built in-between these two approaches.
The notion of reducing risk in older areas was directly addressed by City of Portland's Living Smart program, which saw a design competition spawn new ideas for narrow-lot construction. And yes, I am very much aware of the acute cliché that I fulfill by merely mentioning the promised land of urban geeks. The idea has been batted around for years, but I feel like now is the time to have some sort of discussion about the real-world potential for the concept in Edmonton.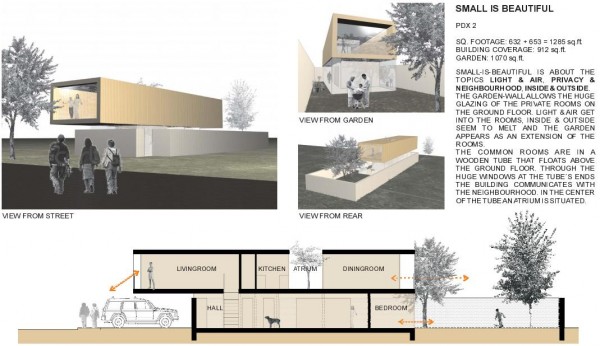 The primary objectives of this program were to illustrate how narrow lot housing could be built affordably and aesthetically in older areas. To further enhance their efforts, Portland's Zoning Code was amended to include a provision for "Permit-Ready" developments. That coma-inducing sentence means that with the appropriate criteria met, applicants were able to select a home design, purchase the plans for a reasonable price, and begin building with blinding speed.
This all sounds quite delightful, but after some poking around I have come across a number of ways that this program may be more effectively implemented here. First off, Portland's program was suspended in 2011 after "contract limitations." In addition, only two house plans were ever approved by Portland's city council as permit-ready, in spite of the numerous ideas found in the Portland Catalogue of Narrow House Designs. Lastly, permit ready housing approvals were only made available where sites were already vacant.
An adapted program in Edmonton could build on this approach as a means of encouraging the development of entry-level housing options in older areas, particularly given the might of 50-foot lot subdivisions that are now possible. Permit-ready designs would undoubtedly help mitigate some financial risk for infill developers, vastly reducing permitting times and the nail-biting uncertainty of standard requests for relaxations of bylaw requirements.
A faster turnaround time on projects equals dollars and cents for builders and buyers alike, with minimal cost to the City. Of course, at this point I am strongly motivated by a rather dire shared laundry scenario in a shady low-rent apartment.  And even if my bias is showing, I can't help but think that a little flexibility would go a long way to making our infill neighbourhoods more accessible to those who want to be there.