Editor's note: This piece is a continuation of the article found in the Fall 2013 national issue of Spacing. We urge you to buy a copy at any Chapters store for more stories from Edmonton and other Canadian cities (NOTE: not available at Indigo or Coles).
This past June, Edmonton's iconic High Level Bridge celebrated its centennial. In 1913, the bridge opened to rail, road, and foot traffic and helped solidify the link between the City of Edmonton and the recently-amalgamated City of Strathcona. Shirley Lowe, Historian Laureate for the City of Edmonton notes, "Another year, and the bridge would not have been completed. All the steel, construction material and labour went to war. There was little or no steel for domestic use until 1953."
During its storied 100-year history, the High Level Bridge has served as part of the CPR rail link between Edmonton and Calgary, acted as a colossal man-made waterfall, and was shrink-wrapped during its most recent restoration in 1995 – done to prevent its old coating of black lead paint from falling into the river during sandblasting. The bridge also holds the notorious distinction of being an oft-used suicide platform – a fact that provided the inspiration for local filmmaker, Trevor Anderson's award-winning short film.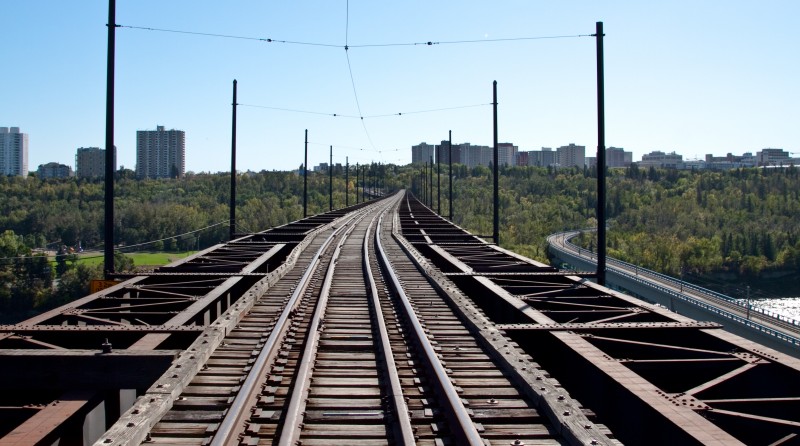 CPR ceased operations across the bridge in 1989 but it remains the most significant span in Edmonton, acting as the primary vehicular and pedestrian connector between the Downtown and the Old Strathcona arts and entertainment district. Seasonal streetcar service, operated by the Edmonton Radial Railway Society, also provides a connection between these areas but this is mostly considered a scenic tourist attraction, with limited departure times from each terminus. Regular streetcar service on the bridge ceased in 1951 as Edmonton retired the last of its streetcar fleet. Before this, the streetcar was relegated to the outer tracks on the upper deck, creating a harrowing journey, particularly during wind storms.
Considering that Edmonton lacks convenient commuter transit service between the Downtown and Old Strathcona, it is not unreasonable to think that a viable and logical solution exists via the revived High Level Bridge Streetcar. Regular service would likely prove quite popular and could act as a stop-gap until such time that Edmonton's LRT system more adequately links all core areas of the city.
Today, the High Level Bridge attracts creative ventures such as the Light the Bridge project – a donor-supported, grassroots campaign aimed at stringing thousands of programmable LED lights along its span. The group behind the initiative has over 3,000 individual and corporate donors to this point and hopes to raise $3 million to make their vision a reality. While lighting the bridge in itself may not be a unique concept, the group's funding strategy wholly captures the emerging community-based entrepreneurial spirit that is becoming more and more prevalent in Edmonton through initiatives such as MADE and Make Something Edmonton.
While the bridge acts as a conduit for the commute and creativity of many Edmontonians, perhaps its most important continuing role is to serve as a link to Edmonton's past. In addition to being the first multi-modal bridge in Canada, Shirley Lowe points out, "The High Level Bridge made a big impact on the future of Edmonton. It was and still is the only top of bank to top of bank connection. That alone changed how connected and accessible Edmonton was for the movement of goods and people."