Despite the focus on the phallic-obsessed competition of "which city has more skyscrapers" or "whose tower is tallest" in some urbanist forums, a skyline needs more careful consideration beyond the metrics of just height and glass. Arguably, a skyline sends a strong message to its citizens and the outside world, helping to define a city and its values, regardless of the validity of such brand images. For many people nowadays, a first glimpse of any city is now a result of a Google image search. For instance, Vancouver's glass condos with majestic mountains in the background offer a perspective very different from that of Calgary's corporate oil towers juxtaposed by its Saddledome. You can imagine the narratives that can spin off from these images.
That said, we are quite fortunate to have a skyline that is Edmonton's. Seriously. Unlike the glass skylines that dominate the waterfronts of Vancouver or Toronto, the city offers prominent views of a rich and diverse array of architectural heritage that fronts the top of bank into the river valley. Together, in somewhat of a messy way, they tell a larger Edmonton story starting from the outstanding natural heritage, the creation of the province, its industrial and immigration boom, the concrete modernist dreams, the brief post-modern boom and large bust, to its current form. Luckily, there is little opportunity for new development in the river valley to displace such views.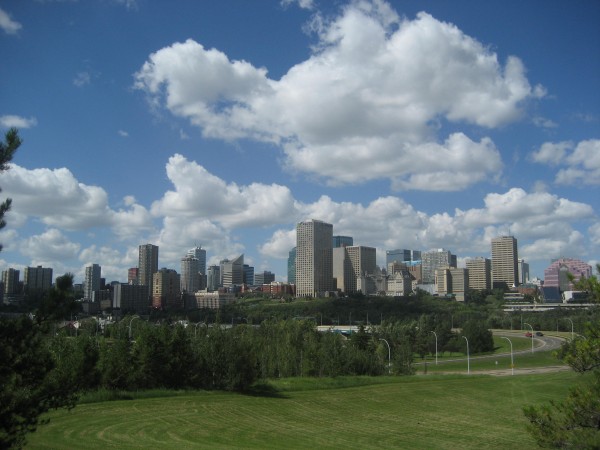 According to Tim Marriott, past president of the Edmonton and District Historical Society, European visitors will say that "[they] like the skyline here. It feels more European than Calgary" (emphasis added of course). Although this is intended to be a compliment, I will have to be cautious with such a statement – Edmonton's skyline story is still not complete. Noticeably, there is a lack of prominent infrastructure that create narratives of Edmonton's rich indigenous heritage. Due to the unfortunate dismantling of Fort Edmonton, the skyline is also missing narratives on the relationship and mixing between the original and new inhabitants during the fur trade. There are several other stories, I am sure, that I have missed.
In Mayor-elect Don Iveson's victory speech, he stated that "… acknowledging that rich indigenous history will be one of [his] top priorities." This is definitely in the right direction for much needed discussions on the city's identity. So how can we reflect and promote history properly through our landscape?