If you visit the City of Edmonton Archives, a search for "market gardens" in the Henderson's City Directory for 1932, turns up several Chinese names at addresses near the banks of the North Saskatchewan River. Edmonton's River Valley was once dotted with market gardens, many of them operated by Chinese families. These gardens were part of neighbourhoods, supplied Chinese restaurants, and even distributors like McDonald's Consolidated. They were a well-known presence in the 1930s, '40s and even into the '50s, but gradually disappeared.
A market garden is a small-scale business of growing vegetables, fruits and flowers as cash crops, often for direct sale to consumers or restaurants, farmers' markets, or wholesalers. Typically, a wide range of crops are grown. It may also be called a truck farm.
At a time when Chinese did not have many options open to them, some were able to exist essentially as small business people by operating market gardens. One of these families was Mr. and Mrs. Seto who ran a truck garden in what is today Victoria Park. They supplied vegetables to downtown stores and peddled them door-to-door with a horse-drawn wagon. Another market gardener was Bark Gin Wong, who between 1930 and the mid-1970s, with his wife and children, grew produce that supplied local Chinese restaurants and the old Woodward's. According to the Edmonton Chinese Garden Society, until the 1960s, the site of Louise McKinney Riverfront Park was used by Chinese gardeners to grow Chinese vegetables for local consumption. Other market gardens were located at the site of the Royal Glenora Club, the site of the Mayfair Golf Course, on the hillside below the Royal Alberta Museum, in Riverdale, on the site of the Rossdale Power Plant, and between the present day General Hospital and the High Level Bridge.
So why did they disappear? If you ask Kathryn Chase Merrett, Edmonton historian, it was partly when Chinese received voting rights in 1947, and with that more equal status in society. The children of market gardeners were able to make choices to pursue other forms of livelihood. The ones in the river valley also disappeared when the city reworked its parks policy, and converted the river valley from some industrial uses to mainly recreational uses. Many of the market gardeners moved from the river area further north to areas up around 97th street and Fort Road before they eventually stopped their businesses and retired.
Look carefully, and the urban landscape will reveal reminders of these gardens, and the people who once tended them.  Horticulturalist, Thean Pheh, and Dustin Bajer, educator and master gardener, shared stories of goji berry plants growing wild in Edmonton's River Valley. It is possible that these are descendants of the original goji berry bushes planted soon after the completion of the Canadian Pacific Railway by former Chinese railroad workers who settled in Edmonton. Some of these grew on the slope from Jasper Avenue to the North Saskatchewan River, but were removed during construction of the Shaw Conference Centre. Take a walk through the river valley and see if you can spot them.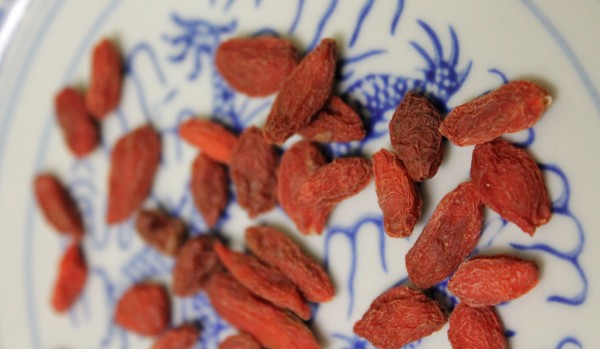 What other aspects of Edmonton's history have disappeared from the urban landscape? What other stories about the river valley remain untold? What can we learn from the past about urban food security for the future?
Thank you to Thean Pheh, Dustin Bajer, and Wei Wong for sharing their personal knowledge. Thank you also to Elizabeth J. Walker at the City of Edmonton Archives and Kathryn Chase Merrett. Merrett is an Edmonton historian and the author of A History of the Edmonton City Market: 1900-2000 – Urban Values and Urban Culture. Her newest book, on the history of Edmonton's gardens, Why Grow Here? will soon be published by the University of Alberta press. One of the chapters is entitled: "Hidden Tapestry: Remembering Edmonton's Chinese Gardeners".  Thank you to Chris Chang-Yen Phillips and Terra Informa for support.
This article was first produced as a podcast, Descendants of the Goji, produced by Amber Ann and Kathryn Gwun-Yeen Lennon for Terra Informa.  
References:
"From China", article in Edmonton Journal, October 3, 2004, courtesy of City of Edmonton Archives.
"Chinese church benevolent landlord", Edmonton Journal article, May 5, 1973, courtesy of City of Edmonton Archives.
"Market gardens fade into history, letter to the editor, Edmonton Journal, November 23, 2008, courtesy of City of Edmonton Archives.