Pedways have been built in cities around the world for the same reason: weather. Most, in places like Hong Kong, Singapore and Taipei, remove people from heat, humidity or rain. In Edmonton, where our ponds remain rock-solid for months, they take us out of cold and snow. But what all of these weather-sheltered walkways do not remove from their cities, and this includes Edmonton, is vibrance. Believe it or not, pedways add to it.
Many Edmontonians hate pedways. Vocally. That's especially true now, given that a $40 million example of one is being proposed, to connect the Galleria development to the LRT. "I hate pedways," Councillor Scott McKeen told the Edmonton Journal recently. "I think they steal vibrancy from the public realm. Busy sidewalks are what we need." The City's bureaucracy seems to agree. "Pedways are not an asset to walkability if we're trying to make the streets a more vital place," said one official, in a separate Edmonton Journal article.
This pedway poo-pooing is not surprising. Reflexive analysis sees a pedway as an inside space rather than the outside street, and thus, it seems to reason, anyone walking in one is not adding to street 'vibrance.' But pedways are being pulled into a false dichotomy, made out as a villain, a cause for Edmonton's milquetoast downtown streets. If we believe our officials, the formula is simple: add pedways, remove vibrance, and vice versa. But I say phooey to that. If you want your culprit for dead streets, look to poor street design caused by decades of city planning bending to the whims of the automobile. And if you want to improve those streets in Edmonton, I'll stand up and say it: look to pedways.
For a snapshot of how pedways can add vibrance, let's look to Hong Kong. The port city has more pedways than some countries have people, yet its streets still burble with humanity. How can that be if pedways are so bad for vibrance? The answer is good pedway design. Hong Kong's pedways are integrated with its outside streets and its many internal and external transit systems. Indeed, these pedways are part of its overall transportation network. The city's outlying suburbs are connected to the dense commercial core by its LRT; that LRT, in turn, has stations, which are all linked to streets above, as well as to the ubiquitous malls, by pedways. These pedways feature markets, restaurants and boutiques—you can buy just about everything in a Hong Kong pedway, from an octopus to a Rolex. For this reason Hong Kong's pedways and its streets are pretty much the same. Both bustle with pedestrians talking, moving, and buying and selling things. The pedways just happen to function without cars and rain.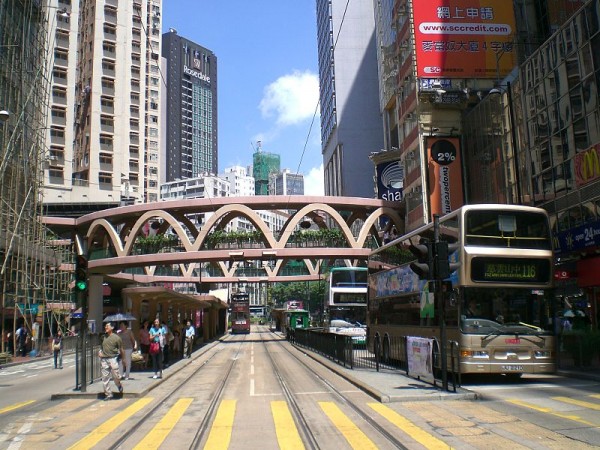 Still, pedways—as Edmontonians know them—deserve to be hated. Ours are easy to get lost in. They are often ugly. Their locations are almost always illogical or confounding. Many of those controlled by private interests, which is a lot of them, keep hours worse than our banks. Somehow, many are crowded during the day and dangerously empty at night. Few feel connected or direct. Fewer still offer anything to do in them, other than walk through, and quickly. But while many of our pedways are guilty of these crimes, it's when we convict them of killing our downtown street vibrance that we ought to wake up.
Let's be frank: if we removed Edmonton's pedways we would not add people into our downtown and onto its streets. Indeed, many of our pedways are already so unenjoyable to walk and so easy to get lost within that they nearly force us out of them anyway. But those that do work, and there are some—think of those connecting to LRT stations downtown, and especially those that offer views to the outside (and yes, I'm looking at you, person standing comfortably in line at Tim Hortons while chatting with friends, in a pedway in City Centre Mall)—are strong reasons that downtown Edmonton retains the small amounts of street vibrance that it has, especially during the coldest of its winter days.
Here's the forgotten fact about vibrance, pedways and Edmonton: someone in a pedway is someone on their feet. As in a pedestrian. A person not in a car. And such a person is a very, very important thing for Edmonton as it tries to build downtown vibrance, regardless of what the arena pushers might believe. The journey will start and end from a street. Thinking of a pedway like this, as a pedestrian walkway that's sheltered from the elements, allows us to see some other important things, too. Pedways are most often pedestrian connections to Edmonton's LRT network, which is built with the purpose of moving pedestrians about and thus removing our need to drive to come downtown or to sports arenas or other amenities. So, as we grow our LRT network and enhance its connectivity to the suburbs and the core—in an attempt to reduce the astronomical percentage of urban trips we still make with cars—we will undoubtedly build more pedways. Indeed, as part of their plans, the Galleria and the arena both have pedways connecting them to LRT stations, commercial areas and, ultimately, the street. But if we continue hating pedways while also building more of them we could miss a big opportunity. That opportunity is to link these transportation networks together, make them work as a single network and thus to get the most from our investment.
What we need most is to turn our frustration with downtown vibrance away from the scapegoats and onto our streets. The real culprit for our lame streets is the car—or, specifically, streets designed for them to the near exclusion of other users. If people do not like walking on your streets they won't. It's as simple as that.
Tim Querengesser is a journalist and the head of The Edmonton Wayfinding Project.