Cross-posted from Mack Male's (Mastermaq) blog. See the full post here for more coverage on the Edmonton Wayfinding Group (@wayfindYEG):
Walk around downtown today and you might notice some new signage. New wayfinding prototypes have been installed around Churchill Square, part of a pilot project being led by Walk Edmonton.
Each sign contains directions to nearby destinations, a map of the area the sign is located in, and information about the wayfinding project. Importantly, the directional information and the map contain time estimates for pedestrians. This should help pedestrians to orient themselves and make it to key destinations.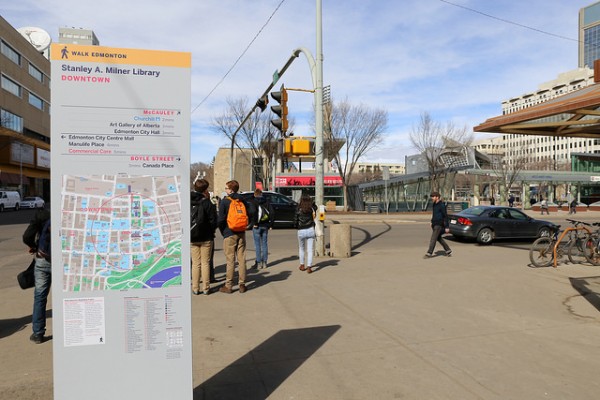 The Downtown CRL Plan (PDF) contains a catalyst project called Green and Walkable Downtown that refers to "a phased and coordinated program of street and public realm improvements" focused on pedestrians. It also highlights the notion of a wayfinding system:
"Wayfinding refers to the system of visual cues, such as signage and maps that people use to find destinations and navigate neighourhoods. In the downtown context, a coherent and effective wayfinding system is particularly important to pedestrians and cyclists."

"The wayfinding signage that exists downtown today is inconsistent and in some cases incoherent or absent. There is currently a patchwork of signage systems. A Wayfinding System would include signage at street level for pedestrians. Web and mobile phone-based wayfinding tools could also be developed. All components will be well-integrated, sharing a mutual look, language, and logic that will facilitate movement."
Edmonton's current wayfinding is a mess. It's a mix of different approaches, developed at different times, with no coherent system or plan. It's not just the pedway either, it's everything. I'm really excited to see this start to change, and just in time for what is perhaps the busiest construction period downtown has ever seen, with the LRT, arena, Royal Alberta Museum, and many other projects underway. Good wayfinding is about to become more important than ever before.
This is just a first step, and there's lots more that could be done. I'd love to see a digital component as well, with a mobile site or apps or both. Connections could be made to ETS wayfinding, and of course, we need to fix the pedway signage!
The City is running an online survey to gather feedback on the proposed maps and signs. You have until May 4 to provide your input!