Nested in a small industrial district just south of Whyte Ave, Mike Lam's industrial design studio embodies a remarkable supply of tools and machinery, seemingly enough to make any industrial designer's concepts leap straight from the drawing board to finished product.
Our city has been blossoming with new spaces dedicated to living, working and socializing. The vast landscape yearns for something to be built on top of it. Although the glass facades and shiny structures that have been popping up throughout our city have brought about a more distinct skyline across the North Saskatchewan River, I have always found the repurposing of an old space to be far more fascinating than its shimmering counterparts.  It was a rainy Sunday afternoon, but the contrast of the unfinished concrete with Lam's warm walnut pieces and the diffused sunlight filling the room, it felt nothing like the cold industrial area the studio was situated in. I sat down to speak with Mike about what makes this space so unique.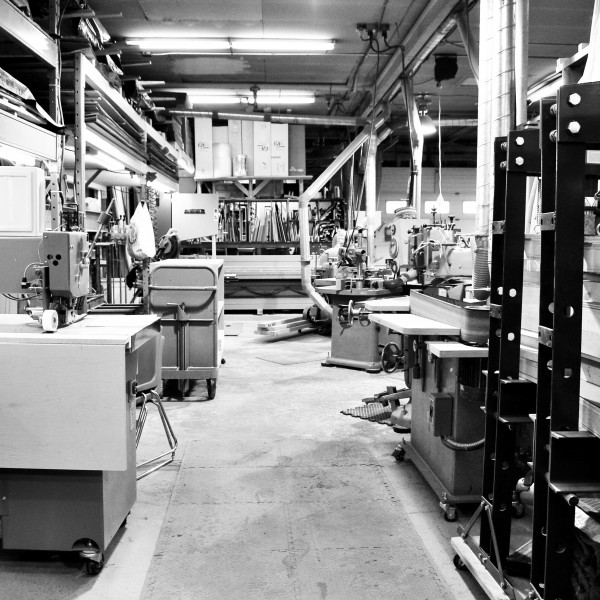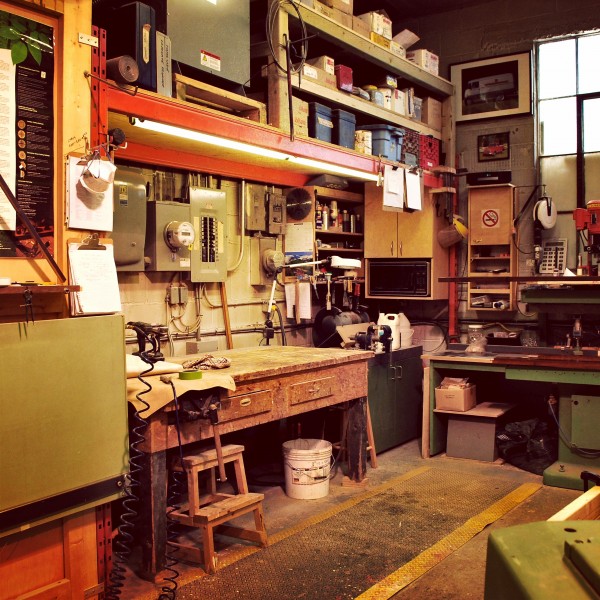 Why were you so drawn to this space in the beginning? Love at first sight? Or was there something specific that it had you knew would make your goals as a designer work?
The story of sharing my wood/metal/plastic fabrication shop begins 10 years ago when I needed machineries to custom build furniture for my downtown condo.  Slowly, I collected classic wood working machineries as a result of 10 years of slow renovation and custom furniture building. Today, this 4500'SQ shop can fabricate metal, wood, and plastic prototype and do small production runs. I bought the building for manufacturing space and real estate investment purposes. There is no romance in this transaction, as I just don't want to pay rent.
I think for me, the most interesting thing about a designer setting up his own studio is that there's so much flex and interpretation to the nature of how we want the space to work for us. Were there any challenges in achieving how you wanted to live/work/sleep/eat in your studio? 
There were a few challenges in how I wanted my studio, work , sleep, and storage space to work together. Money and time were the main issues. We have an excellent wood shop so its only natural to fabricate in house for quality control and it's cheaper. It took a long time to complete the reno as we were only able to work on the studio in between jobs. Overall we like how it turned out.
What was the hardest part for you in making this space what it is now?  I know you mentioned a few interesting scenarios about how you acquired certain types of machinery and fixed them up to serve your needs… tell me more about them! In a way, that is ultimately what a designer is!
Haha. Since money is tight I love to go to the auctions and buy left over machines and fix them up. The idea of giving new life to rejected machines is romantic. I visited the Architectural Clearinghouse and the REStore regularly during my renovation period to find my shop windows and doors.
I am a homegrown Edmonton Industrial Designer. I graduated from the Industrial Design program at the U of A.
How do you describe what you do?
Gee this sounds like a speed dating question, you sure you want me to respond Olivia? Hehe (yes Mike, I mean aren't you and your work already in a committed relationship at this point?) OK I see myself doing both product and furniture design. Some products I produce as functional, others like furniture products I inject emotions. In general I like to create beauty. Nothing compares to seeing a smile or feeling the vibe of a happy client. If my work reminds people of the humanity within them, I did my part.
The idea of sharing the space and machineries with other artists/ designers came after friends complained that the start up cost of a business is quite expensive. The cost of rent, utilities, and machineries is quite high in Edmonton for fresh grads and small scale owner operators and they have to sign a contract.  This cooperative approach would generate contacts, share overheads, and build community of artist and designers. I have many projects resulted in new contacts. Its perfect for artists, designers or cabinet makers from other cities on a exchange program to rent a short period of time here. The shop has a kitchen and a shower. Sharing my shop space, machines also create a community of design. Other artists like poets have used my studio as a workshop too. My part in the collective is just one of many efforts to allow everyone involved to share beauty.
What are the ingredients of your daily life as an industrial designer?
Oh, there is always work at the shop, and I go to REStore and Architectural Clearinghouse once every few weeks. At night I draw and doodle with ideas when it's quiet and dark. It's when I stop being a businessman at the end of the day and return to being a designer that I am most comfortable.
Industrial spaces have always been an anomaly in cities in terms of how they should be treated and dealt with once they have served their purpose.  They tend to challenge urban planning in questions regarding health, safety and ultimately the viability of the site to adapt to new uses. Often, they become overgrown with vegetation or "decontaminated" completely to the point where there are no more traces of their industrial history left.  Although I definitely am not opposed to growing fields of green over these landscapes, I definitely do not agree that this solution is the only one.  Perhaps the idea of celebrating such spaces offers more creative opportunities for reweaving our city's urban fabric.  A composite of the past and present. Machine and nature. These vast residual spaces or "voids" offer more opportunities than ever to designers and artists, working as local urban labs to create and invent.   Lam's reclamation of this warehouse space has not only offered a creative hub for artists and designers to collaborate but also a place for him to live, work and play simultaneously, which in essence, brings breath and life back into these forgotten worlds.   The voids do not become lost territories but rather celebrated for their uniqueness, and of course, with an artistic expression, the space is remade into something meaningful and more importantly, inhabitable.