An odd shaped lot, about twelve hundred square metres in size and located just north of 76 Avenue in Mill Creek Ravine South, was added to City of Edmonton Parks inventory in 2014. Just to the west of the Mill Creek Trestle Bridge, two property markers imbedded in the trail indicate the edge of the property.
Originally intended to be part of a road crossing the ravine, the lot was created in 1895. The road was never built, however, as the Edmonton, Yukon and Pacific Railway was built through it in 1902. The railway ran until the 1950s, and then, a couple of decades later, was replaced by a trail.
The land became a de facto part of Mill Creek Ravine Park in the 1970s, but it only came into City land inventory much later as a tax forfeiture. The land was previously owned by Robert Gibson Shirreff and Thomas C. Osborne, who were, among other occupations, land speculators. They purchased an eleven hectare plot, largely in what is now King Edward Park, in 1907 and promptly had it surveyed for residential development by the prolific Robert Watt Lendrum, whose family farm became the Lendrum Place neighbourhood.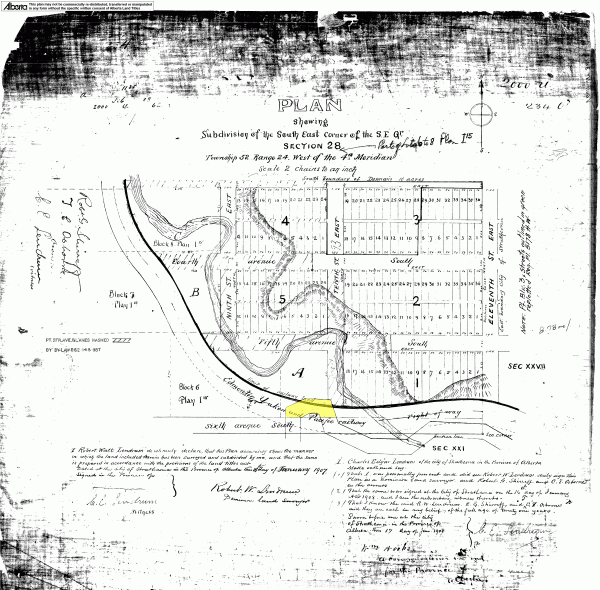 The story of Osborne is lost in time, but we know a great deal about Shirreff. The first fact that jumps out is that he passed away in 1948, making the parcel an orphan from before the railway was shut down. The second fact is that land development did not seem to be an important part of his life.
He was born in Edinburgh in 1871, where he served in the 4th Volunteer Royal Scots Battalion. After he arrived in Edmonton, he worked for Alberta Government Telephones in various roles, as well as being an occasional bookseller. He was perhaps most famous for playing Cyrano de Bergerac for fellow soldiers after engaging in the Canadian Over-Seas Expeditionary Force in 1916:
One gets some queer jobs in the army. At present I am writing love letters for a Canadian comrade, and I think I will cinch matters for him. He's a wee bit bashful, so I put in some twirls o' my ain to help matters along. I once did the same thing for a Welshman in Montana, and it ended in a happy marriage. So let us hope this one will. In a way, you may say that is one way of promoting Unitarianism.
It just happens that a small parcel with a railway already built on it was included when he purchased land as part of his speculation sideline. The parcel was understandably ignored by his estate, leaving it in limbo for everything but unpaid property taxes. Unbeknownst to him, in addition to the many happy marriages that he helped bring about, his legacy also includes a portion of park that countless Edmontonians have been enjoying for decades.
With invaluable research by Marco Beraldo.