An article in Metro Edmonton last week described Amiskwaskahegan (also known as Beaver Hills House Park) as a 'drug park' that is deterring people from using the public space. Some residents disagreed and argued that the reputation has largely been shed in recent years with the park's redevelopment and ongoing neighbourhood revitalization. Regardless of that debate, the fact remains that this park, like many parts of downtown, lacks vibrancy beyond the work hours and special events. There is limited public surveillance on the space which can create a sense of vulnerability.
One thing that discourages people from using the park throughout the day are the picnic tables.
The problem with this furniture in parks that need flexible layouts is their difficulty to move around. When distributed poorly, the seating arrangement can be uncomfortable and limits the number of people who can sit at one spot. Individuals are forced to either claim an entire table or share with others. Furthermore, they don't allow for people to relocate their seats if there's unwanted noises, smells, wasps, sun, or shade. This all factors into the awkwardness of sitting at this park when it isn't busy.
The removal of picnic tables in favour of lighter chairs at Churchill Square demonstrates this point quite clearly: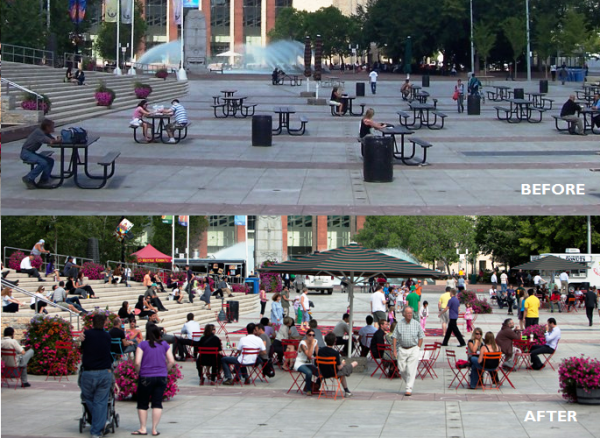 Here, you can see a drastic improvement in the way people interact with others due to this increased flexibility and comfort. Combined with food vendors, activities, and more visibility, I believe Beaver Hills can replicate a similar success. Although it is inevitable that some of the chairs will be stolen every year, the improved quality of life for residents, workers, and businesses nearby can be worthwhile.